"Hookah is like a woman; you have to work with her before you can get the white smoke to come out."
True! Isn't it? Your hookah is like a million bucky woman who needs your intense care and regular maintenance. Most of the ardent hookah lovers love to party harder with friends and families. After some sessions- they don't get the original taste of your hookah shisha- perhaps you are putting mint flavor but getting the chilled breath of cocoa. This is one of the awkward situations you may face at your hookah party at home!
Sharing the fact that this is not a weird scenario if you face it frequently. Probably, your hookah needs the emergency rescue now! So, today we will discuss how you can maintain all the parts of your hookah. Before heading toward the caring tips- you should keep in mind that hookah cleaning and caring should be done regularly. Hookah enthusiasts prefer expert cleaning but, you can also clean your hookah at your home. Cleaning your hookah once in a blue moon won't be fruitful for you, and experts recommend doing the cleaning at least once a month if you arrange a hookah party frequently.
Knowing how to clean your hookah will extend your knowledge and enhance the quality of the hookah session. It is better to get all the correct information on hookah clean-up before it's too late. Let's bring back to the original taste of your hookah shisha!
Pull your hookah parts apart:
Disassembling your hookah after every session is a crucial thing to do. If you know all the parts of the hookah- your cleansing task would be smoother and more comfortable than ever! Follow the mentioned steps and see the fantastic results:
Remove all the hookah parts, including grommets, hoses, bowls, diffusers, and adapters. If you have one hookah in your collection, then separate your hookah stem from the base.
If you are parting away from the down stem to the upper stem- which is very common in modem hookahs- try to unscrew it from the hookah shaft. If you have a separated shaft portion- remove it from the hub.
The main reason for disassembling the hookah is to regularly wash, clean, and take proper care of it so that you get the accurate undivine and uneven flavors of your expensive tobacco shishas!
Another reason to disassemble your hookah parts is that the components get some moisture and juices while burning the fire.
Tips: when you are doing this disassembled work- make sure you know all the hookah parts and manage to put it together. You can take the help of the manual. You should know how to take the components apart and be able to resolve the fixing problem. It will take just a few times to be a pro in cleaning the hookah.
What are the hookah cleaning solutions? Have a look at these fantastic hacks!
There are various hookah cleaning solutions available in the market that you can buy. But you can also make the solutions at your home using some essential ingredients available at home. These home remedies will work as well for cleaning your hookah parts.
There is no exact solution that will work for your hookah, but you can try any of these cleaning solutions before trying something from the market.
Now, let's check those out!
Lukewarm water with a pinch of lemon juice
This mixing can be remarkable for your hookah cleaning. Just take lukewarm in a small bowl and then add some lemon extracts to it.
If you want to clean your hookah more intensely- then take some baking soda and mix it well.
Warm water and soap:
Firstly, blend these two elements. Get a bowl of warm water and then a few drops of dish soap in a bowl and apply it while cleaning your hookah parts.
Warm water and Bling
You must be wondering why bling? The reason is bling is a non-toxic glass cleansing solution that is mainly used for cleaning crystals and stones. Mix bling and warm water and apply it to the hookah.
If you prefer the solution cleaning process, then you can apply any of these mentioned here. Firstly, disassemble all the parts and clean them thoroughly with a shaft brush.
How to clean your hookah parts?
Take your cleaning solution to the hookah base and pure it a little amount first, and fill the half of the base.
Spin the cleaning solution around in the base and with a cleaning brush and scrub it thoroughly.
Scrub the base with a cleanser or solution and wash the hookah base multiple times with clean water to remove any extra old odor on it.
Tips: Always use lukewarm or hot water. Always clean the base at the same temperature because the hookah base's glass is sensitive to temperature.
How to clean hookah stem with a cleaning solution?
Hold the one end of the hookah stem with your right hand using your thumb and pour some of the cleaning solutions into the other end of the stem.
Now use your left hand to plug the open end and shake the stem for some moments, and now pure the cleaning solution on it and mix throughout the whole stem.
You should empty the cleaning solution out of the hookah stem, and now, with the help of using a shaft cleaning brush, scrub the stem from the top and then bottom. Make sure the opening is clean with the solutions.
During the time of cleaning or rinsing the solutions- do it with cold water. Here, don't use warm water. It will help you to remove different odors.
Tips: During rinsing and cleaning your hookah stem, remove the purge valve and the hookah's ball-bearing parts. It is better to wash the outside of the valve with soft cotton or wet tissue paper. This session will help you keep your hookah.
This will help keep the ball bearing moving freely inside the valve when you need to purge smoke out during your sessions.
Now let's head on the most frequently asked questions of how can you clean your hookah bowls or head?
When it comes to hookah bowls or heads- keep it in your mind that those bowls are made of ceramic or clay.
So, it should be washed in a minimum way. If the bowls have some black staining or spots- then, it is okay! It is beautiful, and sometimes it is difficult to remove those stains easily. You can scrub it softly after some hookah sessions. You don't have to clean it regularly as it is made of ceramic glass. You can use small pipe brushes to clean the neck and the hole of the bowl.
What is the shortest hack to clean hookah?
People who deal with hectic schedules can use these cleaning hacks.
The most effective solutions are lemon juice, mild soap, Formula 420 with lukewarm water, and vinegar solution.
If you don't have much time to clean your hookah- you can use any of these solutions and soak the parts of hookah like stem, head, and vase for 12 hours in any of these solutions.
This process will help you prevent the taste of the hookah tobacco shisha and retain the shisha's richness.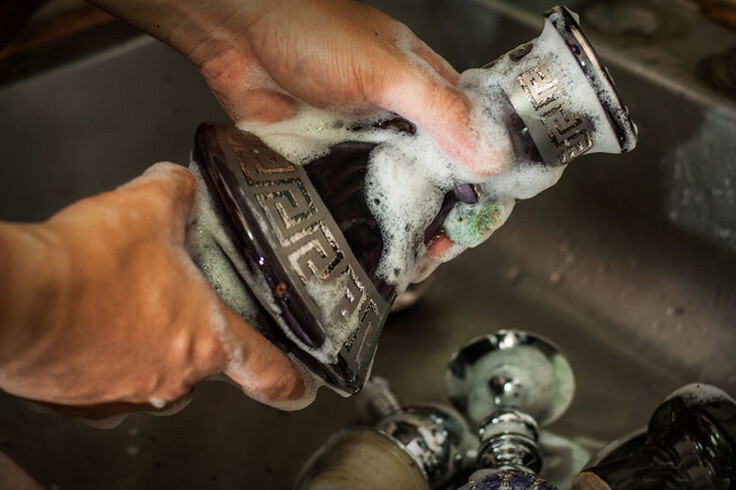 Final thoughts:
The hookah has become a part of our culture universally, and hookah enthusiasts are falling in love with the real chilled smoking buzz. Even, hookah diving system is inspired by the method of hookah smoking and technique. So, purchase your favorite hookah accessories now and enjoy the groovy kind of buzzing!