As the world's population increases and the number of vehicles on the roads increases, the improvement of traffic safety cannot be realized soon. Although the death rate has been reduced by more than half since 2000, from 135 to 64 per 100,000 vehicles, the total number of deaths continues to climb. Today, 94% of accidents are attributed to driver behavior.
Today's cars are safer than ever. Airbags, mandatory seat belts, and improvements in vehicle structure and function design have made drivers and passengers more likely to leave the crash. Better braking and steering subsystems, as well as common innovations such as anti-lock braking systems (ABS) or electronic stability control (ESC), rely on precise sensors to improve safety, and advanced driver assistance systems (ADAS) makes the possibility of traffic accidents lower. As cars become more autonomous, the goal is to further reduce this risk. The ultimate goal is fully automated driving, or "level 5", which can effectively eliminate human error. The Zero Injury Vision is a multinational plan that envisages that no road traffic accidents will cause death or serious injury. One of the main factors to improve the safety of automobiles is to improve the level of electronic devices in automobiles. For example, there are currently more than 230 semiconductor devices (see explaination) in every car in the world.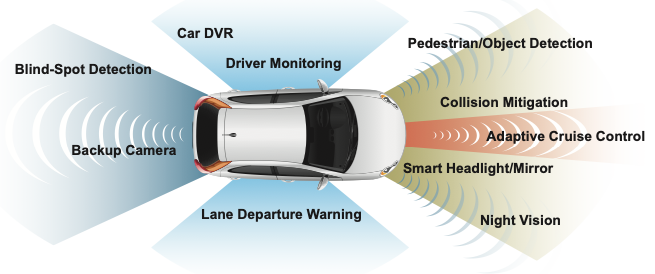 If we are to achieve Vision Zero, we cannot be complacent, and there is still much work to be done. Although cars are safer, at least in developed countries, road traffic injuries are still the most common cause of death among people aged 5 to 29. According to the World Health Organization (WHO) report, road traffic accidents cause 1.35 million deaths each year .
Sensor integration
Twenty years ago, any sensor in your car was very simple. You have a fuel gauge that measures the level in the fuel tank, and an engine temperature gauge. Together with your speedometer and some warning lights, and maybe a tachometer, that might be it.
Today, numerous electronic sensors help you ensure safety. For example, cameras and imaging sensors have many uses, including ADAS, rear views for safe reversing and parking, and interior monitoring. This means that it is important for automakers, OEMs, and Tier-1 to work with suppliers with a wide range of products so that they can choose the best sensor for each application. The sensor should also be designed for mission-critical use and be able to operate over an extended temperature range.
In addition to image sensors, radar and LiDAR are essential tools in today's cars. Radar can be used for short-range, medium-range and long-range applications, such as avoidance steering, junction assist and adaptive cruise control, and is expected to be 250 m forward. For each use case, choosing the right radar transceiver will ensure the best performance.
LiDAR complements radar, and its photon detector can generate images and 3D maps based on measured time of flight (ToF). This enables LiDAR to provide high-resolution depth data, enabling target detection capabilities that cannot be achieved using only radar or cameras.
In fact, the best solution is usually to combine multiple sensing modes in a vehicle: imaging, radar and LiDAR, and ultrasonic sensing. Using multiple types of sensors, their advantages can work together, and redundancy is built in.
The future of safe driving
Today, 28% of traffic accidents in the United States alone can be prevented through ADAS, and ON Semiconductor's sensors have saved more than 81,000 lives each year. This is good, but it must be better. We will continue to work hard to improve sensors and work with partners to make cars and roads safer. Cost is also important; in low-income countries, the incidence of traffic accidents is much higher, so any safety innovation should be widely affordable.
Looking to the future, we must also ensure that safety systems not only protect drivers and passengers, but also help reduce the death rate of pedestrians, motorcyclists and cyclists. Regulations and standards are recognizing this, such as the European New Car Assessment Program (EuroNCAP 2020), sensor technology can play an important role in protecting vulnerable road users.
The long-term goal of the industry must be to work towards zero deaths, or even zero injuries and zero accidents. There is still some way to go on this road, but we are working hard to achieve it as soon as possible.