Good news for book lovers who want a more "mainstream" bookish experience with popular books and authors! Amazon has pushed the boundaries of the traditional reading method and brings you never-ending and interesting reading options that allow you to read as much as you want.
But what exactly are differences between Kindle Unlimited and Prime Reading? Which service is better? What are their cost and features? How kindle unlimited Works? Here you will find complete information related to "Kindle Unlimited and Prime Reading"
What is Kindle Unlimited?
Kindle Unlimited is a unique service offered by Amazon since July 2014. In short, the program is like Spotify for music or Netflix for movies. It allows unlimited access to 1.5 million of title and thousands of kindle unlimited audiobooks of various foreign languages. Readers can freely explore new authors, books, and genres from horror to mysteries to romance and many more. You not only just read books but you can also read comics, current magazine as well as outside of boundaries like popular science, parents or life. These stories can be read on any devices that you have like tablets, Smartphone, laptops, Macbook, desktop and more.
5 Best books on Kindle Unlimited 2018
Marley & Me: Life and Love with the World's Worst Dog by John Grogan. ...
Monsoon Mansion: A Memoir by Cinelle Barnes. ...
A Beautiful Work in Progress by Mirna Valerio. ...
This Is Just My Face: Try Not to Stare by Gabourey Sidibe. ...
The Affordable Flight Guide by Jen Ruiz.
Features
Available Countries: - This service is available in these countries such as UK, USA, Spain, Germany, France, India, Brazil, China, Japan, Mexico, Canada, and Australia.
Free trial: - You will be provided 30 days free trail service.
Books you can keep: - You can keep 10 titles books at one time.
Access: - It allows you to access 1.5 million title of book and magazine as well as and thousands of audiobook in various foreign languages.
Books you can borrow each month – You can borrow an unlimited book in a month.
kindle unlimited price: - You have to pay $9.99 per month and able to access all kinds of media from music to movies to television shows to books and audiobooks. If you get bored with one thing, you can switch to another media.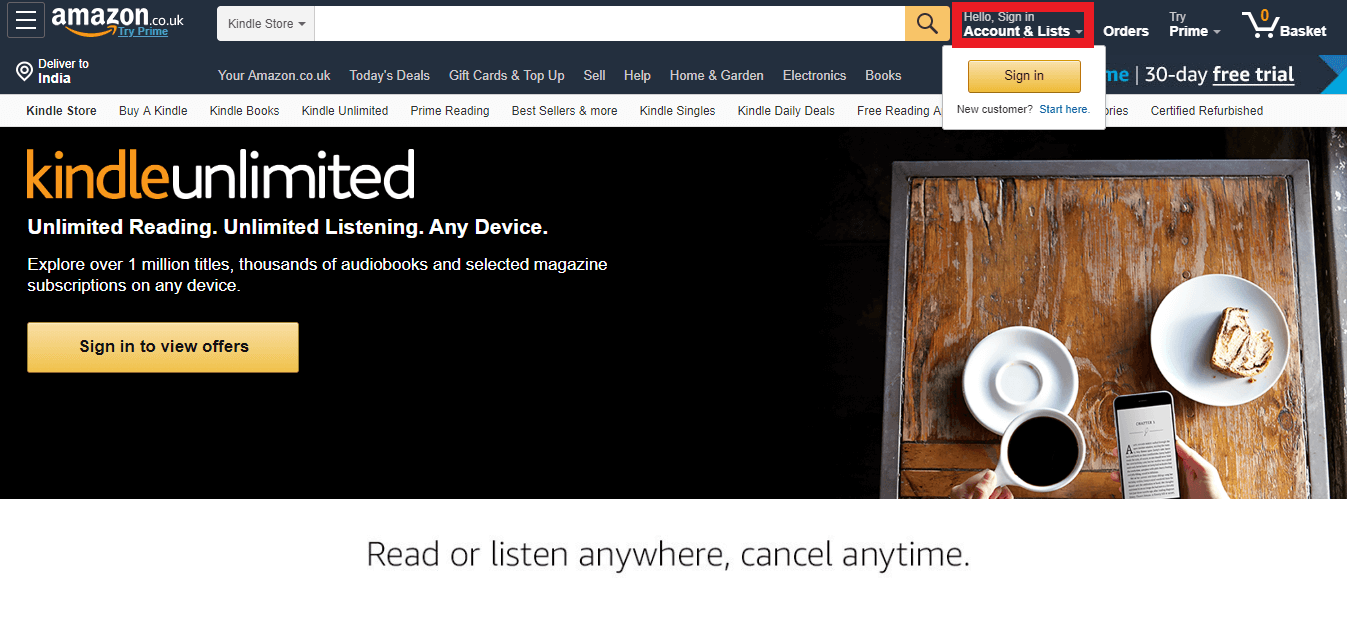 What is Prime Reading?
Prime Reading is a small part of a much larger ecosystem called Amazon Prime. Amazon offers multi-benefits subscription services including Prime video, Prime Music, Prime Reading, Prime Shipping and Prime Early access. We can also say that Amazon Prime Reading is a digital Library of over 1000 title books that available through Amazon Prime subscription. The service is only available for Amazon prime Member. Being a prime subscriber means, you are able to experience all sorts of different services from Amazon which is designed to attract you toward other services such as Audible and Kindle Unlimited.
Prime Reading is a benefit available for free trial or paid Amazon Prime members, including those joining in the Prime Student program. It allows members to browse and read more than a thousand books, magazines, comics, and more.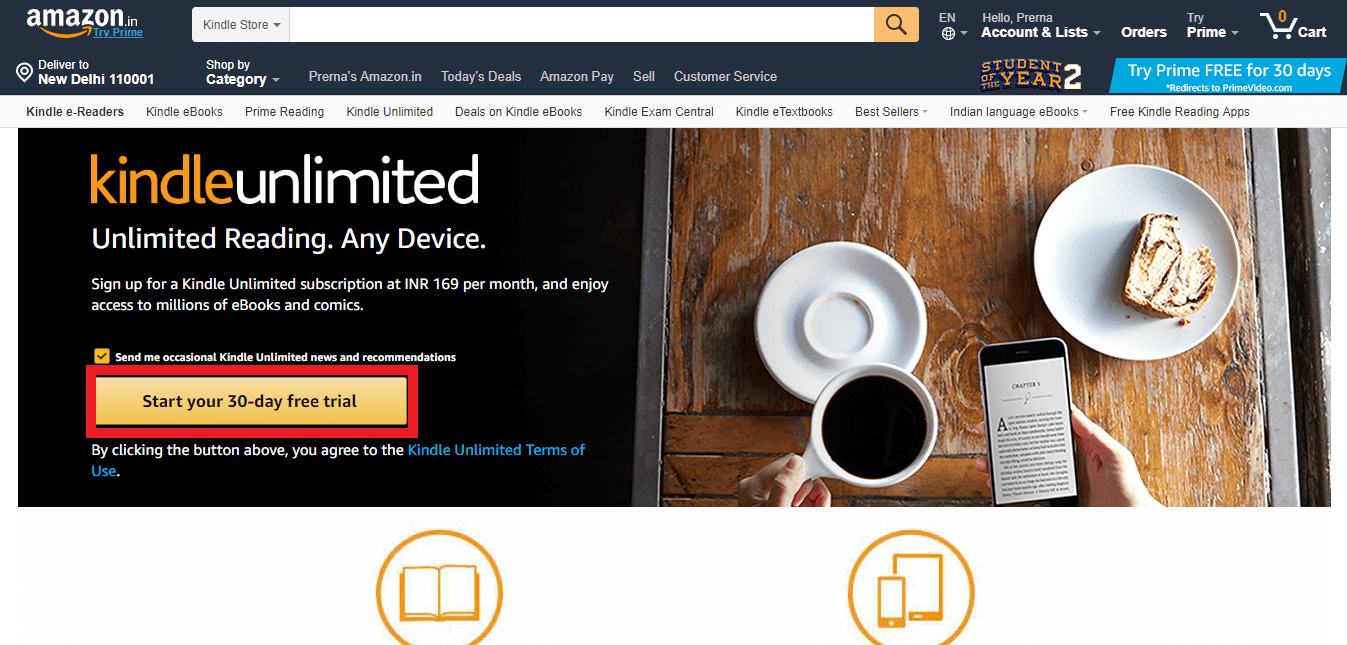 6 Best books on prime reading
Harry Potter and the Sorcerer's Stone (J.K. Rowling)
My Sister's Grave (Robert Dugoni)
The Handmaid's Tale (Margaret Atwood)
Everything We Keep (A Novel Kerry Lonsdale)
Crazy Little Thing (Tracy Brogan)
The Einstein Prophecy (RobertMasello)
Features
Cost: -Itsmonthly cost is $12.99 or $119 yearly only for Amazon Prime, not for Prime Reading.
Access: - It allows you to access over 1000 titles books, popular magazines, children's books, and comics. Dozens of books are available with audible narration which mean you can read or listen.
Books that you can borrow - Unlimited
Books that you can keep in a month? You can keep 10 books in a one time.
Available Countries: - It is only available in USA.
Free Trail: -Amazon Prime reading free books are available with 30days free trail service.
What are the differences between Kindle Unlimited and Prime Reading?
Prime Reading or Kindle Unlimited is the most popular and exclusive Amazon e-reading programs that have been two years of starting. Both programs boast to offer" unlimited reading" and have an amazing variation of books of different topics for you to discover such as suspense, horror, romance, comedy, action, thriller and other. Leverage this with a minimum monthly fee. The most interesting things about these are, you can read or listen e-stories anywhere and cancel them anytime. However, the size and quality of the content may be different from each other. At Kindle unlimited, you can access more than 1 million titles of the book, kindle unlimited magazines, comics and many more. However, most books are self-published by new writers and authors. Besides this, you may find difficulties to choose the best sellers or high-quality book from your well-known or favorite author due to the lack of titles from the big five publishing companies which include Penguin Random House and Macmillan.
As compared to Kindle unlimited, you will find well-known sellers, most popular books from the trusted publishing houses at Prime reading.Where kindle unlimited offer thousandsof audiobooks, amazon prime reading offers you just "Dozens". As like to Kindle Unlimited, Prime Reading offersbooks with audible narration that can explore your reading experience.
Conclusion- Which One Is Worth It?
Hopefully, by now, we have answered "what exactly are differences between Kindle Unlimited and Prime Reading??" As per your choice, you can choose anyone of this program.