The virtual world of the internet can go either way. On one hand, it brings endless possibilities at the fingertips; on the other hand, it also leads to social issues such as cyberbullying.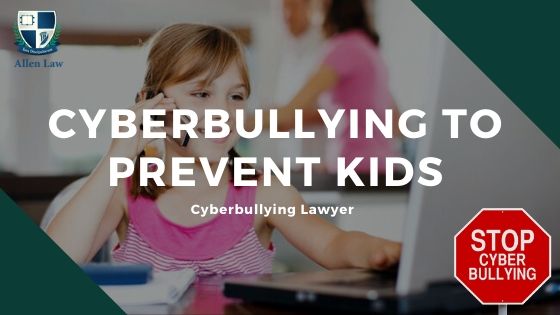 The problem of bullying has been a part of one's professional as well as personal lives. But due to the internet, coupled with digital evolution, it has entered into the cyberspace these days. Consequently, cyberbullying has emerged as a new challenge for victims, their family members, and law enforcement agencies.
Oftentimes, one considers hiring the services of a cyberbullying lawyer to deal with cases of cyberbullying. This is because, unlike common cases of bullying, a case of cyberbullying can be tricky to deal with.
Though cyberbullying has been in existence for several years, it is a crime that is oftentimes misunderstood. Knowing what constitutes it can help an individual stay alert, identify their attacker, and take proactive action against them. In most cases, the wrongdoer is an acquaintance than a stranger. Instead of attacking a victim directly, they use digital means for the purpose. Kids are at a greater risk of becoming a victim to it than adults.
What is cyberbullying?
In technical terms, cyberbullying is the act of threatening or harassing someone by digital means. In such cases, the former makes use of the internet in conjunction with a digital device to commit the crime. Any call, text or IM with such intentions involving the use of the internet comes under the purview of cyberbullying.
Why is it necessary to prevent cyberbullying?
On the surface, cyberbullying may look like a normal thing. However, it can have serious repercussions on the life of an individual. It can affect them both physically and mentally. Apart from leading a victim to depression, and may even induce suicidal tendencies in them.
Forms of cyberbullying
With the growing numbers of the users of computers and hand-held devices like smartphones or tablets, there has been a gradual shift in the manner of using these devices. The advancement of digital technology has enabled users to use the internet for not only sending IM but also for sending texts and making calls. As a result, identifying a cyberbully and bringing them to justice has become trickier than ever before.
In broad terms, cyberbullying can be classified under the following heads:
· Bullying on social media: Social media is a virtual space that brings individuals and communities together. By doing so, it connects them. Notwithstanding the tremendous growth in its popularity, it has become a breeding ground for cyberbullies. They abound and thrive here. Attackers may use social media accounts to harass or target their victims both publicly and privately. Sending demeaning messages, making fun of an individual publicly, creating fake social media accounts on someone else's name, and sending threatening messages privately all come under the purview of bullying on social media.
· Harassment: Apart from social media, cyberbullies can target their victims via personal messages. Any hurtful message or text which is sent to demean or tarnish the reputation of an individual comes under harassment. Impersonation and the creation of fake social media accounts also come under the category of online harassment.
· Flaming: Flaming takes place in the public domain rather than the private domain of the victim. It involves sending negative messages for or commenting on a victim in group chat or game chat.
· Exclusion: Sometimes attackers intentionally choose indirect means to target victims instead of sending messages privately. They use various means to make the victim aware of their intentions but they avoid direct means to target them. This form of cyberbullying is referred to as exclusion. It is one of the trickiest aspects of cyberbullying. One's best bet to deal with such situations is to get in touch with a cyberbullying lawyer.
Cyberbullying laws
Given the complicated aspects of cyberbullying, it is not easy to address this problem legally. In the United States, there is no specific federal law that states any provision for this crime. However, 48 states have laws against cyberbullying. Out of it, 18 states impose criminal sanctions on wrongdoers.
Raising awareness among kids on how to use the internet safely is the only way to prevent them from the risk of being exposed to cyberbullying.
Steps such as exercising caution while accessing social media accounts on computers and phones, and setting the right expectations concerning online behavior are the two best practices that can help curb cyberbullying. Further, kids should be encouraged to report instances of online harassment whenever they face it. Also, the parents or legal guardians of kids who become victims of online bullying should approach a cyberbullying lawyer if things get out of hand.