There was a time when washing dishes manually was fun, much fun. It still is for many people. However, our schedules have become so busy that most people find it extremely difficult to make time for such an activity. There is hardly enough time to have fun in the midst of other pressing activities, let alone wash plates. A few consider it such an annoying task; they are willing to give up a lot of money to spare them the trouble of washing dishes.
Dishwashers have become a formidable solution and since their invention, they have indeed been developed and made more efficient. It saves a lot of time which you may not have to spare in the first place. Dishwashers, you should know, also demand some level of responsibility on the part of the user. But the quality of dishwasher you get determines to a large extent the work you will have to put in as far as use and maintenance are concerned. Hence, before you buy any dishwasher, here are some interesting properties you should look out for.
Before buying dishwasher: Properties to look for.
Size of the Machine
Even amongst small dishwashers, there are varying sizes you can chose from depending on the amount of space available in your kitchen. Standard free standing dishwashers usually measure just about 60 centimeters wide by 85 centimeters high. You should also realize that the word small is relative. So before you pay for a dishwasher, especially if you are shopping online, be sure to check and understand the dimensions and space it is going to occupy.
Models
Different models of dishwashers are manufactured to suit varying user demands. There are standard integrated dishwashers designed for built-in purposes and tabletop dishwashers. They are smaller and usually less expensive than free standing ones. Then there are standard semi integrated models which blend full standing ones and integrated dishwashers. Though they are embedded in the wall, they have a little portion sticking out usually to give access to buttons which feature at the top front of the machine. Slime line and compact models follow and finally there are countertop models. So make sure you understand which category the dishwasher you intend buying falls under.
Cleaning Power
Because food could sometimes, indeed most times be sticky, cleaning may proof difficult and ineffective even when done with machines. Thus, you must understand that the cleaning power of dishwashers differs. That is to say that some are more effective in cleaning dishes than others. You don't want to get a dishwasher which will require you to rewash because it failed to do the job effectively. Hence dishwashers are usually subject to cleaning tests (with scores measured in percentages) in order to determine which of them are more efficient. If you are buying products online, be sure to check its cleaning power score. Though higher scores will demand more money to purchase, you will find that compliance to better cleaning power is worth it. You will find the best tabletop dishwashers with outstanding performances in small dishwasher reviews.
Drying Capability
Though the drying capability may not have any direct link to the price of the washing machine, it is important for those who need their plates completely dry in a short period of time. Some dishwashers take more time than others to dry dishes. Again some may not even have the capacity to completely dry dishes. So the user will have to take the dishes out and manually dry them. If you have the time to do that or perhaps enjoy doing it, then that is fine. But if not then you should make sure the dishwasher you are buying has good drying capacity. Reviews of small dishwashers always have this as a determining factor for five star ratings.
Consider Smart options
Who could imagine, when dishwashers became popular, that one day operating them could be done from a phone? Well that is entirely possible now. Dishwashers can be operated using Bluetooth connectivity or even Wi-Fi. These possibilities give one a certain handle and ease of control. You do not have to manually check the progress of the process. While the machines watch the dishes in the kitchen you can check the process from your room or parlor. That's classy but such dishwashers are usually more expensive.
Check Capacity
Even with varying sizes, dishwashers may sometimes have the capacity to take more dishes at a time than they look. Some dishwashers look large but do not have the capacity to take as many dishes as one may think. In considering the dishwasher's internal capacity, what you look at is the rack sizes since that is what carries the plates. Make sure that the racks have the capacity to hold as many dishes as you want. This is especially important for people buying for restaurants and large homes. Also check to make sure the racks are easily detachable and include compartments for glasses and cutlery.
Water and Electricity Consumption
Some dishwashers consume more energy and need more water to operate. Some consume less water and electricity. Whatever the case make sure you are comfortable with the extra expenditure that will come with water and electricity bills except these things are free in your country.
Style and Material
Since the need for kitchens meet to up with certain standards has become even more important over the years, you may want to consider the style and design of a dishwasher before buying it. Beyond that reason, you may be concerned about color. Well, all that is ok as long as you can find a dishwasher that will meet your taste. You also want to check and make sure that the machine is made of high quality material which is able to resist wear and tear. It would be disappointing to spend a fortune on one of these machines only for it to last just a few months and you have to call in a repairer and begin spending extra money.
Now that you know some basic things to look out for when buying a dish washer, let's get into the core of the matter- Reviews of some wonderful small dishwashers.
Reviews of Small Dishwashers
Reviews of Small Dishwashers: KitchenAid KDTM354DSS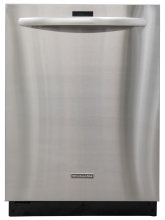 This compact dishwasher has a smooth stainless steel exterior which gives it a serious and classy look. Its door curves at the side so that if you take a look from the front of this washer, you can a see a glittering center with darker sides. The handle protrudes beautifully from the door while an LCD screen just above it is embedded into the door. On the top front of the washer you will find its control buttons which are designed to be touch-sensitive. On this control panel, you will find the following functions;
ProWash function, Tough, Normal, Light, Express Wash, and Rinse Only are all available to help you make more specific choices and get better results. There is also the pro scrub function which engages a more intense and rigorous process aimed at dealing with tough spots. Pro dry on the other hand ensures that the machine is put on a heated mode, making the interior warmer so that dishes can dry up faster. Unless you have the time and energy to spare, you may seldom want to use this particular function.
Just at the top of all these interesting function buttons are quick directions to help you better understand how they function if you are using the machine for the first time. The most interesting part- inside- is unique with an awesome design to yield more efficient results.
Inside there is an upper and lower rack. The upper rack has the capacity of taking 11 dishes at once. The rack is also adjustable so that it can take either shallow or deeper dishes. Behind the rack are high intensity jets that fit at the rear. You can adjust the racks, make them higher or lower by using the pair of handles that control it. Below this rack is another which makes space for cups, glasses and cutlery. The entire dishwasher measures 34.5 inches in height by 23 inches width by 23inches depth and takes just 260 kilowatt hours per year.
At the base of the interior is a small detachable piece that traps larger food particles and keeps them from being flushed back on the plates. In small dishwasher reviews you will find that this model pleases users well. Most of them are particularly fascinated about its effectiveness. Several customers in reviews.com testify that this is the most efficient dishwasher they have used so far. However you will also find in reviews of small dishwashers that the pro scrub function is not always tough enough when it comes to some sticky foods. One way to go about this is to put dishes in water before letting the dishwasher do the rest of the job. Another issue pointed out by users in small dishwasher reviews is the fact that this machine sometimes has the tendency of soiling already cleaned plates.
This dishwasher is sold at approximately $899. That means the price may be a little less or more expensive depending on which dealer you buy from.
Pros
Slim-line and can fit in little spaces
Because it is built in, it is great choice when space is limited.
Easy to operate
Has an outstanding functionality
Can take a good number of plates at a single washing session
Cons
May not be very efficient with tough stains
Need some level of maintenance
Reviews of Small dish washers: Spt SD-2201W (Sunpenton)
This compact dishwasher is one of those you can't miss if you are really concerned about space. With a distinct heavy duty cycle that ensures far better cleaning results than several full-sized or built in dishwashers, you not only save more space but more time. This dishwasher delivers such high performance on minimal power consumption. You will expect that the cost of such an efficient little machine should weigh more on power consumption but that is far from the case. This dishwasher was once subjected to an effectiveness test from which it emerged the best dishwasher of the year.
The interior is made of heavy duty steel to ensure resistance and durability. It is a small dishwasher as you already know so do not be surprised that it provides just 6 standard place setting capacity. That means you may have to do multiple turns if you have many dishes to wash. However it is a great choice for those who do not have a large home or better still who live alone.
When it comes to functionality, this dishwasher allows water in through a faucet adapter which also provides a drainage system. When each circle of washing is rounding up, the water drains out of the machine. For this reason the dishwasher has to be placed near a sink. It could be used in the normal mode or heavy duty mode. In the normal mode the process is really very slow and it is inefficient with hard stains and food particles. However the heavy duty mode as you will expect does a more rigorous job and makes it such an effective machine. In total there are 6 wash cycles which include; heavy, normal, light, glass, speed and soak.
You cannot always expect smaller and cheaper dishwashers to be effective with noise minimization. On the other hand when you compare the noise from this model and those of others which are more expensive and seem more effective, you will find that it is not too bad and indeed far from the worst. As far as size is concerned, this counter dishwasher measures 17.24 inches in height, by 21.65 inches width and 17.24 breadth.
Reading through small dishwasher reviews, you will find that this model has several features users are happy with. Happy enough to recommend it to other prospective buyers. One reviewer on Amazon remarked that this dishwasher is easy to set up and can be trusted to get dishes super clean. Though several reviewers complain that they found it difficult to fit in smaller plates, many others disagree. So probably it is an issue of understanding how it should be used. Still in reviews of small dishwasher on Amazon, customers complain that the dishwasher is noisy but others reiterate that it is not as noisy as most other expensive and larger dishwashers. The main thing is giving this counter dishwasher a try.
Take note that this dishwasher has no delay wash, food dispenser, soil sensor or child lock features. It consumes approximately 220 kilowatts an hour per year.
This small counter dishwasher is sold at $231.95 and the warranty is 1 year which means the manufacturer is really confident about the product quality.
Pros
Very easy to install and use
Takes up little space
Effective with hard and difficult spots
Cons
Small capacity
Noise may be a little irritating especially for sensitive users.
Small Dishwasher Reviews: SPT SD-2225DS Countertop Dishwasher
With a formidable design and build, SPT SD-2225Ds is one outstanding compact dishwasher that will make you wonder why you ever have to buy a full sized, probably more expensive one. Yes it is a compact dishwasher, but limitations on its size really do not mean it is limited in performance. In fact it is not. This small dishwasher is built to deliver results that will match or even beat some full size more expensive dishwashers in the market. It has a handle at the door which it carved right into it so finely that it adds to the overall design. At the left side of this handle, just a few inches away, you have the power button and at the right side, an outstanding LED control electronic display that enhances ease of use.
The cabinet and rack are spacious enough to take six place settings at a time. That means you can do a bulk of work at a time and save power. What's more, this dishwasher has an outstanding automatic detergent and rinse dispenser to ensure that you never have to re-rinse dishes after the dishwasher has done its job. This dishwasher features up to 7 wash cycles so that it delivers the best performance. These include; quick rinse for glasses and plates which are not all that dirty, heavy duty for tougher stains, delay start, light wash and normal wash cycle. Each of these can be distinctly used where and when necessary to deliver the best results.
As far as dimensions are concerned, this dishwasher measures 21.65 inches height by 24 inches width and little less than 33 inches depth. It weighs just about 43lbs. Note that the upper and lower racks of this dishwasher are removable but not adjustable. It is small enough and designed to allow installation under the sink so that you can save as much space as possible. It also features a drain horse to ensure proper waste water disposal so that plates do not come out of the dishwasher stained or soiled. However, as far as certifications are concerned, it has no ADA compliant or energy star compliant certifications but you can be sure from reviews written by those who have and are probably still using this dishwasher that it will deliver the quality it was built and designed to.
Talking about noise, it is very common and probably quite normal for small dishwashers like this one to make a lot more noise than full sized ones. This one has a noise level of 55 decibels which may not be very good, but also not very bad.
There are hardly any customer reviews for this product yet. Seems it is still pretty new. However the model that comes directly before this one has some issues related to weight and size stated in small dishwasher reviews which some users are not comfortable with.
This outstanding small dishwasher is sold at $289.
Reviews of Small Dish Washers: Equator-Midea CD 400-3203 W
Equator media is another counter top dishwasher which looks very much like the SPT SD-2225DS but the entire design and features are quite different. This small dishwasher has a carved in handle at the door for easy opening and closing and a tub made of stainless steel.
For style and convenience the manufacturers embedded a digital LCD control display at the top edge of its door. The display of this compact dishwasher shows cycle status light so that user knows exactly what level of the washing process he is at. It has 4 automatic cycles and 2 drying options. Automatic cycles include Heavy duty, quick rinse, delay start (which could go for up to 24 hours) and light wash. There is also a normal wash type, gentle wash type. The machine includes a drain and fill hose and can be installed under the sink if there is space to fit it.
It measures 23.4 inches in width, 18 inches in breadth and a little less than 33 inches in height. Internally, the depth is about 17 inches with the door open. It weighs 49.5 lbs. As far as power consumption is concerned, you can be sure to use up just about 220 kilowatt hours each year with an annual cost of $27. This is made possible by its built in circuit breaker with 15 amps power usage.
It also demands less water to function especially when it runs in the normal cycle mode and can be connected to kitchen taps for direct water supply so that you do not need to set up a special water supply system for it. Equator media provides 6 place setting capacity rack made of vinyl coated wire so that user can wash a reasonable number of dishes at a time. So it has two racks; an upper and lower rack. The upper rack is adjustable while the lower rack is only removable. There is also a cutlery holder and a small item holder for all these to be washed at the same time.
This one is a little less noisy than most at the same size. Its sound level stands at 53 decibels with a standard decibel range of at least 51. Though it is ENERGY STAR COMPLIANT, it has no ADA compliance.
Equator-Midea CD 400-3203 W is sold at $449.
Pros
Takes up little space
A little less noisy compared to others of its size
Easy to set up and use
Cons
Drain and horse need to be cleaned.
Reviews of Small Dish Washers: Beko DIN28R20
Whether you are looking for something that can wash dishes more effectively or take off tougher stains, Beko DIN28R20 is an integrated dishwasher that has a host of options and features that make it an outstanding choice for you to consider. The normal dish washing cycles and options aside, there are outstanding cycles for glasses like fast plus and steam gloss. For ease of control, it features electronic buttons on LED display.
Due to its integrated design, the racks for this machine are easy to load and have some of the most flexible adjustment options. The flexibility allows user to load just any kind of dish conveniently. What is more, the machine has a capacity of 13 place settings. That is more than what several counter dishwashers and tabletop dishwashers offer. In total there are just 2 racks, top and bottom, both fully adjustable. There is also a cutlery basket which is moveable when there is a need to create space for larger items.
There are surprisingly up to eight programs and features that come with this dish washer. These include; aqua flex, Auto, rapid, pre wash, inner clean, intensive and quick wash. There is also a tray wash option which is perfect for washing oven trays. It is managed by the auto mode which detects soil levels on dishes with the use of sensors and makes proper adjustments. Truly you can hardly find any compact dishwasher to match this one when it comes to variety of operation functions and flexibility. Even pots and pans cannot pose a problem when this machine is put in its intensive mode. More so it is very easy to use. The instruction manual gives very clear and detail steps to follow. It could take a while to master its vast possibilities and functions, but it will surely be worth the time. You can be sure that this machine will last a good number of years with regular use, especially if you use it according to speculations. With two year limited warranty from the producer, you have enough time to ensure that the product really functions properly.
As far as reviews of small dishwashers are concerned, this machine is one of the most flexible of all and that is why users love it most. The racks are fully adjustable to make room for larger plates. Others in small dishwasher reviews appreciate the ease with which this washer is set up and used. One reviewer on beko.co admits that the machine runs fairly quiet.
Price: The cost of this dishwasher is 349 euros with 90 days warranty provided by beko.
Pros
Small enough and takes little space;
Long lasting;
Outstanding features and functionality;
Easy to use; and
Large rack.
Cons
Takes much time to complete wash cycle
Reviews of Small Dishwashers: SmegSTA4645U

Like most other dishwashers, smeg has a simple look and simpler design. The internal part of the machine is made of stainless steel. Made in Italy, it is designed with a purpose of blending style and technology to give outstanding overall look and feel.
The door is polished black with digital control buttons at the top edge and high technological performance to enhance functionality. Smeg STA645U has ten wash circle which allow you work with just any type of dish or pot. The different wash circles include economy, crystal wash, extreme, dish warming, amongst others.
These wash cycles give full control of customizing the entire process. Meanwhile its delayed functionality can be set to wait up to 9 hours before execution. It also features a half load mode (which comes handy for simpler cycles), built in water softener and hidden heating element, water leak protection system, condenser drying and a host of other options. The entire machine measures up to 34.17 inches in height, 17.64 inches width and 21.66 inches depth.
The noise level of this dishwasher stands at 43 decibels, implying it is quieter than most of its counterparts. Here are other specifications you should be aware of if you are planning or considering to buy this dishwasher;
It has no auto shut off function or built in food dispenser, though you will enjoy the privilege of detergent and rinse dispenser. The washer has a drying system. It is energy star rated and NSF approved
It is highly efficient possessing 20 wash cycles in all with 10 place setting capacity and fully integrated dishwasher type.
Uses 120 voltage and 1900 wattage.
On reviews of small dishwashers, customers are most fascinated with the design of this machine which blends smoothly into kitchen furniture. Another point of interest as pointed out in small dishwasher reviews is the fact that it is a wonderful energy saver with great cycle options.
This outstanding dishwasher is sold at $999 with no warranty given.
Pros
Sleek beautiful design;
Good for saving space;
Low energy consumption;
High performance; and
Up to 10 place setting.
Cons
Very expensive
Dish Washer Reviews: Indesit ICD661 Table Top Dishwasher

The first thing you will notice about this beautiful counter dishwasher is the vast control and display at the top front of its door. A host of command options make it outstandingly flexible, providing different wash options. Like any other counter and tabletop dishwasher, its handle is carved in for better grip. The manufacturers were style sensitive enough to include a LED display for quick check and convenience. However, it is button and dial controlled.
Indesit provides 6 place settings which proves to be just great for tight kitchen specifications. So you get enough space to load a good number of plates at a time. In addition to that, you can save time even further with this outstanding dishwasher by making use of its 30 minutes quick wash function. When your wash cycle is done, you can't miss it because the machine sounds off an audible alarm to notify you. The entire dishwasher measures 43.8 centimeters height by 55 centimeters width and has a depth of 50 centimeters.
Another outstanding feature of this counter dishwasher is its delay time which can go for up to 24 hours. So be cool, you do not need to be under any kind of pressure to rush things or do them out of convenience. Its energy rating is top of the grade – A, just like its drying performance. You should know that this dishwasher does not have a cutlery tray like some others. It uses a cutlery basket instead.
As for the racks, which are lower and upper, they are completely adjustable so you can always fit in larger dishes and other kitchen items. For drying, it uses residual heat, which is much preferred by some dishwasher users. It also has 5 wash temperatures and works with a rinse aid indicator that ensures you do not have your dishes half done, smelling of detergent. This dishwasher functions well on economy mode to spare you extra expenses in water bill. It has an intensive cycle option and gives room for delicate materials like glasses with its glass care or delicate program. Also note that it can only be filled with cold water. That is just the way it is designed to function.
The annual energy consumption stands at 187 kilowatt hours, with a cost approximation of 28.8 euros. The annual water consumption is 2492 liters which is about 8.9 liters a day.
It is backed by 1 year warranty.
In reviews of small dishwashers you will find that most customers who have used this product are quite satisfied with its performance. Some users specially appreciate the fact that it is quiet to use and easy to use. If you check up small dishwasher reviews you will also find that this machine will require some little advice from those who have used it before, or better still manufacturers in order to be able to load in more plates. However it seems from review comments, that the best way of going about this is actually practicing.
Pros
Easy and effective performance;
Easy to set up; and
Low energy consumption.
Cons
Needs a little practice to be really familiar with better stacking for dishes
Reviews of Small Dishwashers: Koldfront PDW60E

Koldfront PDW60 is one other counter top dishwasher you may want to consider when shopping for small dishwashers. This compact dishwasher is made basically of plastic and polyester and can also be used as a tabletop dishwasher. It is 22 inches wide and 17 inches in height with up to 6 -place setting and can hold plates which are up to 10.5 inches in diameter. That is a great size to serve as a tabletop dishwasher. Hence it is low enough to conveniently fit under cabinet so that permanent installations would not be necessary at all. Its compact design also allows easy installation which only requires you to make water and power connections before using. For convenience and variety, there are up to six wash cycles that would suit just any form of cleaning you want to do. At the front or door of the machine is a knob that is used to select wash cycles though it also makes use of digital control. The handle is carved in to give it a smooth design.
In a whole year, you will have to use just 200kilowatt hours, cutting down a large proportion of electricity cost compared to others of the same size. Note that this product comes with no built in food disposer or child lock feature. So you may want to keep it far from the reach of children. What's more, you can be sure that your dishes would have a smooth finish provided by its detergent rinse aid dispenser. The interior is made entirely of stainless steel to ensure that you do not have issues with cleaning. It also has just one rack with a cutlery tray, designed to make the most use of space. It has end of cycle indicator and auto shut off feature which is absent in most small dishwashers. It comes in two colors; white and black. One other thing you should take note of is the fact that the state of California, USA warns that this product may consist of chemicals capable of causing cancer, birth defects and other related harm.
In customer reviews of small dishwashers on walmart and amazon, users express their appreciation of the functionality and ease of using this dishwasher. Some features they specifically point out are the fact that it makes little noise while it runs and entails very little running and maintenance cost. Some users however complain that the washer needs some time of practice to be able to properly stack dishes in it. One of them said the only fault she has discovered with the washer so far is that it failed to really clean some dirt off some plates in a few washing sessions. But she also quickly admits that is may be because she did not stack the plates properly.
Koldfront PDW60E is sold at $229 with 1 year warranty from the manufacturer for parts.
Pros
Compact and easy to set up;
Low energy consumption;
Easy operation; and
Quite Durable.
Cons
May be capable of causing health related issues; and
A little too heavy for its size.
Reviews of Small Dishwashers: Costway Countertop Dishwasher
If you have been searching hard for a portable or compact dishwasher that has the capacity and features to function like a full sized one, you just saw one. Costway is not just another counter dishwasher. It is unique in its own ways. With six place setting, there is enough space to load a good number of dishes and still get them sparkling clean at the end of the wash session. Like most counter dishwashers, it has a carved-in handle and an LCD screen for proper handling and monitoring respectively. There is a power button at the upper left side and three control buttons at the opposite end.
With semi-integrated controls, easy circle selector and push buttons, it is simple to operate. Its interior is made of stainless steel for durability. To make the wash process more fun and a lot easier, the manufacturers included the common detergent rinse and dispenser possibility.
The size of this product is 21.5 by 19.5 by 17 inches, length, width and depth respectively and it weighs just 44lbs. The rack and tins are foldable to ease loading. In total, there are six wash cycles which consist of glass, rinse, ECO, heavy, normal, and speed. There is the possibility of delay ranging from 1 to 24 hours.
From reviews of small dishwashers you can understand some features users appreciate the most and many of them are quite generous with quick tips to get it set up and functioning properly. Several of these users in reviews of small dishwashers attest that it is a great choice to consider especially if you have a tight budget and space limitations. Thus, it really deserves the 4.5 out of 5 stars rating it got on amazon.
The usual price for this product is $322.99 though you could get it for much less, probably when it is on promotion or auction. The warranty is 2 years.
Pros
Easy set up and function;
Takes up minimal space;
Outstanding tabletop dishwasher; and
Easy to clean.
Cons
Limited space.
So there you go, be sure to check up for other item properties and speculations which may not have featured on this particular write up. We are sure that the information you have should at least be enough to enlighten and help you make the right choice. Also remember to check manufacturers' websites or contact them for further advice and directions.