The everyday work of business experts and students from high institutions highly depends on the use of laptops. This is because, many of these persons depend on their laptops to store and access important work/study related data. High school and college students also make use of laptops by reading or conducting internet research. Laptops represents important investments for the owners and usually contains data that is needed for the owner's studies or career. If not properly handled, the laptop can get damaged. The bags also ease carrying of the laptop. Due to its relatively high cost and importance it is essential to ensure its safety in a specially designed bag for laptops. Some of these laptop bags like the backpack have foam padding to protect the laptop against any impact from hard surfaces. Apart from physical damage the laptop bags prevent dust from getting into the computer. The laptop bag will also contain all the needed accessories. Picking the best laptop bags is much easier and cheaper than picking the actual laptop. With the many choices and features that are available in laptop bags, it is very important to know the different styles, types and features in order to make a better decision. These and more are presented in the subsequent sections.
Some of the best laptop bags come with extra features like removable inner laptop sleeves, pockets and compartments for the laptop, mini mouse, power cord, flash drives and other laptop accessories. With these different features, it is convenient to take everything you need to anywhere you want to go. Some of these laptop bags are recommended for students since they provide a separate compartment to contain your notebooks, textbooks, and other materials for writing. For people doing business, some of the laptop bags provide a special compartment for putting their documents and file folders.
Key Features to Look for in a Laptop Bag
Before purchasing a laptop bag, there are some features of the bag that one needs to look out for in order to make sure that it last for a longer time. The first of these features is the snug fit. This feature is very important for a laptop bag because if the bag has a loose fit, then during transportation the laptop will slide around and might become damaged. A snug fit does not certainly imply that the laptop bag itself has to be compact or small. Your laptop bag itself can be as large as you need it to be, as long as the part in which the laptop is stored is close fitting and thickly padded, it is appropriate. Laptop bags come in many different sizes which are usually designed based on the screen size of the laptop. That is, laptop bags are usually labeled by the laptop size for which they were made. These bags might bear a specification written on them like, accommodates most laptops with a screen of up to 17 inches or fits most 15-inch laptops. During purchase it is advisable to check the laptop size and the dimensions of the bag to ensure a good fit. If you like, you can test the bag by putting your laptop inside. Nonetheless, for those who are buying online, it will not be possible to check the bags but they can still ask the seller for photos and exact dimensions of the main compartments of the laptop bag. The second of these features is durable construction. Since a laptop is a sensitive piece of electronic equipment, harsh impact might cause damage that range from a minor dent to a broken screen or a massive crash of the hard drive. The laptop screens and hard drive is not easy to replace, you should ensure that the laptop bag that you are selecting is not just for transportation, but security as well. The best laptop bags of very high quality provide enough cushion to absorb most of the impact if the laptop is knocked, dropped or bumped. These bags also provide some level of water resistance in case you have to walk through rain or snow for a short distance. Laptop bags with water-resistant zippers and sealed seams offer an extra line of protection against water damage. Neoprene is being incorporated in most laptop bags as lightweight and durable source of protection for the laptop. The bags are usually added extra layers of padding. There are also other bags which are made up of luxurious leather. The leather laptop bag offers a tough yet flexible exterior along with extra interior padding in the laptop compartment.
The third of these features is adequate space. A good laptop bag should have enough space that the user can put in other items. The laptop bag should have enough pockets and extra compartments for all items that you will need to carry - items like the laptop charger, a mouse, pens, paper clips, books or other work related items. Some of the best laptop bags come with a large, flat, zippered compartment on the side of the bag that is especially useful for storing folders, documents, or a notebook. However, you can make a list of all the items that you will like to store in your laptop bag before going to buy one.
The forth feature is the attractive style of the bag. Most experts consider their laptop bag to be an extension of their own professional appearance and presentation. This is due to the fact that laptop bags are often carried to the office daily, taken on business trips and taken along to meetings with important clients. A student who is in high school or college will also be concerned with the look of his bag, since it represents an individual's style. For an expert look, a leather laptop bag made of high-quality brown or black tones is usually appropriate. Some of the best laptop bags brands include Kenneth Cole, Fossil, Piel, McKlein, and others. College students who consider it important to make a good impression might also want to buy a leather laptop bag that put together classic good taste with a modern edge. Teenagers will probable want something which is more colorful and does not require the level of care that leather laptop bags do. The last feature is secure fastenings. When buying a laptop bag, you should make sure that all of the fastenings on the bag are secured. The laptop bag buckles should be in excellent working order with all parts intact and perfect. The magnetic clips of the laptop bags should be lined up correctly and the contact between the magnets must be powerful enough to hold the flap closed. The zippers in the bags are expected to move smoothly without tearing and zipper pulls should be intact. If you are about buying a laptop bag that uses Velcro fasteners, then they should be able to seal the pockets or pouches without leaving large gaps through which vital items can fall out.
Things to consider before buying laptop bags
When it comes to buying of laptop bags, there are several things that are important to look at. Selecting the best bag for your laptop is a good decision. This is because the bag has a big task to protect your laptop from damage. How well the bag will meet your needs and protect your laptop will depend on the quality of the construction materials and the components. The amount of money you are going to spend on a laptop bag is a function of the style or design, material, zipper and the brand of the laptop bag. After the price, the next thing to consider is the style and size of the bag. The size of the laptop bag highly depends on the laptop that you have. However, people who want a laptop bag that also doubles as an overnight bag should go for the bigger sizes. There are four basic options when it comes to the styling of the laptop bags. The first option is the sleeve. A sleeve is a simple case with or without handle that add a basic layer of protection. It is cheap, cheerful, and sometimes stylish and is ideal for those who are happy carrying their laptop under their arm.
The second option is a bag. You have messenger laptop bags, traditional laptop bags or briefcases that have different compartments.
The third option is a backpack. Backpack has sizes that are roughly like the day sack but it has two padded compartments; one for the laptop and the other for supporting items.
The forth option is the larger travel bag. These types of laptop bags have enough space that can carry many other things including the laptop. For somebody who spends much time traveling for work, you will definitely want to opt for one of these laptop bags. You can make a choice from the variety of materials used to make laptop bags. Based on the style of your choice, you can also choose the kind of material that will work best for you. Most laptops bags are made from 100 percent leather or polyester. Make sure your laptop bag is having a strong material, durable and should be stylish. Having a beautiful laptop bag which is stylish is one thing but the other important thing to take note is the bag material. Most of the best laptop bags are made up of 100 percent leather. Thirdly, the next important aspect to consider in the laptop bag is the sturdiness of the zipper. Having a laptop bag with a zipper that easily breaks open from your back does not serve the purpose of the bag and your laptop can fall off or can even be stolen by thieves. Read reviews of laptop bags to find out what customers are saying about zippers and go through the product description for more details on the construction and strength of the zipper. Plastic zippers are not the best because they easily break; the best and strongest zippers are made of metals that cannot easily break. In as much as you may want to go for a zipper which is made up of metal, you might also want to verify to be sure that it is waterproof to avoid rust. Finally, go for top brands that are known for their quality and understanding of client needs.
Different Types of Laptop Bags
There are different types of laptop bags that are available in the market that can match your style and purpose. All you have to do is to get the one that matches your style. There are laptop Bags that look and function like regular backpacks, briefcases, tote bags and messenger bags but the main thing is how you plan on using them. There are also regularly used rolling laptop bags. Below is a detail of the various types of laptop bags. The first of these types of bags is the backpack laptop bags. These types of bags help you carry your laptop and accessories comfortable without straining your back. Laptop bags commonly used by students are now popular in business and for traveling. When you want to buy a laptop backpack, you should look for one that you can adjust the padded straps as you require. You have to ensure that the backpack is well padded in order to avoid unnecessary bumps. Also look for a laptop backpack bag that has enough compartments to carry all your things. From laptop bag reviews customers indicate that the Targus City Gear Laptop Backpack is a great all round backpack. The second of these types of bags is the briefcase laptop bags. This is a type of laptop bag that has been used by businessmen for a long time and were designed for carrying by the handles. The briefcase style backpack bags are light in weight and generally provide a professional look and feeling which is ideal for conferences and meetings. These types of laptop bags can also be used for traveling but they generally do not have as much storage room as a backpack. Make sure that the laptop bag has a compartment for your laptop, accessories and other valuable things that you might want to carry.
The third of these types of bags is the messenger laptop bags. These types of bags were usually used by bike couriers. Based on their designs, you can easily throw them round your shoulder and head out on the road. They are great for business and traveling since are comfortable. Make sure you look for a messenger laptop bag that has padded straps to provide you with extra comfort. A great example of a practical and stylish messenger bag according to most of the laptop bag reviews is the Kattee handmade leather laptop briefcase messenger bag.
The fourth of these types of bags is the rolling laptop bags. The rolling laptop bags are great for traveling since they help you to carry larger laptop and a lot of valuable things that you will be needed for your trip. These types of bags have more storage but because they come with wheels, they are usually heavier than the other types of laptop bags. Ensure you get a model with spinner wheels that freely rotate 360 degrees when you are buying a rolling laptop bag. The spinner wheels that freely rotate 360 degrees will make the bag to easily steer while on the move. A great choice of a rolling laptop bag is the Solo rolling laptop bag.
Laptop Bag Reviews
Reviews of Laptop Bags: Case Logic 16-Inch Laptop Attaché Review
The simple and stylish design of this laptop bag makes it perfect for a laptop user who wants to be mobile with their technology. The design of the bag is good for purpose business. It can as well be taken to a coffee shop. The laptop bag is a 16-inch bag in measurement and has many compartments for your power cord, mouse and other accessories that you may need for a trip. Its padded case will protect the bag from damage. Most users of the bag find it easy to use since it is top loading and they just have to slide in their 14 to 16.4-inch laptop into the compartment. The back can also hold a 15-inch Mac Book Pro as well. You can carry the laptop bag through the top handles. For other alternate carrying options, you can use the shoulder strap and luggage strap found in the bag. Many users of the Case Logic 16-Inch Laptop Attaché say the bag is a perfect case for bringing your laptop along with you. The laptop bag has other pockets in which you can keep your pens, pencils, cell phones, and other valuable things in them. The laptop bag comes with a 25-years warranty when it is gotten from Case Logic and it can be sold for less than $30.
Reviews of Laptop Bags: Amazon Basics Backpack for Laptops Review
This well-looking and highly functional laptop backpack was designed to hold your laptop and protect it from damage. The easy-to-carry backpack has many different storage compartments which you can use to carry extra accessories and other valuables. The backpack can hold a laptop of up to 17-inch, so you can easily carry an extra bag or sleeve. Most users of the backpack love the fact that the bag's interior is padded and there is a small pouch in which they can fit tablet or cell phone. In order to ensure comfort in carrying, the shoulder straps of the bag have been heavily padded. The backpack has a convenient mesh compartment that is located on the left shoulder strap which allows quick access to keys or other small items. Some users of this backpack love the fact that the mesh pockets on the sides are perfect for carrying water bottles.
Laptop Bag Reviews: 17.3-Inch Eco-Friendly Canvas Messenger Bag Review
This good-looking, canvas messenger bag can perfectly fit the bill if you are someone who is looking for an eco-friendly bag to carry your laptop and accessories. The bag is a breathable, natural cotton canvas that is durable and can last for long. It can carry laptops up to 16 inches. The bag is easy to keep clean and it features a swiveling shoulder strap. This laptop bag is placed among the best laptop bags because it has a well-padded compartment dedicated to holding a laptop and because it comes in black, green, and blue colors for you to make your choice. Most of the users of this bag love the fact that there is a Velcro-backed ID holder that can be mounted to one of different locations inside or outside the bag. With the Velcro-backed ID holder, you can easily and conveniently show your ID without digging around in the bag. The neutral color goes with everything and has a laid-back style that looks great no matter what you are putting on. The bag has two easy options by which you can carry it. That is, carrying through the handle or shoulder strap. The two buckles on the front of the bag keep the bag securely closed.
Reviews of Laptop Bags: Samsonite Classic Two Gusset 17- inch Toploader Review
The Samsonite Classic Two Gusset 17-inch Toploader is 17-inch in size, it implies the bags will fit small or large laptops. For your ultimate comfort, the laptop bag has a handle that is wrapped in bale. The bag has a padded laptop compartment that will keep your laptop safe from damage and will protect your laptop from shifting while on a trip. Most users love the handy Smart Pocket on the laptop bag that slides over upright handles for easy mobility. The laptop bag has an easy access quick stash front pocket that you can place additional things that you may need to get to quickly. They were crafted with rugged 1680 ballistic nylon in order to ensure that it is durable. The laptop bag can be sold for less than $40.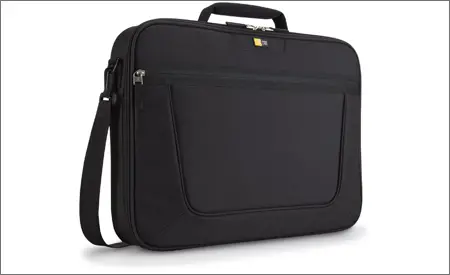 Review of Laptop Bags: Samsonite Classic Three Gusset Lg Toploader
Its 12 inches' height and 17 inches' width makes the laptop bag suitable to fit any laptop and other important accessories you may need. The laptop case has an easy access quick stash front pocket that permit you to place frequently used accessories. The bag is very comfortable and has padded removable adjustable shoulder straps inside. The handles are wrapped in bale making the handles very comfortable and convenient so that you can carry the laptop bag like a briefcase. Users of this bag say the Smart Pocket accessory on the bag can slide over the handles upright for easy mobility. The laptop bag was made out of 1680 Denier Ballistic Fabric, making it durable. The bag can be sold for less than $90.
Review of Laptop Bags: Targus City Gear Laptop Backpack Case
The Targus City Gear Laptop Backpack is a large bag that provides sufficient amount of padded storage for any laptop upto 17-inches. In as much as the bag can hold a laptop, you can also fit your iPod, mouse, books, and other valuable things within its various compartments. The size of the bag is considered perfect for air travel since it slides right in the carry-on compartment without a problem. The Targus City Gear Laptop Backpack made with light, yet durable nylon features padded mesh shoulder straps that provide comfort while carrying. Most of the users love the fact that the bag is lightweight with separated compartments and can hold also an iPads or a Tablet. Some other users complain of poor stitching of the bag. The laptop bag is cost efficient at approximately $50.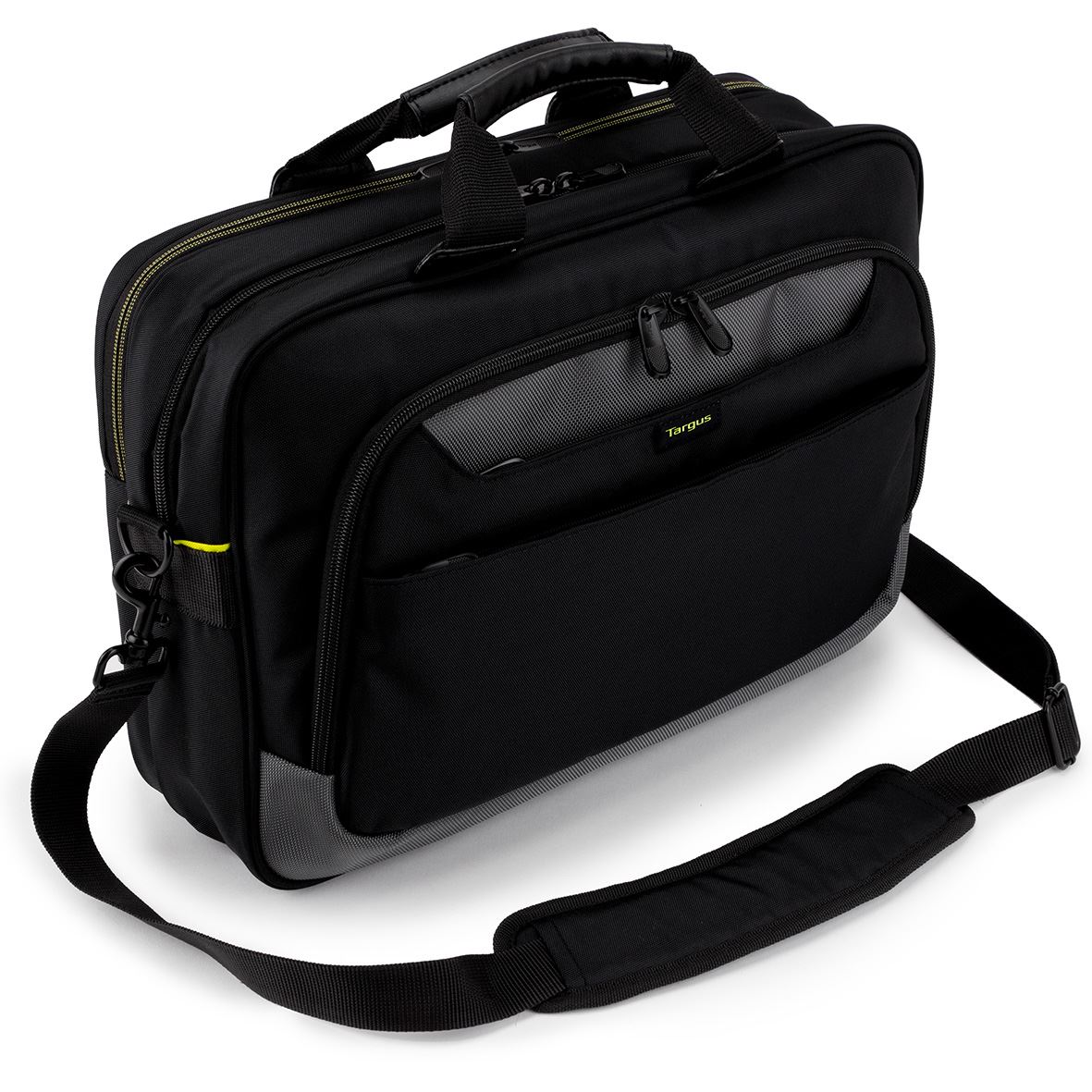 Review of Laptop Bags: Solo Rolling Laptop Bag
The Solo rolling laptop bag hanging file system is crafted with tough polyester body and it is approximately 9.3 lbs in weighs. The rolling system features a telescoping drop down handle and a sturdy carrying handle. The laptop bag has a removable padded laptop case and the body size dimensions is 13.5" x 18" x 8". The Solo rolling laptop bag has a sturdy outside construction that can stand on its own. Customers on reviews of laptop bags from popular site like Amazon.com say the dislike the fact that the wheels of the Solo rolling laptop bag are noisy and the fact that the bag has no shoulder strap. The cost price of the rolling laptop bag range from $95-$110. These prices range is a reasonable investment for the average business person.
Laptop Bag Reviews: Kelly Moore Pilot Laptop Backpack
When most people think of this bag, they think of it as a camera bag. But this thinking is not right because the bag is just perfect for everything and can stand on its own. That is, thanks to the removable basket design, you carry your laptop, camera, or any other things that you which to carry. The basket design feature permits users of this ladies' laptop bag to separate their belongings by padded compartments so that they do not clash together during their busy day. You can also remove or adjust the compartments should in case they do not fit your needs. The laptop bag was handcrafted with durable canvas, expensive genuine leather and beautiful antiqued brass hardware. The bag can carry a 15 inches' laptop and it has other features like card slots and one zipper pocket. Most users of this bags love the fact that the bag has a quality design that can be altered to fit their needs. Customers complained that the bag is expensive, since it is being sold for $299.
Review of Laptop Bags: KNOMO Maddox Leather Zip Tote
The KNOMO Maddox Leather Zip Tote was designed with elegant, supple full grain leather. The bag provides a sizeable interior that can hold a 15-inch laptop with ease. The zipped enclosure keeps the laptop and other important paperwork safe. The durable shoulder straps of the bag were designed for comfort. This ladies' laptop bag is available in six fashionable colors. The colors include black, red, espresso, green, navy and sage. Even though these bags were designed for fashion, they provide the highest level of internal functionality. You can store paperwork and folders inside the hidden slip pocket or classify accessories and tools in one of the five inner pockets and two outside pockets. Most of the users love the stylish gold-finished hardware that gives a sophisticated touch and additional flare to the bag. The KNOMO Maddox is surprisingly lightweight and ideal for the busy executive.
Review of Laptop Bags: Royce Leather RFID Blocking Saffiano
The RFID Blocking Saffiano leather laptop bag will stand the test of time as the style and quality of this bag is very good. This laptop bag was crafted from Saffiano cowhide leather accommodates 15-inch laptop or tablet. The bag have some features like zippered large pocket, two pen loops and three slots designed to hold credit or business cards. It also has an exterior zipped pocket for quick and easy access to materials that are being used daily. One important feature on the laptop bag that was designed to reduce identity theft is the radio frequency ID or identification (RFID) blocking technology. In order to prevent sensitive information from being lifted while inside your laptop bag, a small electronic chip has been inserted inside the bag.
Reviews of Laptop Bags: Samsonite Delegate 3.1 Hardside Attache
This briefcase is made with a super tough polycarbonate outer shell that is perfect for those who like traveling all the time. The inside of the Samsonite Delegate 3.1 Hardside Attache is lined with a soft polyester and provides compartments that can hold paper, pens and cell phones. A laptop of 17 inches and other accessories can fit into a location that is protected by DOT EVA foam and an outside combination. The briefcase is very durable and it is worth every penny. The case is easy to organize and to locate items but the wheels of the briefcase are noisy. The cost price of the briefcase is less than $150.
Reviews of Laptop Bags: Kattee Handmade Leather Laptop Briefcase Messenger Bag
The Kattee Handmade leather laptop bag is very appealing to the eyes and it offers a professional look that gives off vintage vibes. It was handcrafted with expensive leather and fine stitch detail. The bag has an easy to open enclosure that gives it the messenger look. The bag has two front zipper pockets, one back pocket for smaller items and a padded and adjustable shoulder strap. A laptop of up to 15.7 inches can fit in the main compartment of the Katte leather laptop bag while you have space for cell phone, wallet and cards. The product can be sold for about $128.99.
Reviews of Laptop Bags: Claire Chase Back Pack
This is a lady's laptop bag that is designed from 100 percent imported leather. These stylish laptop backpacks can accommodate a full-sized laptop computer along with some accessories. Many professionals can fit a 17-inch laptop along with several other things into the laptop bag. The carrying straps are soft and flexible to avoid having them dig into the user's shoulders. This is because the bag can hold a large number of items. Reviews from different users say this backpack is designed for the busy professional on-the-go. The ladies' laptop bags are available in several colors. These colors include brown, black, saddle and cafe. The Claire Chase backpack has five ample exterior zippered side pockets, a large zippered front pocket and a magnetic snap enclosure.
Reviews of Laptop Bags: Udee Backpack
The Udee backpack can be used by everyone. It has an anti-theft feature so you will not have to worry much about the safety of your items. Adding to the fact that this bag can carry your laptop, it has close to 19 features that you can use. This backpack is good for those who travel frequently since the bag is waterproof and is adapted to any situation. The bag is of good quality fastened with durable zips. The backpack has LED safety lights that are placed on the Udee's straps. Most users complaint that these lights are visible only from the front when worn on the back and it is less useful for cyclists' drivers. The Udee Backpack with LED lights can cost about $109.
Reviews of Laptop Bags: Hedgren Kayla
These bags have a classic style that stands out upon the first impression. Most of the users love the fact that these bags are waterproof and can withstand life's little spills and messes. The ladies' laptop bag was created using 40% nylon and 60% polyester. The bags were designed in such a way that a 15 inches' laptop can fit in the zippered main compartment, along with pens, folders and some small valuable. The interior of the laptop bags is lined with 100% polyester Hedgren red lining, along with shoulder straps that are adjustable and removable. The bags are available in traditional black, mouse grey and new bull red.
Reviews of Laptop Bags: Ogio Rev RSS Laptop Backpack
The Ogio Rev RSS Laptop Backpack is a must have top of the line bag in the market today. The laptop bag itself is about 3.6 lbs in weight. It is loaded with luxury features like fully adjustable, ergonomic, yoke-style shoulder straps, an elastic phone pocket, padded mouse or digital camera pocket and beverage holders. A soft touch neoprene grab handle has been incorporated in the laptop bag as lightweight and durable source of protection for the laptop. This bag also has deluxe organization panel with zippered stash pocket, an adjustable sternum strap and two fully protected zippered side pockets. With all of these design elements that is loved by user of this laptop bag, you can buy with ease but keep in mind that the producer offers a limited lifetime manufacturer's warranty. According to most of the top customer reviews of laptop bags from popular sites, the laptop bag lacks the professional look and it is good for young adults. The Ogio Rev RSS Laptop Backpack can cost about $150.
Reviews of Laptop Bags: Jack Georges University Collection Oversized Laptop Briefcase
The Jack Georges University Collection has luxury oversized laptop bags that are designed with American steer hides. The bags are extremely strong and long-lasting. Main features of the laptop bags include an adjustable strap that can be removed, flap closure with buckles, solid brass hardware, dual front pockets and business cards organizers. Consumers can use the padded center compartment for their laptop. This is due to the fact that the padded center compartment is safe and secure with a zipper enclosure. This laptop bag which is a must-have for professionals or students pursuing professional careers comes in black or brown colors. Reviews from most customers indicate the bag is expensive and heavy.
An essential accessory for most business professionals is a laptop bag. The bag should be durable and of high quality worth investing in it. By means of some good research and careful consideration of durability, security, space, fit, and style, you will be ready to select a laptop bag that will serve you.