Swimming is one of the greatest form of exercises which is loved by so many. We are forever told, it is the ultimate all-round fitness activity. But having to plough up and down in a pool can get a little boring. In order to relieve self from this boredom, you have to get one of the best waterproof headphones for swimming.Thanks to the arrival of water-resistant and wireless technology, people are offered wireless waterproof headphones to use underwater. When it comes to waterproof Bluetooth headphones, there are very few options but can be quite challenging to decide which to purchase.These days it really seems that no matter your choice of exercise, there is a variety you can choose from to keep you. But for swimmers, the tech available was limited until now. However, Swimmers are now able to fully enjoy their exercise thanks to waterproof headphones. It is not because your sport takes place in water that you are to deprive yourself of your favourite musical sounds. The benefits of swimming while listening music are numerous. Besides putting you in a good mood will also reduce the sense of exertion as well as boost your motivation in the activity.
Researchers did examine the effects of music on swimmers in a Speedo-sponsored study which was published in the journal Psychology of Sport and Exercise. Athletes took a period of three-weeks getting comfortable swimming with waterproof headphones. Athletes swam three 200m freestyle races while listening to motivational music. It was noticed that swimmers beat their non-music-listening times by three seconds. Even though this might seem to be a very slight improvement, it typically represents the difference between a first and fourth place in a competitive race. But it should be noted that listening to music underwater presents a lot of challenges. First you are recommended a device that fully meets the IPX8 standard, meaning it is capable of being submerged into water that is at least 1 metre deep and roughly 3 metres in a deeper pool. Secondly, you should bear in mind that chemicals found in the water such as chlorine can affect the device's charging ability over time. In most cases the charging points scale up just like a kettle especially if they are not well cleaned after each swimming exercise. This will end up limiting the device's life span. You will need a waterproof headphone that can be securely attached to your head in order to prevent the force of water from knocking it off your while you are swimming. Depending on its design, players often attach to a pair of goggles or beneath a swim cap. Finally it is worth being conscious of how comfortable you are with it before moving into water as they can turn cumbersome. It should also be noted that you will often stop your music to talk to the lifeguard or other swimmers.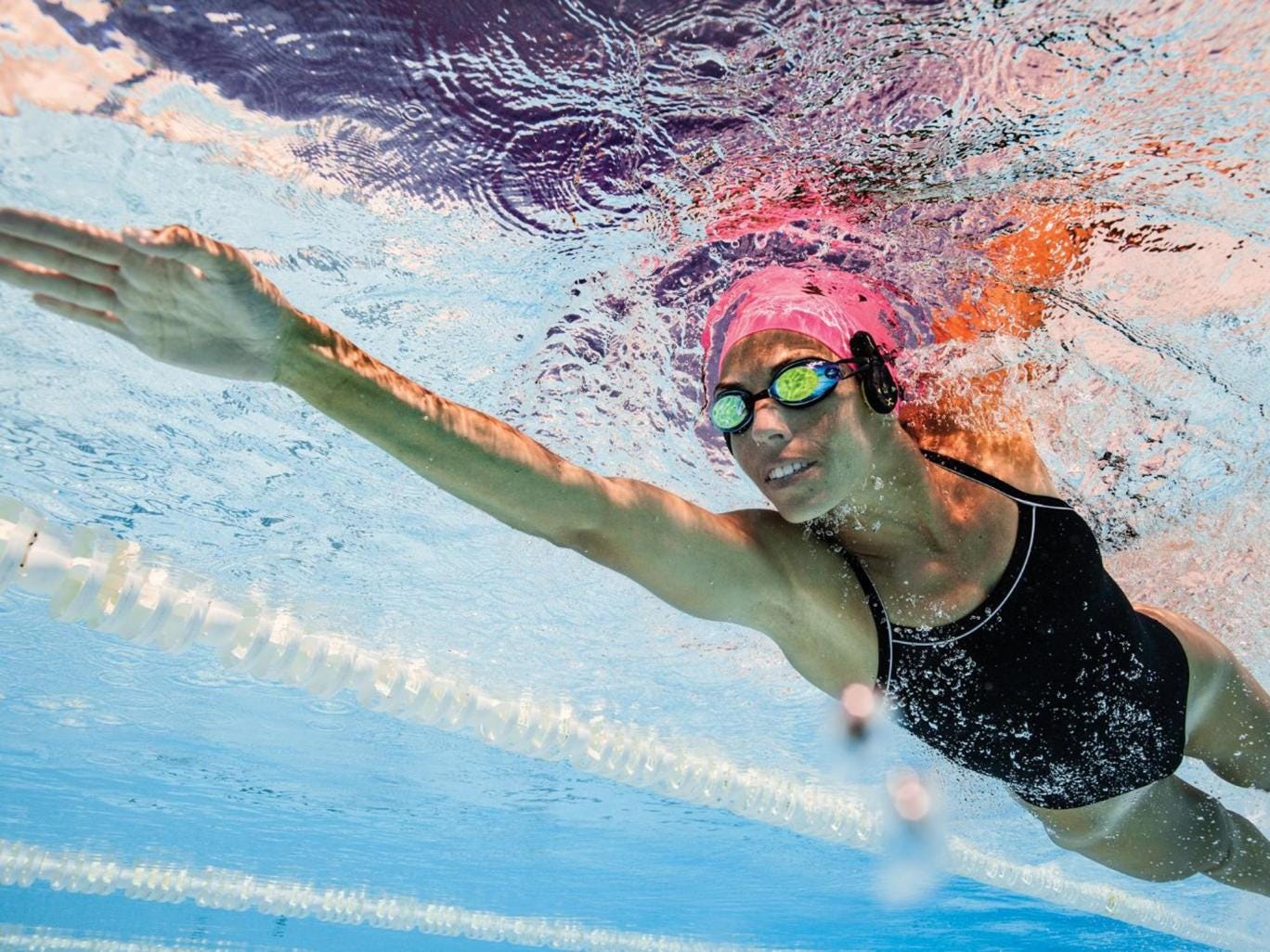 Waterproof headphones reviews: 5 Reasons why you should use Bluetooth Enabled Earbuds
There is supplementary to taking on Bluetooth technology than being a wired person that everyone else in the room thinks is talking to himself. One of the benefits of using a Bluetooth headset is simply keeping your phone in the pocket without having the hick your neck while talking on the phone. But there is quite more to Bluetooth than simply using it for your phone conversations. However, it is great having Bluetooth-enabled headphones. So what are the benefits of purchasing a Bluetooth headphone?
Cut the cable
The chief benefit of headphones/Bluetooth earbuds is its ability of being cord-free. For ultimate mobility it is hands free. So many people complain of the cable from their headphone being caught on something which rips the earbuds from your ear. But with Bluetooth earbuds you won't have any knots in your pocket and no cable means zero fuss. People who workout or run often would find wireless waterproof headphones as great devices. Losing the wires implies less battery would be used. Bluetooth technology requires very little energy.
Sound quality
Do not misjudge this device, for losing its cables does not mean the sound quality has been tampered with. However, follow our guide and pick out the best waterproof headphone that goes well for you. A lot of wireless waterproof headphones come with bass-boosting technology alongside a noise-isolation design allowing you to feel the beat as you listen to the music. The Bluetooth technology has been on a continuous improvement table since it was released allowing it to offer same sound quality from wireless earbuds as you would with the wired ones.
Talk, walk and more
Whether you are walking around your home or down street, keeping hold of a phone not only interrupts your movement but also gives you one hand less to work with. This opens way for Bluetooth freedom devices. They allow you to answer a phone call with just a single button touch when you receive a call while playing music. Pushing back this button will not only stop the call but also continue your music automatically. With wireless earbuds, it is worth considering the infamous driving scenario. It is illegal driving with a held phone on the ear. However, you can talk on the phone while driving thanks to a Bluetooth headset.
Stylish and Affordable
Wireless waterproof headphones are quite sophisticated and stylish. Most come with a sporty design which keeps them tight on you while you take on your swimming sport practices. They can also be used well out of water, for running great distances. Everyone can enjoy the sleek design of wireless headphones. A good number of people on getting wireless think of it being expensive, it is not the case, most come at a price below 70 dollars. Some even come with a Bluetooth transmitter in case your MP3 player or phone isn't Bluetooth compatible.
Do More than Listen
Bluetooth headphones work with more than just phones and MP3 players. All manufacturers are constantly working and planning everything from phones to computers and TVs Bluetooth compatibility. With Bluetooth compatible TVs, your wireless waterproof headphones would not only serve you under water, but will eventually serve you at home. When using them at home, you won't need to worry of what will happen next if they drop in water. For sure they will remain intact. These headphones offer you the freedom to move around freely without any cumbersome wires. Finding the right waterproof headphones would only be a question of time as we shall go through the best waterproof headphones available in the market.
Waterproof headphones reviews: Tips for purchasing a pair of the Best Waterproof Bluetooth headphones
As previously mentioned, finding the best waterproofs headphones is a challenging task but if you follow the following steps, you will certainly find that which meets your needs.
Battery Life
Because waterproofs headphones operate on a charged battery, you won't enjoy pausing your swimming activity to go and charge it. Thus, go for a waterproof headphone that comes with a long lasting battery permeating you to take on a good number of swimming trips after full charge. Carefully check on the time it takes to completely charge up and that it takes to drain down.
Durability
No one would enjoy purchasing one of the wireless waterproof headphones just to find out a few days later that it is bad. Apart from checking its waterproof feature, carefully check if the pair of headphones is made with material that capable of withstanding the corrosive effects of water. Before purchasing any waterproof Bluetooth headphone, it is very important to know the material from which it is made of and its quality. This is because waterproof Bluetooth headphones should be made of high quality rubber and plastic that can resist chlorine and other mineral salt damages. Go for one whose connectors are gold-plated to resist corrosion when it comes to metallic elements.
Impedance
Coming as a result of the vibration frequency carried by the electricity, it is a factor that enables clarity of sound. Thanks to it you get your favourite music clearly and well filtered. Therefore it is a factor of great importance which you should carefully check before purchasing any of the waterproof Bluetooth headphones.
Water Protection Rating
Water protection Rating for waterproof headphones used in swimming is denoted as IPX. This is a test which determines how high their level of water resistance is. The IPX numbers and their definitions are as follows in a nutshell:
IPX0 refers to no water protection;

IPX1 refers to sufficient protection from sopping water only;

IPX2 refers to sufficient protection from vertically sopping water;

IPX3 refers to sufficient protection from spayed water;

IPX4 refers to sufficient protection from splashed water;

IPX5 refers to sufficient protection from water projected from a nozzle;

IPX6 refers to protection from a strong jet of water;

IPX7 refers to protection in water up to a depth of 3ft for 30 minutes; and

IPX8 which offers better protection than IPX7, but has no specific requirement yet.
Secure Fit
Custom fit is another important factor you should consider before purchasing waterproofs headphones. This is because all water activities are highly dynamic, a reason why you should purchase among waterproof headphones for swimming only that which stays in place while you are busy swimming.
Frequency
Before purchasing waterproof Bluetooth headphone, make sure it comes with a sufficient frequency transfer level which offers you clear and audible sounds.
Reviews of Waterproof Headphones: The Plantronics BackBeat Fit
In waterproof headphones reviews on Amazon, this device shows 2,020 positive reviews for its durability and functionality. One of the Amazon customers by name W. MCcCown on February 8, 2015 testifies he has tried several models but none performed as good as the Plantronics Backbeats Fit; it offers great performance and at the same time great fit. This is one of the waterproof Bluetooth headphones which goes for all types of sports because of their firm hold. It is ideal for activities like cycling, swimming, working out and running without any damage even under the heaviest of rains. Still in waterproof headphones reviews on Amazon, a customer by name A. Felson wrote on December 5, 2015 that he would have given this device 5 stars if not of user interface.
Durability and water resistance
This is one of the best waterproof headphones for swimming you can find in the market thanks to its great durability and water resistance capability. It has been tested and rated IPX7 meaning you can safely submerge with it up to a depth of 3 feet for 30 minutes without damage. It comes very handy and lightweight. This implies if it is unintentionally dropped in water, it won't immediately drown offering you the time to pick it out. Their casing is made from high quality flexible rubbery plastics that can resist all physical strains endured in physical exercises. Overall, they are well built and quite suitable for all sport exercises. They also come with a rating of 5 for their dust resistivity. The dustproof is a bonus from the manufacturer meaning you can use it without fear of destruction even in a desert.
Comfort
It comes with a rather tight fit which you would find annoying at the beginning but with time you will find it extremely comfortable. The benefit of this is that it remains in place even if you take on fast movements while swimming or running on the surface. It should be noted that you will need some time to get used it. After a few weeks of use, you will find them not different from regular earbuds. In reviews of waterproof headphones on Amazon, this device is high rated when it comes to swimming thanks to its ear tips that seal the sound while maintaining comfort four hours underwater. They can be worn for hours without experiencing ear irritation. However, this is highly dependent on the size of your head.
Bluetooth and Battery
This is one of the best wireless waterproof headphones with extremely fast connectivity via Bluetooth. In waterproof headphones reviews on Amazon, a customer named Lentil 1 testifies that it is great for any long distance running. In addition, he says the earphones sit nicely and comfortable in his ears.Once you are connected via Bluetooth, there is no breakage of sound for a range of 10 feet. It works as it's supposed to. All you are asked to do is simply keep your playing device close and it would work 99% for sure. It comes with very intuitive built-in controls which are very easy to use. With it, you are free to select songs, volume, and accept/hung up calls. With 8 hours of playing time, all we can say about the battery life is ok. It allows you take a couple of swimming trips before recharging. It should be noted that there a several Bluetooth models which come with a battery life smaller than this. In 8 hours, you can get back home with memorable moments. In reviews of waterproof headphones on Amazon, a customer by name Alexi Li says he found it a little uncomfortable at the beginning but as time went by he found it quite alright.
Sound
If you are not a hardcore audiophile you will enjoy even the slightest bloated bass from this device. In Overall, they represent durable, comfortable, waterproof, Bluetooth headphones quite suitable for all kinds of sports offering you good sound. An Amazon customer by name Bilsid on August 14, 2016 gave this device 5 stars in waterproof headphones reviews. He testifies that they come with good to hear sound. Still in reviews of waterproof headphones on Amazon, a customer by name Far wrote on February 1, 2016 that he enjoys music very much and has used several headphones, earbuds and earphones since the 80's. But he had never come across one which offers good musical sound as the Plantronics Backbeat fit.
Pros;
8 hours of battery life;

Represents great value for money; and

Flexible, comfortable fit.
Cons;
Its sound quality is not up to audiophile standard.
Reviews of Waterproof Headphones: The Blueant Pump
This is the best budget waterproof Bluetooth headphones little money can purchase. In reviews of waterproof headphones on Amazon, a customer named David Steele on May 31, 2015 affirms he was really impressed after purchasing this headphones for swimming. The only reason why they do not feature at the top of customer waterproof headphones reviews on Amazon is because they are relatively new and need to prove their efficiency with time. However they are classed amongst the best waterproofs headphones because of their effectiveness shown in just the little time they have been out. In waterproof headphones reviews on Amazon, this device shows 896 positive reviews. One of which was written by Jennie on December 14, 2016 testifying she is satisfactory impressed of its waterproofing ability. She finds it a good choice among waterproof headphones for swimming.
Durability and Water Resistance
Carefully tested and rated IPX7, they can be submerged up to depths of 3 feet and are able to resist underwater for up to 30 minutes. They are quite perfect for visiting water parks. Its watertight build is archived thanks to Kevlar and Teflon water protection alongside first quality rubber seals. Wearing them will give you the feeling they are truly made for water and water nearby activities. Its earbuds infuse confidence to take on other sport activities apart from swimming. They come with a 12 month warranty meaning you can immediately get them replaced within 12 months if they stop working. This is aimed at protecting your investment.
Comfort
Coming with a behind the ear design, its fit is quite stable enough to support even the roughest physical sport activities. It comes with flexibility wires allowing for an easy adjustment to your fit. In addition, the wires are short enough to prevent flapping if you are running. It comes with;
2 sizes of stabilizers;

7 different types of ear tips; and

Additional cable zip.
Bluetooth and Battery
In reviews of waterproof headphones on Amazon, a customer by name L. Plan on May 16, 2017 affirms the fact that this is a good wireless sweat proof set coming at an affordable price. Its Bluetooth connectivity is up to 100 feet which by far surpasses the competition. In reality the range won't go that far due to the objects between the headphones and Bluetooth music device. In most cases, walls greatly diminish Bluetooth range. In most cases, you are left with just 25ft of actual usable range. This is an average comparable performance with alternative wireless headphones. It should be noted that you will need some time to get used to the controls of accepting and hanging up calls, changing volumes and songs. However, this device remains a relatively simple one. Its battery life is 8 hours, time for you to carry out all your activities. It takes two hours to fully charge which in reality you can get less. Offering more than 5 hours of playtime, it will greatly increase your swimming experience and you will come back home with memorable moments.
Sound
High quality sound is pretty good for waterproof Bluetooth headphones on a budget. This device comes with a strong and quality bass that overshadows other waterproof headphones in the market. Those who enjoy strong bass would like this. This is the best waterproof headphones that stay in your ears offering good Bluetooth connection. A customer by name Cipher Nemo wrote on September 21, 2015 that this is a solid headset with decent and pleasing sound to the ear.
Pros;
Stable fit;

IPX7 waterproof tested design;

Represents great value for money;

Bass emphasized quality sound signature; and

Nice bonus selection of ear tips.
Cons;
Its Bluetooth range is shorter in real life than what i indicated.
The SoundWhiz W18
In reviews of waterproof headphones on Amazon, this device shows 751 positive reviews. The SoundWhiz W18 is one of the best waterproofs headphons which offers a balanced sound signature alongside stable fit. Its earbuds are well known for their surviving capability in water. Even though they are not the cheapest in the market, they remain cheaper than some other waterproof Bluetooth headphones you'll find in the market. Reading from the waterproof headphones reviews, an Amazon customer by name Marjorie Devereux on June 5, 2017 openly wrote that these earphones show up as the best he has encountered that are quite comfortable and come with several accessories.
Durability and Water Resistance
Rated as IPX7, it comes with very good water protection suitable for swimming. This means they can survive well under water for a while. Without fear of damage, you can drop them in water, wash them in water and use them in the rain. It is true they are plastic made but well build to instil durability confidence. It comes with flat wires that are flexible and quite durable. You do not have to fear putting on the ear hooks for they are made from rubbery materials. It is good enough to take you for a considerable number of years. You do not have to worry much about durability for it comes in a Lifetime Sweat Proof Guarantee.
Comfort
Immediately you put on this waterproof headphone, you will realise it is quite comfortable. Its ergonomic design allows it to sit nicely on your ears. This is one of the best waterproof headphones you can find suitable for any fast sport activity thanks to its firm hold. It comes alongside 6 pairs of ear tips, foam and silicon in 3 sizes. With it, you can be comfortable when lonely. All you are required to do is simply put them on and adjust. Once done, you are ready for a wonderful and memorable experience.
Bluetooth and Battery
They operate on Bluetooth 4.1 offering more than 30 feet range depending on the number of obstacles separating the device from the music player. Its connection rarely disconnects because it is very stable. This is quite important for those who know how irritating it is to have earbuds that frequently disconnect. This device is compatible with iPhones, androids and tablets. This is one of the best Waterproofs headphones which cancels all Bluetooth noise. Its battery is capable of powering the device for 8 hours making it interesting to take for your memorable moments. If you have a smart phone and a tablet, you can connect it to both devices at the same time. In addition, you can use them to pick up your calls. It comes with interesting built-in control buttons to change songs, volume and receive call. It comes with a micro USB charging cable in its package.
Sounds
Its sound is good enough to enjoy any music genre. It comes with a well-balanced sound signature. Its sound is quite clear and precise. It comes with a CVC6 noise counselling technology. In waterproof headphones reviews on Amazon, a customer by name Ziggy28 testifies that the sound offered by this device is fantastic and they fit great. Still on Amazon, another customer recommends this device to anyone saying that it offers amazing sound quality he has never come across.
Pros;
Stable Bluetooth connection;

Tested and found IPX7 rated;

Represent great value for money;

Quite stable and comfortable; and

Clear and balanced sound which is enjoyable for all genres.
Cons;
Sub-par microphone enactment.
The HydroActive Waterproof Headphones with Swimming Earbuds
This is one of the best waterproofs headphones for swimming that delivers incredible sound performance at an affordable price. It offers crystal clear sound all through the swimming session. This is exactly what you need if you are looking for a set of quality swimming headphones. Its sound is phenomenal and does not degrade over time. In waterproof headphones reviews on Amazon, a good number of people appreciate the sound offered by this device underwater. Its headband keeps the swimming cords extremely fasten. This makes them very comfortable to use. They are extremely waterproof and very simple to use. In addition, they can also be used for aqua aerobics, kayaking, canoeing and most other aquatic activities without presenting any disappointments. With its wrap-around and get on and off feature, it is very simple to use. It is one of the most watertight and aqua-dynamics head phones.
There exist no loose ends with this headphone. You do not have to constantly readjust them during swimming since they offer appreciable tight which keeps them well seated in your ears. It comes with an incredible durability. They are capable of tolerating chlorinated water and other mineral salts without showing any signs of wear and tear. During swimming laps, the headphones do not move and remain quite tight. Nevertheless, wearing a swimming cap can increase stability up to a certain extent. It comes alongside 9 high quality swimbuds in the package, allowing you to adjust to the optimal fit. The head wrap helps keep the ear pieces in place and help maintain it comfortable throughout your swimming exercise. With this device, no water enters in to the ear thus maintaining a clear and audible sound. This makes them suitable waterproof headphones for swimming. It comes with one of the best first class designs suitable for active swimmers. It is quite durable and offers great sound.
The Diver 4G Waterproof Headphones for swimming
This is another impressive pair of waterproof headphones for swimming that comes at an affordable price. They are carefully built to deliver serious audio performance while underwater. It comes with a 4GB internal memory which allows enough storage space to make a collection of your favourite songs. It comes with very high quality hooked waterproof earphones, USB cable and a rechargeable battery. You can clip it to your swimmer gear thanks to the handy clip it comes with. They produce phenomenal sound and are very easy to use. All Lab swimmers would find it quite easier to attach this diver's headphone to goggles. Even though they are not fancy, they remain the best diver's companion. They will allow you enjoy underwater creatures while listening to your favourite music. They come with a complete set of very soft and comfortable silicon earbuds which deliver quality sound.
These are the most well balance waterproof headphones for casual or competitive swimming. It is carefully designed to be user friendly as possible. You will never get tangled in its cord; it comes with the perfect length. Even though the earphones clip well over your ears, using a swimming cap to hold them completely in place is still a good idea. The MP3 player itself is quite small and won't get on your way while swimming, this makes this device quite easy and comfortable for use underwater. The ear buds of this device carryout a dual duty as earplugs and help in keeping water out of your ears. Its music quality is quite good and surpasses that of other waterproof headphones used in swimming. It comes with a durable battery life which allows you complete all your swimming exercises for the day. It is very easy adding songs on this device from your computer through the USB cable it comes with. Coming with only three buttons, it is quite easy to operate. You simply hold down one button to turn on/off or do a short push to play/pause music. The remaining two are held down to decrease/increase volume or a short push to scroll backward or forward. On the whole, this is one of the best waterproofs headphones with very easy to operate buttons. In charging this device, you have to plug it in to a USB on your computer and it would charge quite fast.
Reviews of Waterproof Headphones: The TROND Edge
This is a good option when it comes to waterproof Bluetooth headphones. It comes with the best quality waterproof wireless earbuds. They represent good value for money.
Durability and Water Resistance
It comes with a tight plastic and rubber design which has been tested and rated IPX4 for water resistance. It was found resistant against sweat and splashes of water. They can be washed underwater without damage. It's quite safe using them under the rain and on a boat without fear that they will fail in their functions.
Comfort
This headphone is quite comfortable and light weight. They are carefully designed to sit nicely in your ear lobes. Its cushion wings can easily be changed into the size that best fits you. This is to ensure a comfortable and stable fit even when you take on physical exercises. However just like other wireless waterproof headphones, continuous use while exercising self for more than 4 hours can cause ear irritation. One problem with comfort has to do with the wire that comes behind the neck, it often flaps around and irritates your neck.
Bluetooth and Battery
It uses the standard 4.0 Bluetooth offering about 30 feet of range when walls and objects aren't interfering. It comes quite compatible with iOS devices, Laptops, Androids and MP3 players. Control buttons are positioned on the earbuds with sufficient space between allowing for easy use. It comes with hand-free experience which is similar to that of other waterproof Bluetooth headphones. Its battery is far better than that of similarly priced products. It has a full charge time less than 2 hours and a play time of more than 7 hours.
Sound
It is important getting good sound quality when it comes to budget Bluetooth headphones. It comes with mid tones which are nice and clear to hear. If you are focusing on your activity, you will find the sound quite interesting. Coming at an affordable price of 20 dollars, you are getting the best of wireless waterproof headphones.
Pros;
Cheap price representing high value for money;

Rated IPX4;

Stable fit during movement;

Good battery life; and

Quality sound with a punchy bass.
Cons;
Shows some comfort issues.
Reviews of Waterproof Headphones: The Hussar Magicbuds
Here comes another great value for money Bluetooth earbuds which was tested and rated IPX. This waterproof headphone offers a lot of features for a low price. This is probably one of the main reasons why they are highly popular around the world.
Durability and water resistance
When it comes to water resistance, they are only rated IPX4 meaning they can't last for long in water. If possible you should not even drop them in water. However, if you happen to unintentionally wash it in water, you need not worry much. They are also sweat proof so you can take them out for your physical sport activities without fear of destroying them. Of course, they can also withstand heavy rains. As long as they are completely kept out of deep water, they'll work very well. It comes with a plastic casing which probably keeps water away more than a metal will do. Even though it is built with plastic, it tends to be really solid and resistant. It comes with flat and flexible wires. Its control buttons are durable enough. Its ear hooks offer a nice flex. You'll probably feel comfortable taking this waterproof headphone outside for a walk.
Comfort
Made of plastic material this headphone not only fits well, but is also very comfortable to use thanks to its slimy design. You do not need to constantly adjust the fit once you have already put them on no matter how fast you move. 3 pieces of silicone ear tips come along with this device and are capable of providing noise insulation. .
Bluetooth and Battery
Its standard 4.1 Bluetooth is capable of connecting to any iOS or Android device. It remains connected for a range of 30 feet. Just like other devices, once connected it also comes with faults such as distortion. It comes with very easy to use and built-in controls. You are able to control song selection and volume together the Bluetooth and power button. It comes with an average built-in microphone. It allows you successfully make a phone call. It comes with a decent battery life of up to 7 hours of playtime. It comes with a micro USB cable for charging and transferring songs into the device.
Sound
This device comes with a good and high quality sound which you will enjoy. Its sound is quite clear and audible. It comes with CVC6 noise cancellation.
Pros;
Cheap price;

Great value for money;

IPX4 rated and can be washed in water;

Stable Bluetooth connection; and

Very comfortable and stable.
Cons;
Can't compare to higher-end in any category.
The Phillips ActionFit
This is another viable option for your sports junkies. It comes with customizable earbuds that work quite well and its fit works best for people searching for comfort and high quality for their long workouts. They are carefully designed with a water-resistant seal that protects water from entering into your headphone. This headphone comes with 3-sized ultra-soft silicon cap kit that offers you optimal sound in order to meet your preference. With their light weight design they are more comfortable than other waterproof headphones. During your workouts, you are given the possibility to put your waterproof headphone anywhere you like thanks to its slimy design. If you want something that fits well, sounds well and comes at an affordable price then this device will be best for you. It is quite durable.
Reviews of Waterproof Headphones: X-1 Surge Sportwrap
This is the best for those looking for a waterproof headphone that is capable of resisting submersions and deep water. This is the right 100% waterproof device you should get as a swimmer. It comes with a hydrodynamic design which provides proper tight and fit necessary for fast moving water activities. This waterproof headphone uses the latest technology available which ensure a stable and comfortable fit.
Reviews of Waterproof Headphones: The Aquapac 100%
This is a reliable 100% waterproof headphone you can find in the market. They have been tested and found to work well up to depths of 30 feet underwater. It comes with a special design and it is equipped with well fitted silicone earloops aiming to firmly and tightly keep the headphone in place even if you take on fast movements underwater. It also comes in three different sizes making sure that the earbuds fit well to your preference. It is compatible with Apple products and most music players. If you plan to carryout underwater activities in the future and need something durable, consider purchasing this waterproof headphone.