Cooking has gotten more interesting and meals, especially barbecue are tastier than they use to be some years back. We may give credit to chefs and cooks, or to various spices which are easy to find in markets and supermarkets. But if we are sincere enough, we will agree that the advancement in technology, especially in the manufacturing of electric grills have played a role in the ease and quality improvement of making barbecue.
There is so much debate online and offline about the negative effects of using electric grills, which ones are the best and which have the most capability of causing harm to human health. There are several brands and designs and the variety truly make it hard to choose which will suit your needs the most. Some people are after smaller electric grills because they do not have adequate space to spare. Conscious of all this and the confusion it may cause when one is trying to figure out which electric grill to buy, especially if you are about to do so for the first time, we decided to put this information together and spare you the headache.
Electric grills are made or designed for different uses in different places. The needs of people determine to a large extent the design and sizes of these cookers. Reviews of electric gills usually seek to compare them based on health issues, effectiveness of use, portability and size. Of course all this information is very important if you have to get an electric grill.
General issues to look out for when buying an electric grill
1. Price
Some electric grills could be expensive for just no good reason at all. Most times grills are priced because of the brand or mark. That's just about the only advantage you get for all the money you pay. So it's good to look out for properties before considering the price to pay. Other electric grills on the other hand are relatively cheap and you may be surprised that such electric grills would function just as proper if not more than the others. This is a chief issue in reviews of electric grills. The best electric grills may seem a little expensive but the specks usually justify the price.
2. Availability of timer
This is a very important feature when it comes to electric cooker grills. Timers can save you a whole lot of waste. It is difficult to know exactly when your grill is done or should be done especially if you are new to grilling. If you buy a grill which does not have a timer, you could go through months of disappointment whenever you grill. So it is better to save yourself all that stress right from the beginning.
3. Sticky or non-stick grill surface
The best electric grills have non-stick properties which enhance cleaning and ensure these grills last longer than their counterparts. There is a lot of grease that comes in contact with grill surfaces and without non-stick properties grilling would hardly be fun, especially when you think about the difficulty of cleaning after usage.
4. Size
The size of a grill you intend buying should generally be determined by what you intend to grill, that is to say the amount of space available for you. If you are grilling indoors for example it is important to consider the space or place where you intend using it. You may buy a grill and have it shipped to you only to discover upon its arrival and set up that you really do not have enough space to comfortably use the grill either within or without your home. Some grills take up a lot of space, and for a good reason. Sometimes that's because of important parts or accessories. The bulky nature of grills maybe an issue of faulty design on the part of manufacturers. Whatever the case what is important is that your grill has the space to stand and you have enough space to do whatever work you need to when grilling. The smallest grills are tabletop electric grills.
5. Temperature Control
Temperatures for electric grills are an important feature to consider before buying one. The grill maximum temperature should be high enough to cook just about any food you need to grill with the right temperature. Some things need higher temperatures to cook properly. It will be a shame to get one only to put a steak or some vegetable in it and realize the temperature within the grill cannot be raised high enough to do the job properly. The best electric grills have a built in temperature gauge which help you know exactly when the grill is hot enough and ready to put in your food for cooking. It also helps you know exactly how hot the grill is while the food is in so you know exactly what results to expect and when to turn heat down or up.
6. Detachable grates or plates.
These have to be cleaned after every grilling session. You can imagine what burden it will be if the grates or plates are not detachable especially for those who are really fun of grilling. Well the sad truth is that some electric grills plates and grates are not detachable at all and you may not notice before placing an order except you get a tip off from reviews of electric grills. Most times users only realize the flaw in design after they have used the grill for the first time. Well finding one with detachable plates is a sign that it may just be one of the best electric grills.
7. Cord Length.
This is especially important to consider when you intend using the grill outside or far from an available power source. The longer the cord, the better it is for use at home or outdoors. So be sure to check distance between the particular place where you will be using the grill and power outlet. The other option is to buy an extension cable, but that would simply be a waste of finances if you can get an electric grill with a long cord. The best electric grills however do not always have long cords.
Let's look at some of these electric grills and their specific features in detail to enable you make a discrete and well informed choice.
Reviews of Electric Grills
1. George Foreman 15 serving electric grill outdoor or indoor
Haven made a name in the world of electric grills, George Foreman 15 could very well be said to deserve to cherished part it occupies in the hearts of grill users. This electric grill cooker does not just have an appealing look but an outstanding set of features that make it truly unique and better than most others in the market. It can be used from a table or mounted on the ground with the pedestal it comes with. This grill's temperature is easily set using its temperature control dial. One distinct feature of this grill which interested buyers should take note of is the fact that this electric grill will require a digital thermometer when user needs to increase heat to desired temperature from the 1600 watt capacity. What is more, you do not have to worry about heat loss and the possibility roasting with convenience. It is a great choice for making electric barbecue and several other meals. This grill has a dome shaped lid designed to maintain specific temperatures. Another awesome feature of this grill is its non-stick ability enhanced by a hidden grease cup that allows grease on the cook surface.
Usually people who live in apartments and other places that hardly permit outdoor open flamed cooking will have a problem which will be solved by this grill. It is also an outstanding electric smoker grill. Measuring 240 square inches, it has the capacity to take up to 11 burgers. Thus it is one of the best electric grills outdoor.
According to electric grill reviews, this one stands out of the crowed. No doubt the name has become very famous over time. Users are especially fascinated with the possibilities and outstanding features of this grill which are absent in several others. Its stick free, portable and stand availability for ground use make it a favorite for users.
This grill is available on Amazon, walmart, target and several other sites where they sell at $130 as suggested by manufacturers. However, the actual prize may vary.
Pros
Very portable with a convenient size to take minimal space;
Can be used indoors or outdoors;
Outstanding thermostat feature;
Can be used on a table;
Comes with a stand for use on the ground; and
Non-stick.
Cons
High power consumption
2. Weber 55020001 Q 2400 Electric GrillOutdoor
This tabletop electric grill has a rectangular semi rounded shape with handles and a cover. Its handles go across the bottom of the grill and also act as support for the stand. However, the stand which this grill comes with is not designed for floor use. That implies that you will have to buy a different stand which should raise the grill up if you intend using this electric grill from the ground.
Made of durable aluminum, it is designed to operate in and withstand very high temperatures. This grill is also built firmly. Just as firm and strong as it looks. You can be sure it will last long enough. If you are going to need an electric barbecue you will surely be delighted to take this grill along.
It has a cover to preserve your food while it cooks. This electric grill is highly capable of retaining heat to make grilling faster and save energy. That means you get to save time and electricity bills. Its material build up is outstanding. The nylon frame is re-enforced with glass and its body covered with cast aluminum, strong enough to protect is from breakage in case it falls.
This outstanding table top electric grill has a variety of setting to suit your specific grilling needs and to adjust the thermostat. With a catch pan which is detachable and side handles which are secured to hold, this electric grill is very convenient for use. Weber 55020001 weighs 42lbs and measures 26 inches by 31.5 inches by 25.1 inches. That makes a grilling surface of 280 square inches.
Its warranty is limited to 5 years, but that is good enough to prove its quality. It needs 1560 watts to be powered and is capable of holding up to eleven hamburgers. Weber 55020001 could also serve as an electric smoker grill.
It is one of the most convenient electric grills and has a better chance of lasting longer than many others. Hence if your top priority is durability, then this will be the best electric grill to consider.
Pros
This electric grill is compact and portable;
It is large enough to grill in large quantities at a time;
Its secure cover makes it good for food preservation during and after cooking.
Cons
Its stand is not made for ground use. Hence a buyer should bear in mind that extra expenses will be required to buy a stand with which it can be used outdoors from the ground.
Price
The approximate price for this grill is $249 and is available on some popular sites with free shipping.
3. Cuisinart CEG-980 Electric Grill Outdoor
Cuisinart CEG-980 is a legendary electric grill. The legs of the beautiful grill are tucked under it and when taken out to make it stand, the entire height of the grill may go way above convenient height for grilling. Looking at the package, you will hardly guess it could be as broad as it actually is or take up as much space as it actually does. That is not to say it is too large for convenience. Just don't be fooled by the size of the folded package. It's grilling surface measures 145 inches and is made porcelain-enameled.
Cuisinart CEG-980 has a small space between the lid and its grill surface which some may consider uncomfortable. This may not be the best electric grill for those who usually engage in grilling large chunks of meat or other foods as they may find it too tight to allow proper grilling. However, it is awesome when it come to grilling meat. They have a tendency to cook faster and hardly cause those dark grill lines you find on foods cooked on other electric grills. It also preserves moisture so that meats and other foods cooked in it retain their juiciness and unique taste.
This cool electric grill weighs 17 pounds, thus quite portable and moveable. Its cord length is 6 feet, making it possible to connect to distant power outlets which should supply 1500 watts of electricity according to its specifications.
According to reviews of electric grills, it is one of the best electric grills you can find. This one is great for users who do not usually do much grilling. It is convenient and simple to use, some say. That is because after unpacking it, all you have to do is plug it in and let it heat for about 20 minutes. After that, you are set to begin grilling. In electric grill reviews, some customers express dissatisfaction with its drip pan which is too tiny and difficult to clean.
Price It is sold for approximately $180 though price may vary with supplier.
Pros
Easy to set up and use;
Can be used on the floor, a raised surface or table for more convenience; and
Great for cooking meats.
Cons
Takes quite long to get heated up and prepared for cooking;
Is not very convenient to use on the ground;
Lid to grill surface space is quite small, allowing a minimal space for quantity of food that can be grilled at a time; and
Not very good for grilling vegetables.
4. Char-Broil TRU Infrared Patio Bistro
It is interesting to know that Char-Broil actually produced the first electric grill in the 1970s. They have since then made ground breaking efforts amidst fierce competition to keep their place of honor with customers. Little wonder why they feature amongst best electric grills. This round shaped electric grill is an outstanding choice for both indoor and outdoor use. It is a protruding handle in the front for opening the lid.
Its grates and other parts are porcelain coated and it has a main grilling surface space that covers up to 240 square meters. This beautiful grill which is usually red in color is portable and can be used on the floor. It has a wonderful stand with tires at the back so that it can be moved with greater ease and convenience. You also do not need to worry about temperature changes and stabilization. Char broil TRU-Infrared has an adjustable thermostat that allows you to choose between five different temperatures that rise up to 550 degrees F. With regards to its size, it is 25.2 inches by 24.4 inches by 38.2 inches and has a weight of 49 lbs.
This beautiful grill has a way of preserving moisture and retaining the delicacy and juiciness of cooked meals. This is possible because of its infrared feature that ensure heat is evenly distributed through the food being cooked, preventing it from becoming too dry. Its removable cooking grill also enhances cooking possibilities.
With its temperature gauge display, it is simple to regulate and maintain required temperatures. Its lead and grill surface give sufficient allowance to cook large quantities at a time to save energy and time. There are two surfaces on the grill. One is raised higher than the other to separate food which you might want to grill at the same time but separately. That is a great thing because it goes a long way to preserve different texture, flavors and tastes. It is also one reason why several customers love this grill.
Talk about electric barbecue, this is a great grill for such delicacies. What's more, it can be used as an electric smoker grill.
Price: the price for this electric grill is approximately $177
Pros
Has infrared feature to enhance heat balance and ensure savory meals;
Great stand with tires for easy displacement;
Provides adequate space for grilling large quantities at a time;
Outstanding handle and temperature control system.
Cons
Its stand, though awesome to use, needs some extra tools to set up. This could mean extra cost and need for expertise.
It is quite expensive
Does not come with a complete set up. So user has to do some little work.
5. Easy Street Deluxe Electric Cart Grill Review
Of course there are so many electric grills out there, but Delux beats most of them when we compare properties and functionality. It is a compact electric grill with a great look and build up which shows firmness. But that is not just for looks. This electric grill is actually as firm as it looks, if not more. Lovers of this grill consider it one of the best electric grills for all round usage and performance. With Easy Street, heat builds faster, sparing you the extra time you may have been experiencing with other electric grills. Unlike most other grills which lose a lot of heat when lid is opened, this grill is designed to preserve heat and maintain temperatures even during those short periods you take to check whatever you are grilling.
The most common color for this grill is the black and red combination. It has side stands on both sides, a wheeled stand to ease movement and a third stand underneath the grill, between the legs. These stands could be very handy for placing items especially when the grill is used outdoors and it can serve as an electric smoker grill.
Opening your grill frequently while your meal cooks could actually spoil things. Well, with this special electric grill you can wave that good bye. This grill has a transparent glass in front for a quick view in case you need to see how well your barbeque or any other meal is doing. Thus, heat does not escape from time to time during those abrupt checks.
Moreover it is great for apartment use. Its size and functionality allow easy use and minimize space covered within the house. The overall design is simple and logical, you will actually not need to vigorously study a users' manual to use this electric grill. It also has the capacity to hold a good number of burgers or steaks at a time with its 200 square grill surface. For easy cleaning after cooking, it has a grease trap pan which enables keeps you from the burdensome task of having to clean the inside part of the grill. With just 1500 watts of power, it is set to operate.
This grill is amongst those noted for outstanding performance in grilling meats and other foods whose juiciness should be retained after grilling. This easy street grill is also designed to preserve the flavor of foods.
Truly it is near impossible to enjoy the char which charcoal or propane grills give to meats, however, the black sear marks and unique flavor are retained by this grill. The grill is great for people who live in houses with very little space to spare. It can fit in very small places and all you will have to worry about will be the availability of a power outlet.
Price.This beautiful grill is sold at approximately $190. However it is usually sold for less than that price.
Pros
This grill is simple to set up or assemble. All what you will need to do after purchasing is put the various parts together and use the manual in the package to fit parts together. This process can be completed in about 30 minutes.
Its foldable tables serve as an awesome stand or surface to keep quick tools you may need while grilling.
It is easy to move about since it has tires attached to its stand.
The transparent glass at the front is a good measure to avoid heat loss.
Grease trap pan makes it very easy to clean.
Cons
Because of lapses in quality control, some parts may be missing from the package.
It may be time consuming to set up.
5. Cuisinart GR-4N 5-in-1 Griddler
This table top electric grill has become extremely popular in the market today and that is because of its wonderful design and features. Cuisinart GR-4N has a great handle at the front which is rubber coated to enhance grip. With three regulatory buttons at the front of the grill, it is simple to make temperature and other vital changes while cooking. First thing to note is that this grill is a table or surface top grill.
Its body is stainless steel with a lid which allows adjustments for different quantities of food put in it. From its looks it is easy to tell that this grill is quit sturdy. What is more, this unique electric grill has non-stick grill plates to enable easy cleaning. The plates are also detachable and reversible so that you do not necessarily need to go through the stress of washing them while still fitted to the grill.
Now here is one mind blowing fact about this grill. It is what I like to call "universal". This grill is designed to serve as a contact as well as full grill. You can also use it as a half grill or griddle. That means a ton of options and possibilities at your disposal.
According to electric grill reviews for 2017 from Amazon and other sites, most of its users have come to appreciate its outstanding ability especially when it comes to electric barbecue. With its great build and outstanding features you can conveniently grill whatever you want without worrying about heat, grill space or any such issues that plague other popular grills. You may fancy the idea of an electric grill functioning as an electric smoker grill. In that case this may not be the choice for you.
The price for this grill on Amazon is $79. However you can be sure that the price will not always remain the same, especially as more recent versions come up daily with various promotions.
Pros
Portable box like nature;
It is smaller in size and quite compact, thus convenient for use in small spaces;
Its non-stick properties are outstanding;
This grill is compact and durable;
Great grill space adjustment possibilities for more grilling quantities at a time.
Cons
Does not have a stand, must be used on the floor or raised surface.
6. T-fal GC702 OptiGrill Stainless Steel Indoor Electric Grill
T-fal GC702 is a unique stainless steel indoor table top electric grill both in its design and function. This outstanding grill is adaptable. That is to say it automatically makes changes to its functionality based on food thickness and quantity. How awesome is that? Of course there may be other electric grills that function this way but T-fal GC702 is the very first of them all. That's not all about it. The buttons at the front of this grill are far from ordinary or limited. Each of them serves as an automatic cooking order for sandwiches, Red meat, fish, burger, and poultry.
It also has an indicator for preheating and ease of monitoring cooking process. You do not even need to watch it or be very alert while you grill. At just the right time, it gives an audible beep that calls your attention. That's more precise and user friendly than most electric grills. Opti grill has sensors which detect the quantity of items on its grill surface and adjusts temperatures automatically with regards to thickness, quantity and size of food on the plate. According to your specific preferences, the grill alerts you through the beeps or light to know when your food is exactly the way you wanted it to be. It has two cooking modes which come handy for those who do a lot of grilling. The first mode is for refrigerated items while the other is a manual mode with more flexible choices, all these work on 1800 watts of electricity.
Like most outdoor and indoor electric grills, it is very easy to clean. With dish washer friendly detachable plates and drip tray, the problem of difficulty in cleaning is done away with.
Most users on reviews of electric grills appreciate the extra step taken by its manufacturers to offer better and more confortable features. You will be surprised how much users praise this grill on electric grill reviews.
The price is a bit expensive. However it is worth all the extra expenditure.
Pros
Awesome design for perfect functioning;
Compact and portable;
Different options for different foods;
Dish washer friendly grill plates and drip tray.
Cons
Quite expensive
Used only indoor
Has no stand.
7. DeLonghi America CGH1020D Livenza
DeLonghi America CGH1020D is a compact grill which comes in a polished silver color with black design. It is stainless steel so you do not have to worry about washing off stains which may result during grilling. It is very similar to
Cuisinart GR-4N 5-in-1
in its body design, color and portability. It has a start/stop button at the front with a temperature gauge and timer LCD screen beautified with a light blue background light.
With its five outstanding functions, this tabletop electric grill makes grilling easier and more fun. It is half grill and half griddle, has a contact grill and panini press with open full griddle. The cooking surface of this grill is large enough to accommodate meals for more than five people at a time. The cooking surface is 14.5 inches by 9 inches and doubles up when opened. What's more? the adjustable hinge gives enough space to avoid crushing burgers, vegetables, sandwiches or any other food item while it cooks. Whether you are making pancakes for breakfast or burger for lunch, you can be sure that all of them are going to cook in just the right temperature and condition to deliver the best taste and flavor.
With interchangeable griddle and grill plates of superior performance, healthy and efficient cooking is assured. Its flexpress system enables you use several different cooking methods and means. One other issue which grill lovers face is uneven heat distribution within the grill while the food cooks.
However this grill properly solves that problem. Its heating system is embedded to prevent heat from accumulating at particular spots thus making the food evenly cooked. Many different choices are available for cooking one of which is the perfect press in contact settings which reduces pressure. This implies that thick sandwiches and other meals which are quite bulky will have no problem when it comes to compressing them too much. Simply suspend the top of the grill or its cover and that will do the trick.
The world is now digital, so is this grill. It has an application with different tips for recipes and cooking which enable better performance. This app and cook book also has recommended settings to make operation easier and more fun. Talk about ease of cleaning waffle plates, this is one of the best choices according to reviews of electric grills. This tabletop electric grill's plates are dishwasher safe. Its weight is about 20lbs, and that's quit user friendly. Electric grill reviews have placed this grill most times at the top of the list.
This grill is sold at $223.95 on Amazon.com and on free shipping. However it is important to take note that it may cost a little more or less on other sites.
Pros
Compact and portable;
Has an awesome cook assisting application;
Stainless steel design;
Rubber handle for firm grip and better handling;
Great LCD screen to monitor timing and temperature;
Dishwasher safe and removable plates for easier cleaning; and
Non-stick properties.
Cons
No stand, hence it has to be used on a table or raised surface;
Does not have the advantage of serving as an electric smoker grill.
Hamilton Beach 25360

This is an indoor grill widely known for its searing and flavor preserving properties. It is a grill which also has an awesome portable case-like shape and comfortable handle. Hamilton Beach 25360 has a smooth silver and black back that blend well to give it a serious look. Unlike many other indoor grills, this one has the potentials to deliver results which would match those of outdoor grill. It is a great choice especially for electric barbecue. At the front of the grill is a temperature control button which comes handy while grilling. Like most other grills available in the market today, its plates are nonstick and it has lights to indicate different stages of the grilling process.
For easy cleaning and maintenance, it has a large drip tray which is dishwasher safe. The hood of this electric grill is detachable to enable more convenient cooking if you need to have full view supervision of food while it grills. Few people like their meat or vegetable looking dry and crunchy after it is grilled. That is one problem Hamilton beach has learnt to solve. It is designed to preserve the juiciness and flavor of foods with its easy temperature regulatory options and functions. It is a great choice for vegetables, meat, poultry, and more.
It also features amp and power as well as preheat lights. The grill is 16.93 inches by 12.2 inches by 6.69 inches and weighs 8.14lbs. The material used to make this grill is plastic and it has just one size in the market. The shipping weight for this product is 10.4 pounds. It can be shipped within the US but it is hardly eligible for shipping.
It is worthy of note that this product has 4.6 out of 5 stars rating on Amazon. This shows how much customers love this grill. Electric grill reviews show that some users are worried about the fact that this grill's lid is a non-heating element. However it is nothing to worry about since it still works just as properly as other grills.
Pros
Small and compact and takes up little space;
Portable;
High searing temperatures;
Gives outdoor flavor despite the fact that it is an indoor grill;
Great with retaining flavors and juiciness.
Cons
Cannot be used outdoors;
Has no stand so it has to be placed on a surface or table.
Zojirushi EB-CC15 Indoor Electric Grill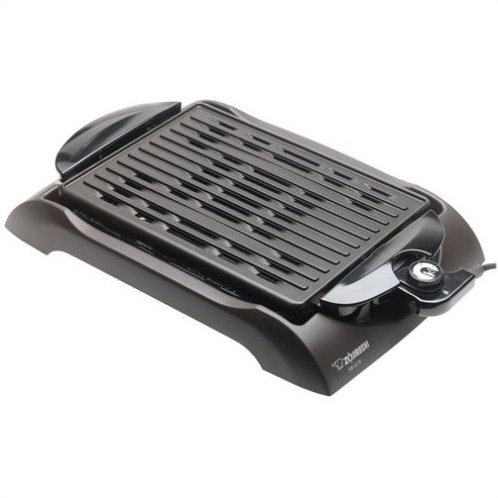 Very few electric grills have simpler looks and design. Sometimes designs like this are deceptive since they tend to be even more difficult to operate than those which look relatively more complicated. It has a beautiful dark brown coffee color that gives it a classy look. Unlike most well-loved grills, this one does not have a cover, but its grilling surface is large enough to accommodate bulky electric barbecue without having to worry about heat distribution. With non- stick plates, there is no need worrying about difficulty to wash plates after use. Whether oil, grease or fats, nothing sticks to this grill.
To enhance users' safety, this unique tabletop electric grill is designed in such a way that it will not heat up unless it is properly set up. It also has a large grease pan which is easy to remove and is dish washer friendly.
The main worry about this grill however is a justification for its price ($98). It is clearly more expensive than one would expect especially considering the fact that is does not have half as many features as other grills which are less expensive.
Pros
It is simple and very portable; and
Easy to clean due to its grease pan and nonstick feature.
Cons
Very expensive especially in relation to its limited properties;
Does not have a cover so user cannot be very sure of proper heat distribution;
It needs to be placed on a surface since it has no stand; and
Cannot be used as an electric smoker grill.
You do not necessarily need a lot of money to take indoor or outdoor grilling to the next level. Technology and competition have made grills cheaper than they use to be when we just started using them. What you need to bother about is checking that it meets speculations using the tips shared in the first part of the write up. If that is well done, you have no need to regret ever buying an electric grill, or deciding to grill in the first place.