The ankle is one of the most critical joints when performing physical activities. Movements that encompass walking, running, pivoting, and turning can likely lead to a badly twisted ankle or ankle injuries.In addition, the ankle supports all the weight of the body. This makes it important to protect it from all injuries.
Ankle support braces are tied around the ankle to allow for immobilisation during ankle healing period or to offer protection against injury. They also help in maintaining a desirable compression to your foot while allowing your joints to move smoothly. Therapeutic heat needed for rapid recovery of ankle injuries is provided by ankle support braces.
Premium ankle support braces are made from tough materials like neoprene and nylon. They assist in regulating joint mobility.These braces are well designed for use in activities that induce great stress to the ankle like volley ball, basketball, rugby and soccer. Ankle support braces are quite suitable in dealing with ankle inflammations, trauma, postoperative synovitis, and degenerative sprain.
The most common ankle injury which often occurs at home and during workouts of athletes is the ankle sprain. Over a million of them occur every year around the world amongst adults who are aged from 20 to 60 years. Looking kindly, it is noticed that more than 20 dollars billion is spent in treating them each year.
Ankle injuries are inconvenient and painful regardless of its cause. Ankle rolls and sprains can merely occur anywhere, even from stepping off a step or a curb the wrong way. Any ankle sprain or strain whether mild, moderate, or severe should be taken serious and treated properly with stabilizing devices. Injured ankles are weak and need therapeutic heat from ankle support braces to enhance their recovery.
If you are dealing with an ankle injury and need the best ankle support, you will need to understand a little concerning ankle support braces. That is how to choose that which best suits your needs.
Ankle support braces were mainly designed by the sport industry with aims of providing extra support, alignment, and stability during sport activities. They also help in preventing injuries and if there is already an injury, they will offer stability and warmth to aid healing.
Ankle supports prevent the previous injury from getting worse in case you twist your ankle again during sport activities.
There are different kinds of ankle support braces in the market making it challenging to choose the best ankle support. Herein are a variety from which you can choose the best ankle support braces.
Reasons to purchase an ankle support
There are several reasons that can prompt you to purchase one of the best ankle support braces:
Sprained ankles/Tendinitis
In the cause of daily activities, people have their ankles sprained. Simply walking on an icy surface or a wet surface can lead to a serious ankle sprain. The most common type of sprain experienced all over the world is the foot rolling underneath the ankle. It is quite painful at the moment of occurrence. However, this type of injury can quickly heal when ice is used.
If you experience such injuries, always keep your foot elevated and rest as much as you can. An ankle support brace can help much in such injuries especially when you cannot stay off your injured foot to rest it.
Achilles heel
This is a soreness of the Achilles tendon that results from overuse. Overuse can come over a period of days or weeks and can likely happen from normal daily activities like jogging or walking. This is an injury that greatly causes stiffness and pains in the back of the heel. There are specially designed compressional braces that can be used for treating this condition.
Plantar fasciitis
This is another painful injury whereby the arch of your foot becomes swollen. A lot of people get this type of injury when they walk for long or stand longer than usual. It can also be experienced after over exercising or running. Wearing poorly cushioned shoes can aggravate this condition. There are particular ankle support braces that will provide the right compressional level thereby giving the area new blood flow and relieve from severe pain.
Elastic ankle supports are ideal for various ankle injuries
In order to prevent permanent ankle disability, proper treatment of ankle injuries is of primary importance. For treatment, it is quite important choosing the best elastic ankle support.
Elastic ankle supports are perfect for the treatment of Achilles tendonitis, ankle sprains, ankle swellings, chronic ankle instability, peroneal tendon, and foot drop injuries.
A lot of people often ask how an elastic ankle support can treat an injury like a sprain.Sprains come as a result of a torn or stretched ligament. This happens when the joint is forced out of its normal position or the ankle is suddenly twisted too far. It can also occur while running or walking on uneven surfaces.
A premium quality elastic ankle support offers superb protection, accelerates the healing process, and helps reduce pain. In addition an elastic ankle support can be worn to prevent re-injury that will worsen the injury's situation.
Elastic ankle support braces are great to use for Athletic Activities
Exercises and sports are generally great for the health and wellbeing of an individual. Injuries often arise when athletes carry out strenuous physical activities. Depending on the type of sport a person practices, the ankle can likely be susceptible to heavy injuries. Some sports that result to ankle injuries include; baseball, cycling, motocross, running, skiing, tennis, soccer, volleyball and golf.
Elastic ankle support braces offer great stability and support to athletes who play fast moving sports. Superb ankle stability and protection is provided by these elastic ankle support braces. They do so without compromising mobility which is the key to an athlete's success.
Types of ankle braces in the market
Based on the kind of injury sustained, braces are different. It is the severity of the injury that determines the type of brace that you will need to use. Braces are classified into three groups that include the following;
Mild ankle braces
They are designed to be sustainable for a first degree strain and are often referred to as lightweight ankle braces.
Medium support ankle braces
These types of braces tend to suit people who are highly involved in sporting activities. They were carefully designed to assist in second-degree injuries. Once worn, they allow you carry on with all lateral movements. They operate efficiently.
Maximum support ankle braces
They were carefully designed to assist in third-degree sprains. They are suitable in situations of acute twisting of the ankle. They also work well in keeping ankles that were previously injured tight and highly protected.
Guide for selecting the best ankle support brace
Before purchasing an ankle brace, a good number of crucial factors should highly be considered. These factors will not only help you get the best out of these equipment but will also help to keep you safe. Some of these factors include:
Purpose
Diverse athletes use ankle support braces for a variety of reasons. Some of these reasons are;
Recovering from injuries that were sustained from previous outing;

Preventing low and high ankle sprains; and

Obtaining additional firmness.
It should be noted that in the market, there are several braces which are customized to meet different needs. This means you will always meet a brace that suits your needs. All you need to do is establish a reason why you need one. If you don't mind, simply visit a physician who will give you a guide on the kind of brace that will work well for you.
Durability
Ankle support braces come with varying strengths depending on their manufacturers. Its manner of usage and quality of material also varies. A good number of manufacturers are reputed for producing high quality and durable ankle supports while others do the contrary. Based on quality of material used, those made from premium material like Neoprene tend to last relatively longer when compared to others. When these materials are subjected to intense usage and improper care, they tend to wear out fast.Always make sure you guarantee its durability by carrying out a lot of research to help you understandwhich material they are made from.
Fit and comfort ability
Fit and comfort ability tend to be the most fundamental factors anyone should have in mind before purchasing an ankle support brace. This is because efficiency is based on these two factors. Desirable results are always obtained with proper fit and comfort ability. If fit tends to be loose, you won't get the essential protection and steadiness needed for a normal athletic routine. However, if it happens to be too tight, it will inhibit blood flow and end up numbing your feet.
Cost
The cost of any ankle support depends much on its manufacturer. The cost remains a critical element for you to consider in purchasing an ankle support, for you should get what matches the price you are paying for. It should be noted that low price does not certainly imply low quality ankle supports. However, you should pay attention to those braces that are priced low.
Important considerations to have in mind
Ankle support braces should never be misused inprotecting the ankle or healing. For safety purposes, always use an ankle support that is suitable for your needs. It should be noted that ankle injuries often occur unpredictably, be it in sports or some other ventures.
However, prevention remains the best approach that starts by simply purchasing the best ankle support. It is advisable to seek your doctor's advice for that which will go well for you.
The Zensah, Ankle Support
This is the best ankle support that provides ideal pin point compression, thanks to its first class fabric of 75% nylon and 25% spandex.
Its fabric makes it one of the outstanding volley ball ankle support. It is soft, light weight and offers a great feeling to the skin. This makes it suitable for a variety of activities. These activities include running, basket, volley, and every day wear.It can be worn to provide therapeutic heat needed for the accelerated healing process of ankle sprains and strains. It is highly resistant. It is quite comfortable and liked by many. On amazon, there are 330 positive comments about this ankle support. In reviews of ankle support on Amazon, a customer by name Scout on April 7, 2016 wrote saying ''I purchased this ankle support after a trip on a puppy. I previously used different ankle supports just to find that my ankle was still not prevented from sprains. I picked this one because it was bright pretty pink. Surprisingly it worked quite well for me than I expected. It did better than my ACE. I found it much more comfortable to wear.'' Still in reviews of ankle support on Amazon, a customer by name Svenlovesflo wrote on July 25, 2014 saying ''I found this ankle support pretty great for my plantar fasciitis. However, beware for it can agitate your foot.'' 32 people found this comment helpful.
The Ultra Zoom Ankle Support Brace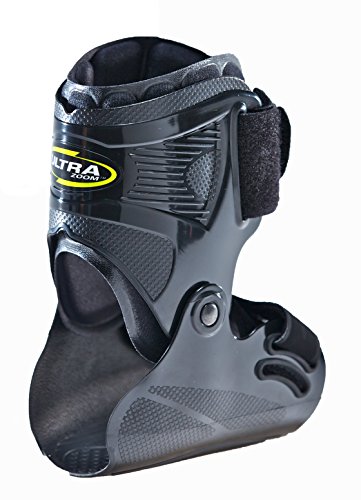 This is one of the best ankle support braces with a large size. It is an all season wear with amazing performance. It is the right pick for every athlete. It is designed with custom fit technology that relies on body heat to create a perfect fitting to the ankle. It offers great comfort and tends to be a suitable volley ball ankle support for athletes to wear and perform with full confidence.
Thanks to its hinged cuff pattern, you can perform a full range of motions. It offers suitable and long lasting ankle performances. It also provides your ankle with great support. Even more interesting is the fact that this volley ball ankle support fits to any side ankle.It completely eliminates ankle instabilities.
Features:
Universal for both right and left ankle;

Assist in continuing the game without any break;

Helps to prevent ankle injuries and pain while carrying out tough activities;

Enhanced comfort and protection;

Fully prevents injuries without restricting your top performance in any athletic activity; and

Suitable for all athletes who perform activities with high ankle injury risk like soccer, volleyball, and basketball.
In reviews of ankle support on Amazon, a customer by name S.Timberman wrote on November 11, 2016 saying '' my daughter complains she does not feel comfortable in the ultra-zooms. In addition I would prefer a white colour.'' 2 people found this comment useful. Still in reviews of ankle support on Amazon, a customer by name Judy Rehrig wrote on july 6, 2016 saying ''I find this ankle support great since you do not need to wash it after wearing for a few days. Initially, I purchased this brace for backup, same as with that from my doctor's office I had for half the price.'' 4 people found this comment helpful.
The Mueller, Adjustable Ankle stabilizer
The Mueller ankle support is made from first class quality natural rubber latex which is soft and smooth thus offering a comfortable feeling even when it is strapped tightly. It is highly secured on to your foot thanks to its figure 8 strapping mechanism that offers optimum control, compression and support.
It is an elastic ankle support that you can easily adjust to your preference thanks to its elasticity and adjustable design. It accelerates the healing process and promotes free circulation of blood around your ankle. It also provides therapeutic heat to the ankle that is needed for an accelerated recovery from injuries. It comes with an ultra-light and soft premium neoprene blend.
Reviews of ankle support on Amazon show 249 positive comments. Still on ankle support reviews on Amazon, a customer by name KMC61 on May 29, 2015 says '' you should really be aware of what type of support you are purchasing for this one tends to be perfect. If I was recovering from a recent injury, I think I would need something that offers more support than the Mueller.
Still in reviews of ankle supports on Amazon, a customer by name Karen Findley wrote on March 3, 2017 saying ''I bought this ankle support because it was relatively inexpensive and I was told it would fit comfortably into most shoes. Well, I find that quite wrong unless they meant tennis shoes when they talked of most shoes. I find it too big for me even when I try to adjust it.''
The ASO Ankle Stabilizer
Unarguably, this is one of the best ankle support to have graced the market. Among many professionals and collegiate athletes worldwide, it is the most preferred. Its worldwide popularity probably arises from its lightweight construction that offers exceptional medial and lateral support without hindering quick movements. This ankle support brace is derived from a combination of great factors that include unsurpassed comfort, durability and support. It is carefully designed to offer the required stability and comfort needed during usage. It is manufactured with high quality control standards.
It comes with an elastic cuff that greatly improves support and stability making it one of the best elastic ankle supports. Ideal durability is provided by its ballistic nylon material. It is designed in low-profile allowing it to easily fit in to any shoe.
Pros:
Ballistic nylon boot;

Low profile allowing it to fit into all shoes;

Each side easily fits into any foot whether right or left;

Support level is greatly improved by its elastic cuff closure; and

Has stabilizing straps yielding figure 8-like structure for maximum ankle support and protection.
Cons:
You have to undergo an intensive search before finding its right-size; and

At the beginning you will realise that the material needs a little bit of break-in but after a few weeks you won't realise you are wearing it.
This is an elastic ankle support that tends to be the best for those looking for a fairly priced brace or are suffering from a low ankle sprain. Ankle support reviews on amazon show 2,011 positive reviews for the ASO ankle stabilizer. In ankle support reviews on amazon, a customer by name M. Morris wrote on November 6, 2015 saying '' I find the ASO ankle support best for weak ankles recovering from bad sprains. I bought this wrap when I badly sprained my ankle and needed to maintain pressure and therapeutic heat on it. I would simply add 5 stars to this ankle support. I find it really good.'' Still in reviews of ankle support on Amazon, a customer by name Thomas wrote on February 15, 2015 testifying that this support helped relieve his ankle pains when he was running.
The Aircast, Ankle support Brace
The ankle support brace by Aircast is a suitable brace for both men and women who desire to fully support and protect their ankles during their intensive workouts. It offers good air and blood circulation thanks to its premium Breath-O-Prene fabric.
It has a low profile that allows it to be worn with just all shoes. This ankle support won't cause any bulkiness or inconvenience. It features great stabilizers on the side and a single strap which is very easy to tie and untie. When you wear for the first time, don't be surprised that it feels a little bit rigid and uncomfortable. This rough-like feeling will disappear after you have worn it a couple of times.
In reviews of ankle support on Amazon, a customer by name Traci wrote on February 21, 2016 saying ''I have purchased a few other versions and this is definitely the best ankle support I would recommend to anyone. It offers a lot of support and comfort without restricting movement.'' Still in reviews of ankle support on Amazon, a customer named bill wrote on April 1, 2015 saying '' I prefer this over lace ups. I find it quite easy to get on and off. I am a long distance runner and I recommend this to you.''
The Sleeve Stars Plantar Fasciitis Foot Sleeve with Ankle Brace Band
This is the best ankle support brace for those who want to accelerate the recovery period from an ankle injury while minimizing pain. This brace was carefully designed with an extra compression strap aimed at providing unrestricted support from a sprained ankle. It is manufactured with premium quality fabric that offers a smooth feeling when in contact with your skin. They are lightweight and quite comfortable to wear. It comes in a design that allows one size to fit all, making it suitable for both men and women.
Pros:
They are easily washed and maintained with a machine;

You can wear it anytime and anywhere because they are comfortable;

Relieve pains;

It is made from first class quality fabric that immediately absorbs sweat thus keeping your feet dry and odour-free;

They accelerate the recovery process by creating pavements for free blood circulation; and

They are durable.
Cons:
A good number of users find a problem with its size.
The Sleeves Stars brace offers the best ankle support. It also lessens soreness and pain. This makes it a good choice for all who want to attain maximum performance in any sporting activity. In ankle support reviews on amazon, this ankle support brace has 695 positive comments. A customer by name Barbara Gordon wrote on March 8, 2017 in the ankle support reviews on Amazon saying ''I like the foot sleeve. I have often worn one for two days. It greatly relieves me from pain and swelling. Even though it tends to be difficult getting it off, I find it great for its awesome results.'' Still in ankle support reviews on Amazon, a customer by name Megan wrote on July 7, 2016 saying '' It's been a year I am suffering from Planters Fasciitis. This ankle brace is the best thing I ever found that helped me much. Immediately I wear it, I feel instantly relieved from the pain.''
The Kunto Fitness, Ankle Brace Compression Support Sleeve
This is one of the best volley ball ankle supportsthat come with phenomenal compression. It always ensures the safety and protection of your ankles during physical workouts. Its outstanding design also helps accelerate healing and relieves pain from arthritis, Plantar Fasciitis, swelling and joint aches. Even the least slipping that can cause chafing is minimised by its good construction. While it is under demanding situations, its design ensures that it remains fitted in place.
Features:
Provides 100% satisfaction as it fits perfectly without any slip;

Manufactured to provide outstanding support, comfort, and relief during every workout movement;

It comes in large, medium, and small size for you to choose your suitable size;

While letting you maintain peak performance, it helps you to enjoy the brilliant ankle support that will help complete range of leg motion in all sports;

It has been proven to be great for activities like volley ball, golf, Baseball, and running; and

Applies suitable pressure and therapeutic heat around the ankle needed for its fast recovery.
Ankle support reviews on amazon show 644 positive comments about the effectiveness of this athlete's companion. Kindle customer wrote on March 21, 2016 in ankle support reviews on amazon saying that the Kunto works wonders.'' Still in ankle support reviews on amazon, a customer named Cricket wrote on May 11, 2016 saying that the kunto ankle support worth every penny it cost.
The McDavid 195 Ankle Brace with Stabilizer Bands
Here comes another excellent ankle support brace that is manufactured with one of the most reputed brands. After a thorough study carried out to test the effectiveness of McDavid 195, it was found to be three times greater in reducing the risk of ankle related injuries. It has a construction that features a single layer of polyester material. In addition, it also has stimulation as a result of the athletic tape-like design that has a figure 6-straping configuration.
Without unlacing or removing your shoe, you can fully adjust this ankle brace to your fit and comfort. Of chief importance is the fact that the brace has a padded lining and ventilation alongside strengthen closure aimed at offering great fit and comfort ability. In order words, this brace has been designed to offer maximum protection and comfort during injuries.
Pros:
Great comfort fit;

Fits both left and right ankles;

Can fully be adjusted without removing shoe;

Lightweight but still offers sufficient support;

Comes with adequate ventilation for proper breathability; and

It has been scientifically tested and proven to be safe and effective in reducing chances of suffering from an injury.
Cons:
A lot of users complain that its strap combination is relatively bulkier when compared to others.
This is definitely a good choice to purchase. A conducted effectiveness test was carried out and it was shown to have a proven track record. Ankle support reviews on Amazon show up to 549 positive comments on the McDavid 195 ankle support brace. A customer by name William G. Young wrote in ankle support reviews on May 10, 2017 saying that this is the right ankle brace that does exactly what you would expect.
The Bracoo, Breathable Neoprene Ankle Support
It is suitable for both men and women. It is a one-size-fits-all ankle support. It comes with a fabric of neoprene that boost great air circulation that allows your tissue, muscle, and skin work efficiently. It helps stop skin irritation. It can easily be adjusted to different angles to make sure it doesn't slip during extreme workouts thanks to its contoured design. It helps relieve ankle sprain. It is also effective for speeding up recovery. In reviews of ankle support on Amazon, a customer named John wrote testifying that this is the best ankle support that fits best and offers great comfort ability.
The SENTEQ Compression Ankle Brace
It features as one of the best elastic ankle supports. It is suitable for those who need to achieve the best ankle stability.SENTEQ tends to provide unique steadiness and compression for risk or already injured ankles. It is durably soft and comfortable thanks to its wonderful design using premium Neoprene material.
It is of medical standard and FDA certified. The material used in manufacturing this brace is of the highest quality in the market. Craftsmanship incorporated in carefully designing this brace is out of this world.
In addition, it comes with mesh ventilation which is of primary importance in breathability during exercises. You are guaranteed maximum satisfaction from using this particular brace. Upon purchasing, if you realise that it does not meet your specific needs, your money will be refunded.
Pros:
Satisfaction is fully guaranteed;

Comfort and support is fully guaranteed;

Quite easy to wear since it has no lace nor strap;

Has a durable construction and an appealing design;

Its compression greatly reduces and handles inflammations; and

FDA approved and meets medical standards.
Cons:
When compared to structural braces, it provides relatively low support.
Given that it is affordable, and provides desirable and effective results, it is an ideal ankle support brace for any athlete.
The OrthoSleeve, F6 Compression Foot Sleeve Pair
This is one of the best ankle supports that suitable for both therapy and sports thanks to its fabric of 76% Micro-nylon 24% Spandex. It is suitable for relieving pain during recovery and after experiencing any ankle injury. It also provides a firm support to your ankles while you are playing. It is made from medical-grade material that possesses good moisture wicking characteristics. It offers a soft feeling on the skin. It prevents undesirable odours. It should be noted that it will feel tight the first time worn. This means that you will have to wear it for a few times before breaking in.
Pure Compression Ankle Sleeve
This is the best ankle brace forperfect support without limiting range of motion. Perfect fitting on your ankle is enhanced by an adjustable strap that comes with this gear. It was carefully designed with superior craftsmanship to offer full ankle support without inhibiting normal movement routines. It comes with a special type of fabric that is of unquestionable quality. It offers great comfort ability allowing you to wear it at anytime and anywhere. You ought to know that this ankle support comes with advanced compression technology for great stabilization and support on the ankle.
Pros:
Easy to hand wash and dries quite faster;

Its adjustable strap offers great support anytime and anywhere;

Has a premium quality fabric that plays the role of resisting odour and wicking moisture;

Absolutely versatile in various sports and activities;

Great support and stabilisation on the ankle area;

Easily adjustable thanks to stretchable and elastic straps; and

Relatively durable.
Cons:
It seems that they cannot withstand extreme use for longer periods of time.
Overall, this elastic ankle support is a good quality product that is comfortable and fitting. It also reduces pains in swelling and accelerates the recovery process of any ankle injury.
The Copper Wear, Compression Ankle Sleeve
This is one of the best ankle support compression sleeve by Copper Wear made from premium nylon embedded with copper fibre. It offers remarkable support, compression, and comfort that makes it suitable for different activities like soccer, running, volley ball, and basketball.
Though it fits snugly, it still offers great support while maintaining elasticity. It is quite suitable to act as a volley ball ankle support. This is highly boosted by its nice design and effective material that allows you to easily put it on and remain with it for as long as 24 hours without getting any odours. It also wricks sweat quickly thereby keeping your ankle dry at all times.
The Active Ankle T2 Rigid Ankle Brace and Sprain Support
Here comes another suitable volley ball ankle support. It is a lightweight active injury protection sprain supporter. It offers great protection to all injured and weak ankles. It prevents re-injuring the ankle. The sprain supporter features a hinge that fully allows the user to perform complete mobility that is best for volley ball, basketball and football. It was proven to be the best volley ball ankle support. It fits in any shoe. It makes you feel completely comfortable.
Features:
Its pivot point allows for free move and ankle flexibility;

Suitable for left or right ankle;

Its padded and semi-rigid shells helps to protect from aversion sprains;

Comfortable, lightweight and extremely fits in any shoe size;

Less bulky;

It is available with a single loop, hook and strap which act just like fasteners while removing or wearing;

Best volley ball ankle support;

Has a sleek feature with a custom molded EVA padding soothes that keep your ankle comfortable; and

Up and down motion of the foot is allowed by its anatomical bilateral hinge making it suitable in avoiding sprains and strains.
The Ossur Form Fit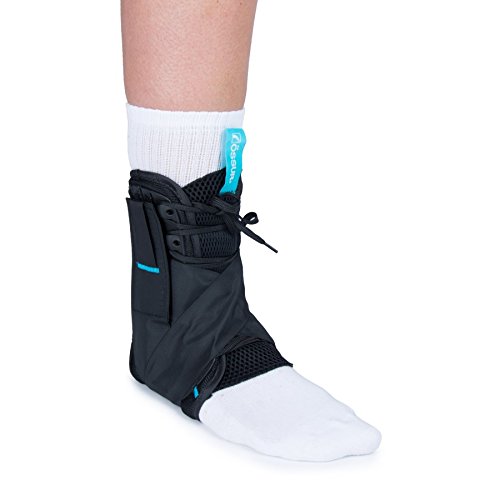 This ankle support delivers just the right balance between a rigid ankle stirrup and a soft comfortable ankle support. It is amazingly comfortable thanks to its ergonomically design. Its innovative design from Ossur has been tested and proven to deliver 25-30% more support than the traditional designs. In order to provide a very rapid support to your lower leg, it features a figure 8 heel lock strapping. You won't have any concern about the ankle support slipping. It also has an innovative speed lace-up design. Thanks to which you can put on and take off the ankle brace extremely quickly.
Pros:
Speed lace up;

Exoskeleton design; and

Figure 8 heel design.
Cons:
Conclusion
Athletes wearing ankle supports have their ankles well supported and protected from injuries and sprains.
There is just no reason for you to suffer with an ankle injury when there are premium quality products out there that will relive the pains and accelerate the healing process of the area.
Long gone is the time-consuming taping. We are now living in an era governed by advanced technology because of which high quality ankle supports have been made. These supportive ankle braces help to prevent users from injuring or re-injuring their ankles.
The best ankle support will prevent you from missing work or your favourite activities due to the inability to walk without pain. Carefully use the information provided in this buyers' guide to gain sufficient knowledge on the different types of ankle support braces so you can match your condition with. Though it is a challenging task choosing the best ankle support, it is not impossible. The information shared above will likely make the process more efficient and simpler.