Buying a mosquito trap is one of the best precautions you can take to secure your home from mosquitoes. Like any other thing, buying mosquito traps need some precautions since there are several companies producing them. The effectiveness of these products to attract and kill mosquitoes may differ.
Features of mosquito trap
Lightening arrays: Mosquito traps have sophisticated light rays with both visible and invisible spectrums at oscillating frequencies tested and proven to be appealing to mosquitoes.
Attractants: These are chemicals produced to attract mosquitoes. Research shows that mosquitoes are attracted to carbon dioxide, heat, octenol and light which lure them into the trap's storage container. All mosquito traps have bright attractants.
Carbon dioxide (CO2) system: Female mosquitoes rely mainly on their sense of smell to locate vertebrate hosts from which they obtain blood meals necessary for reproduction. Carbon dioxide is a component of the attractant responsible for luring and guiding mosquitoes to the prey. For this reason, carbon dioxide is often added to mosquito traps to improve effectiveness. Mosquito magnets like Lentek, Koolatron and Skeetervac have a burn tank of propane for CO2.
Heat system: All mosquito traps generate heat to attract mosquitoes once they are close enough.
Catch system: Not all traps use the same catch system; Mosquito magnets use a vacuum and a net while koolatron uses a capture cup. Catch systems are attached to mosquito traps to hold dehydrated mosquitoes.
Brand and companies that produce mosquito traps
The size and type of trap varies with brands but generally, they are either indoor or outdoor units. Some run on electricity, while others are powered by propane tanks.
1) Koolatron
This company was formerly known as Lentex-international Inc.Koolatron took over from Lentex in 2003 after purchasing their highest asset. It produces four different brands of mosquito traps; the bite shield Guardian pro (MK14), Bite shield champion (MK12), the bite shield protector (MKOS), and the bite shield Guardian (MK12).
a) The bite shield Guardian pro (MK14)
Bite shield Guardian pro is powered by propane and works effectively to keep mosquitoes away from your environment. It has the following features;
Powered by thermoelectric technology cordless design,

Covers up to one acre of space,

A blue mosquito light system,

Uses carbon dioxide,

Body temperature thermal imaging and

Air flow vacuum to capture and kill mosquito with other flying insects.
This mosquito trap has a hook boost with a sticky tape that can capture large flying insects. Using this mosquito trap requires a 20-pound propane tank which is sold separately and can be used outdoors. Approximately 15ft from the trap, the mosquito or insect can sense a favorable temperature for habitation. It is drawn by this trap into the built-in vacuum where it enters the capture cup and eventually dies. This trap has a long life span and can protect up to 1 acre of space.
Review of Mosquito traps
Bite Shield MK-05 Champion 1/ 2 Acre
This is an electronic mosquito trap. It protects your family from mosquitoes and other insect by attracting mosquitoes into the capture cup where they dehydrate and die, preventing further multiplication. It has a body temperature control for thermal attraction. This trap has a blue mosquito lighting system and an air flow vacuum fan. It has one year guaranty, can cover up to 1/2 acre of space and uses a capture cup for easy collection and disposal of trapped mosquito. It has an attractant compact design.The Champion 1/ 2 Acre mosquito trap uses a 20-pound propane tank which is not included in the package. It can last 4-6 weeks use continuously 24 hours a day. This trap is easy to assemble, weather-resistant, and can cover a large acre of land. It uses carbon dioxide, moisture and body temperature, effectively designed to capture and kill mosquitoes. Apart from mosquitoes, the trap can also kill other insects with the sticky tape. Unfortunately, it cannot be used outdoors.
b) The bite shield protector (MKOS)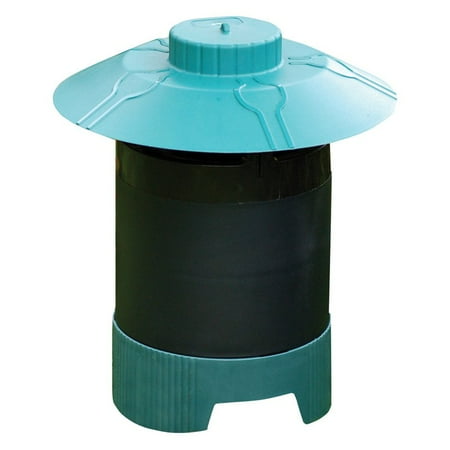 The bite shield protector (MKOS) mosquito trap covers up to 0.25 acre space. It is compact and resistant to weather. Clean this trap is very easy and it can be used outdoors. It produces carbon dioxide and generates heat using Ti02 process. With the 4 key attractants, blood socking flies are drawn to this mosquito trap where they quickly dehydrate and die. It comes with one year warranty and requires 110v adapter already assembled. Its mosquito light also acts as an attractant for mosquitoes.
c) The bite shield Guardian (MK12).
The bite shield Guardian (MK12) is equipped with everything necessary to attract, capture, and kill mosquitoes. The bite shield Guardian (MK12) generates carbon dioxide, thermal imaging and Octenol as its primary attractants. There is a sticky tape that captures other dangerous insects. It requires no 110v adapter or external cord to operate. Assembling this mosquito trap is very easy, requires just four C batteries and 20-pound propane tank (not included). It can last for two to four weeks operated continuously and has one year warranty. Its mosquito light shines bright to attracts any mosquito that comes around your surroundings.
2) Mega-catch
Mega-catch is made by Enviosafe Technologies international ltd. This trap brand is very popular and produces four mosquito trap models; the alpha, premier, premier XC and Ultra.
a) ALPHA mosquito trap
ALPHA mosquito trap is ideal for small areas like gardens and patios. The mosquito light has visible and invisible spectrums that attract mosquitoes and insect at night. It has a maximum range of 90 feet and a maximum space cover of 0.5 acre, light weight, compact and is very affordable with the latest technology. It has an updated heat profile multi frequency UV LED to increase catch as well as a new weather fan designed with stainless ball bearings which helps to maximize performance and minimize maintenance issues. ALPHA mosquito trap is designed to work with or without attractants, thanks to its fragrance strips which are specifically formulated to increase the rate at which mosquitoes and other insects are captured.
b) PREMIER Mosquito trap
Operating this trap is very easy. It has a dual capture function and multi-stimuli including oscillating UV LEDs that attract a wide range of mosquitoes, a maximum coverage space of .75 acre and a range of 100 feet. The energy source of this trap is very sophisticated, combined with UV LEDs designed to attract a wide range of mosquitoes.
c) PREMIER XC Mosquito trap
PREMIER XC Mosquito trap attracts and kills mosquitoes and other insects at a maximum range of 1 acre. This trap is fully customized with a digital menu and on-board diagnostics package. Premier XC can be fine-tuned to maximize capture rate and other species of mosquitoes. It is possible to adjust the mosquito-attracting stimuli (MAS) setting. With thousands of options, you can experiment and determine what works best on the mosquitoes in your area.
The visual cues, particularly the mosquito light is very important for effective attraction of different species. PREMIER XC mosquito trap incorporates a wide range of programmable light sources. The super bright UV LED's produces visible light at oscillating frequencies known to attract mosquito. This frequency oscillating colored LED cluster is programmed to give light and influence the movement of mosquitoes within the mosquito trap.
ULTRA-Mosquito Trap
Ultra- Mosquito Mega-Catch has a sensor signal which attracts mosquitoes and other insect from as far as 150 feet. It covers a space of 1.5 acre and comes with a Revolutionary Attracting Stimuli (MAS) setting and there are a thousand options like fine-tuning the trap to target specific mosquito species. It features one-touch and other easy options. To make sure this mosquito trap functions effectively, set it 2-3 feet above ground. Its stand has an average height. This mosquito trap does not use carbon dioxide to attract mosquitoes. It does so using Patented Variable Quantity show carbon dioxide Gas release system. It comes with all the hardware needed to connect the trap to a carbon dioxide cylinder. The fragrance strips have been specifically formulated to increase capture of mosquitoes and other insects such as black flies and midges.
3) Mosquito magnet
This brand includes the commander, Executive, Independence, and the patriot plus.
Mosquito Magnet Commander Mosquito Trap
The mosquito magnet commander is one of the best wireless and cordless traps. It is able to protect a whole land space and is just perfect for backyards, compounds, and other places outdoors. With its wireless feature, this mosquito magnet can be operated from your PC, Smart phone or tablet. When this mosquito trap is connected to the system, it sends maintenance messages that guide you to catch mosquitoes without checking your trap physically. When it is connected, information about the propane tank level, net level and attractant volume as well as command programs based on current climate will automatically appear. This mosquito magnet has a mosquito light powered by a rechargeable nickel metal hydride battery. With the battery, you can place the trap wherever you want. No need to worry about proximity to a socket. It comes with one year warranty. The mosquitomagnet commander offers 5 different user-friendly setting options including; a four (4) fuel saving mode that have the potential of expanding the life of your tank. This mosquito magnet can be programmed to automatically shut-down or start-up when the temperature is unsuitable. It is designed to maximize continuous airflow which is critical to the performance of the trap
Mosquito Magnet Executive Trap
Mosquito Magnet Executive Trap can attract and capture mosquitoes and other insects. It is cordless, very easy to set-up, with smart fuel-saving mode. Mosquito Magnet Executive trap can cover an acre and is good for backyards and other outdoors areas with mosquitoes. Its smart technology allows this trap to automatically adjust temperatures, maintaining it at 50 degrees which is actually the best. There are four fuel saving modes which can easily be regulated using its LCD panel.
These saving modes give you the chance to power down or re-start at a specific time to avoid wasting power. The LCD also notifies you to replace the attractant or battery of the mosquito trap. Its self-controlled Rigid-Net is manufactured to support continuous and unhindered flow of air which is critical to the trap's performance. The cordless design is powered by a rechargeable Nickel Metal Hydride Battery which helps you set up your trap without necessarily needing an electrical source. This trap can be assembled in three easy steps and it comes with one year warranty.
Mosquito Magnet Independence Trap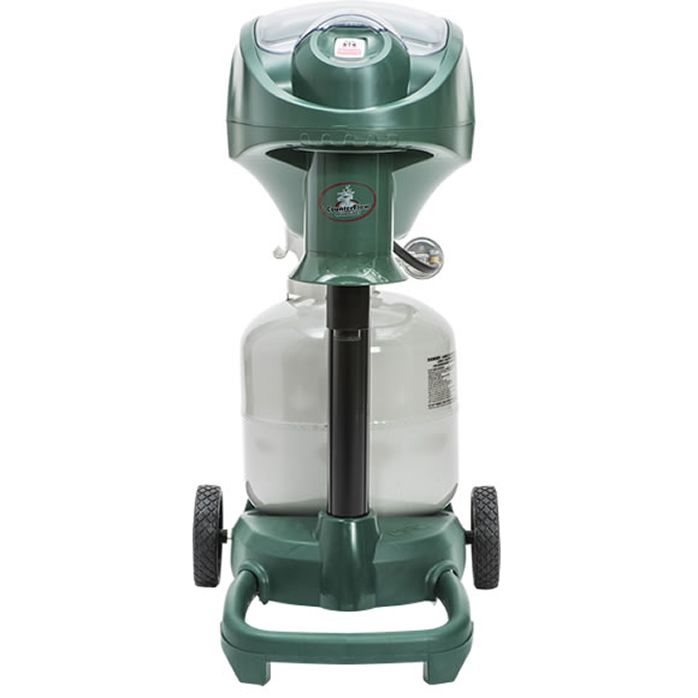 With mosquito magnet independence and its easy set-up, your compound can be free of mosquitoes. It is operated with C batteries which are not part of the package. They can last for months. Mosquito Magnet Independence trap can cover 1 acre and has Mosquito Magnet's 360 degree customer support program. Mosquito Magnet Independence Trap is designed with cordless mosquito light powered by a rechargeable Nickel Metal Hydride Battery that helps you set up your trap without necessarily needing an electrical outlet. Assembling this trap is very easy and can be done in just three steps. It comes with one year warranty. The continuous Drawstring Net is manufactured to maximize continuous and unhindered air-flow which can be dangerous to the trap's performance.
Mosquito Magnet patriot plus trap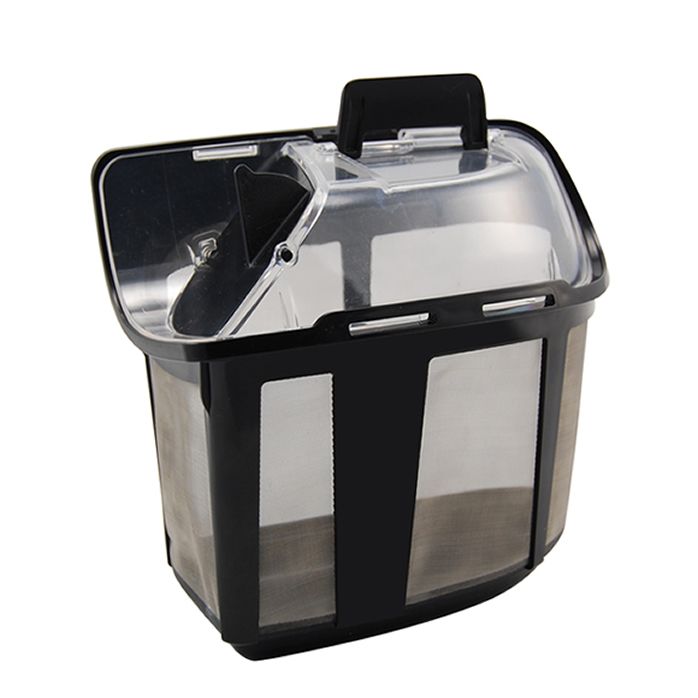 This mosquito magnet is able to attract and capture mosquitoes and other insects. It comes along with three larger bug bags and can cover 1 acre space. Patriot plus trap operates on a 50 ft power cord and comes with a one year warranty. This mosquito magnet is very easy to set up and operate. Mosquito magnet patriot plus trap is weather-resistant thanks to its heavy duty plastic and marine-grade construction material. It is backed by a 360 degree customer support program, has a self-contained Rigid Net that increases performance and engineered for continuous air-flow. Mosquito Magnet patriot plus trap is equipped with a mosquito light 50-foot 12 volt power cord that enables you to set it up outdoors. Patriot plus comes with lawn clips which secure your cord from hazardous conditions caused by loose cords on your lawn. This mosquito trap starts operating immediately it is set up and within 7-10 minutes, results are visible.
4) Dragonfly II
Developed by BioSensory Inc, this company was established in 1996 to carry out research on a better attractant for mosquitoes. It is one of the leading companies in this domain. Other companies such as koolatron and mega-catch use BioSensory Octenol attractant lure for their mosquito traps. This trap uses electricity as a source of power and also uses carbon dioxide. It uses a high mosquito light at night to lure mosquitoes. This exceptional trap is built with 8 operating modes for CO2, which it releases after every five seconds.
Types of mosquito traps
Heat trap. These are traps that attract mosquitoes by heat. They are good to use outdoors though quite expensive and not very popular.
Water trap. This trap can be used indoors and outdoors. It has trays for holding water and collecting dead mosquitoes.
Carbon dioxide traps. These mosquito traps use carbon dioxide which is also used by other traps. They are less expensive.
UV indoor Traps. These traps kill mosquitoes using light and they don't release unpleasant gas odors.
Propane traps. These are outdoor traps since they use balloons.
Best mosquito trap review
Mosquitoes are one of the most annoying insect to mankind that is why there are many developments to see that they are eliminated. There are many companies out to target these insects and thereby produce varieties of traps. To better know the best mosquito trap you can get for your family; we will look at traps that use carbon dioxide, traps that use propane, and indoor traps.
Best indoor mosquito trap
a) Stinger Indoor Insect mosquito Trap review
This mosquito trap is good for catching mosquitoes within the house. It is very ecological, uses a tiny UV lamp that generates mosquito light and a ventilator. Changing the card of this mosquito trap is very simple though users say there are no directions on how to change the ventilator. The capture cup can easily be cleaned after disposing of dead mosquitoes. It is advisable to clean it once a month. Experienced users complain about disturbing ventilator sound and the absence of a timer. Reviews of this mosquito trap differ. Some customers talk about hundreds of mosquitoes captured, others, much less.
b) Dynamic Dynatrap flying insect Eliminator IndoorDT250 Mosquito Trap Review
Dynatrap DT250 Mosquito trap effectively eliminates mosquitoes and insects from living space. The insects are eliminated without the release of chemicals into the environment. Dynamic Dynatrap DT250 comes with two UV fluorescent bulbs that display a warm mosquito light for the attracting mosquitoes. Its TiO2- titanium dioxide with exclusive coated funnel produces carbon dioxide which is irresistible to mosquitoes can't resist but follow until they are trapped in the vacuum pan. For effective eradication of insects, this mosquito trap offers a 3-way protective plan without necessarily using expensive attractant refills or propane. It has 7-watt UV light, a cleaning brush and a 7-foot cord. This trap is easy to maintain and can be plugged into any standard outlet with the accompanying 10 power cord.
c) Inadays Ina Trap (good for indoor)
This trap is called "dog days of summer" which refers to hot and sometimes unbearable weather. This trap is good to use indoors and with it, you can sleep safely. From a glance, it looks like a table lamp but when you turn this Ina Mosquito trap around, you will find a glass rim, translucent blue in color at the base of the shade. Below it on the main body is a power port and underneath that is the mouth power grill. Setting this trap is very safe and it is non-toxic.
Best H20 Mosquito Trap Review
H20 mosquito trap is distinguished from the others by an open tray for water. Because mosquitoes lay eggs in surrounding water, they are quickly drawn to this liquid. Thus H20 can lure and kill them. Most times, this mosquito trap combines mosquito light and water technology. The trap does not need gas balloons. With this trap, careful attention should be given to change water frequently and also to dispose of captured mosquitoes.
a) DynaTrap Insect Trap
DynaTrap Insect Trap weighs 18 pounds and its length is 17.5 feet. Users say this trap can work in any weather and is resistant to destruction from domestic animals and strong winds. It is not noisy during operation. This mosquito trap uses four protection levels at a time. With the UV mosquito light; it attracts mosquitoes and releases carbon dioxide. The water in the tray attracts female mosquitoes and a ventilator pulls insects into the cage. Users recommend that this cage should be changed after every 5 or 6 weeks. Users also like the stand with which they can place the mosquito trap on any surface.
Customers complain about the quick evaporation of water during high temperatures and the convenience of regularly collecting mosquitoes. Customer ratings for this mosquito trap stands 3.5/5. Most users don't like the fact that this trap catches not only mosquitoes but useful insect such as butterflies, bugs and bees. It is recommended that this trap should be hung 3-6 feet off the ground and 20-30 feet away from outdoor living space. This mosquito trap is very easy to maintain since it is emptied after every 1 or 2 weeks and the bulbs are replaced after every four months. Using this trap is very safe since there are no pesticides, no chemicals and its odor free.
Best carbon dioxide mosquito traps review
This trap uses carbon dioxide to pull insect into the receiving container or the net. There are two ways of supplying gas to this device; one is by the supply of CO2 from a special balloon and the second is supplied through photo catalytic reaction, which occurs when the UV mosquito light comes in contacts with certain metals. During this chemical process, a little amount of gas is released which can be used indoors.
a) Dynatrap DT2000XL Insect Trap, 1-Acre review
This mosquito trap can be used indoors and outdoors. The trap does not require the use of carbon dioxide gas balloon since it releases carbon dioxide with its UV mosquito light and titan dioxide which covers the trap. It comes with a 7 ft cord and the device operated using the internet. The carbon dioxide released by this trap is not harmful to humans. It also features a ventilator. This trap functions well without electricity; it slams, making it difficult for the insects to escape. Dynatrap. Users say the trap may be used indoors only in large drawing-rooms. This mosquito trap is cheaper compared to others.
Dynatrap DT1000 mosquito trap
It uses highly effective heat, light and carbon dioxide to attract insects without necessarily using chemicals or propane. This trap can be very effective indoors and it is very small and affordable. It comes with an attractant which works effectively when combined with light, warmth and carbon dioxide. The trap captures mosquitoes by using suction from a quiet fan to pull insects into the cup.Since this trap does not use propane, it saves you the money for buying cylinders and most importantly, no maintenance problem with light failure that troubles users of other traps.
Best Heat Mosquito traps
a) Mega-Catch pro 900 PREMIER Mosquito traps review
This is a heat combined trap and it is the simplest mosquito trap of all mega-catch traps. It cost $349 and its operating zone is 3/ 4 acres. It has a UV mosquito light that generates heat to cover a distance of 100 feet. It comes with all set which includes a net to capture mosquitoes and a container with fluid. The designer provides one year warranty, an automatic strip, which attracts most winged blood-suckers. From the look of this trap, one may think it is too big and heavy but users say this mosquito trap is very compact. However, they complain that setting the timer is very complicated and the multi-functionality can sometimes be puzzling.
b) Mega-Catch ULTRA Mosquito trap review
Customers say this trap is more complicated compared to other mega-catch traps. It has several programmable modes, an adaptive timer, 1.5 acre coverage, 5 speed ventilator, and self-diagnostics. The manufacturer has installed a carbon dioxide balloon into the Ultra which increases the effectiveness of this mosquito trap by 300-400%. The balloon is supplied empty and can only be filled in some towns. Users complain about additional cost of transportation and the related inconveniences. One positive aspects that customers applaud is its use of a "start by one button" that functions like a computer. Though many talk of the advantages of this trap, others complain that this mosquito trap requires frequent replacement of parts. It comes with a mosquito light that lures mosquitoes quickly into the cup.
Best propane mosquito trap
a) Blue Rhino SkeeterVac SV5100 Mosquito Eliminator, 1+Acre Coverage trap review
According to reviews, this is the most effective and multifunctional trap since it works effectively with propane and a small AA battery to start up and does not require any outlet. This trap can function well if precautions are taken and it can take a few weeks to break the reproduction cycle. Some users have found it to be a very effective device for reducing mosquitoes, especially when used outdoors. This propane mosquito trap does not come with a scale showing the amount of propane left. It implies you need to bear in mind that in three weeks you will have to change the propane. Customers on Amazon say you need to clean and examine the efficiency of your trap regularly to ensure it stays longer, (average of 3-5 years). They also advice never place your Blue Rhino SkeeterVac mosquito trap by you (the distance between you and the trap must be 15ft) otherwise you will attract insects to yourself instead of the device. Customers also advice you place it near a pool of water as the catch is much better in those areas. Experienced users advice that when opening the tray to check the amount of mosquitoes caught, you should use a transparent lid to prevent insects from flying out.
b) Mosquito Magnet MM3300 Executive Mosquito Trap review
This is the most powerful mosquito trap and also the most expensive. Customers who use this trap have noticed a drastic reduction in the mosquito's population. It is wireless, powered by rechargeable batteries and indeed requires much care to change the propane tank, clean the net, protect from bad weather. Many customers think because it is more expensive, the material used to manufacture this trap will be of good quality but it is actually made of plastic.
c) Blue Rhino SV3100 SkeeterVac Mosquito Eliminator, 1-Acre Coverage trap review
Mosquito trap users have compared it with other traps and discovered that Blue Rhino SV3100 is safer and better for outdoor purposes. It uses most mosquito baits you can think of (carbon dioxide, sticky band, chemicals, heat emission, absorption method, blinking light), to attract mosquitoes. Experienced customers recommend you turn it on even before you see mosquitoes. Customers also advice to use mosquito dunks as a preventive measure and if you cannot get rid of it at once, you should put them inside stagnant water. Lastly, make sure you change the propane before the tank runs out.
d) Flawtron M-125 mosquito trap review
This mosquito trap is produced by an international company called Armatron. Flawtron M-125 mosquito trap functions like other traps that use propane to attract mosquitoes. Propane, is human breath transformed to carbon dioxide. It attracts mosquitoes and other insects. When mosquitoes have been lured in, the power vacuum draws them into the container where they dehydrate and eventually die. It also has octenol cartage that releases a proven lure and combines it with carbon dioxide, increasing its attractiveness to mosquitoes and other insects. There is a bright mosquito light that indicates how to operate the trap. Red indicates start-up mode and blue indicates operation mode. Operating and cleaning this mosquito trap is very easy since there are no sticky papers. All its operating functions are set up automatically and do not need any manual intervention. Customers complain it uses more electricity to operate compared to other traps. This mosquito trap comes with wires that you need to plug into the power supply which is not very safe. A remedy to this shortcoming is to install your wires below the ground and is good only if you do not intend to transfer your trap.
e) Koolatron Guardian Pro Bite Shield Propane Mosquito trap review
Koolatron is the manufacturer of this mosquito trap. Koolatron Guardian Pro Bite propane mosquito trap uses propane to lure in mosquitoes just like Mosquito Magnet MM3300 and Rhino mosquito trap. The body of this trap is heated by a thermostat-controlled process to give temperatures similar to that of the human body thereby luring more mosquitoes. This trap comes with mosquito light (blue LED light) located near its opening which directs mosquitoes to the right spot in order to get them trapped. The accumulated mosquitoes inside the container can easily be detached and cleaned. Full tank propane can last up to 5 weeks and can protect approximately 1 acre of land.
Koolatron Guardian pro Bite Shield is able to protect you throughout summer. Maintaining this trap is very easy since the propane tank needs to be changed only after 5 weeks and cleaning is done depending on the number of mosquitoes you have in your area. In a nut shell, Koolatron Guardian Pro Bite Shield propane Mosquito trap is a good option if you are looking for something cheaper yet effective to decrease the population of mosquitoes in your house and backyard.
f) Bite shield propane mosquito trap review
This mosquito trap uses propane gas which is turned to carbon dioxide. The carbon dioxide then attracts mosquitoes and other biting insects into the container. For this mosquito trap to function effectively, it must use propane gas. Mosquito attractant octenol is also added to this trap and ensures effective functioning by increasing the mosquito's attraction to carbon dioxide. It is constructed with durable and waterproof materials that can be washed with water thereby making maintenance very easy. This trap can be transferred from one place to another, with its moveable wheels.
Advantages of propane traps
Both wired and wireless models are in stock

They don't catch only mosquitoes but other dangerous insects like midges.

Propane traps are very easy to set up and use.

They are multi-functional, emitting carbon dioxide, irradiate heat, and sprinkles water that attracts many mosquitoes.
Disadvantages of propane mosquito trap
The propane tank is not included in the set and is sold separately.

Propane traps are very expensive and also very expendable material. It uses one balloon 3-4 weeks, implying that in a season you will require 2-3 tanks.
The Powerful 20W Aspectek Indoor Insect Killer
This is the indoor version of the outdoor zappers mosquito killer. One added advantage with this mosquito trap is that it kills flies and other flying bugs in the house.
A single machine of this type covers an area of
- 6, 000 square feet.
Product description
This mosquito trap is designed to be used in kitchens, homes, at the shop or even in the hospital. - The Aspectek zapper mosquito killer has a collection tray used to pick up all zapped and dead mosquitoes.
- Uses its powerful electric grid to kill flying bugs, like mosquitoes,
- A wire chain is included with this mosquito trap so that you can hang it up high on the wall away from humans.
- There is added protection from damages by a cage that surrounds the zapper.
- This mosquito repellant needs little maintenance and can therefore provide protection against mosquitoes. The only thing to do after few hours is to remove the tray, clean and then reset it..
Pros
Easy to use

Little maintenance

Easy to clean bug tray.
Cons
The mosquito fan trap
The Mosquito Fan Trap is an effective way to capture mosquitoes and other insects in the house. It can be dissimilated into your decoy for convenience and operates as an effective system against insects:
The fan mosquito trap is able to attract mosquitoes with the help of the UV light that generates carbon dioxide. Since mosquitoes are attracted by warm environments, the fan mosquito trap through its UV radiation generates the heat to attract the mosquitoes. Additional components for attracting insects include octenol and the UV light.
Once the mosquito is successfully attracted to the fan, they are pulled into the suction fan and then the capture net in which it is dehydrated over time.
Source of power for operation
The source of power is electrical energy for the fan mosquito trap. The fan is very easy to use as you only need to flick on a button to start it. It has a long lasting design and can be operated over 24 hours in the house or outside in a covered area. As one of the best mosquito traps it has a wide range of operation covering 120 square meters.
Ease of operation, maintenance and safety for the environment
Maintaining the fan mosquito trap is easy, the parts are easily detached. Any cloth or brush is needed for cleaning.
It is smokeless and odorless and is used at any time in the house.
Precaution; the fan mosquito trap is not used in the rain.
Kogan Australia Pty Ltd is the provider and supplier of this mosquito trap.
Dimensions
Diameter : 24.8cm
Height: 30.0cm
General
Effective Area: 100-120㎡
Material: ABS
Power
Input Voltage: 240
Power: 26W
Plastic bottle mosquito trap
The plastic bottle trap is one of the mosquito traps that can be made at home. This mosquito killer consists of a bottle with a liquid mixture inside which can last for about 2 weeks after which the liquid is replaced.
The items needed to get the plastic mosquito trap at home are listed below. They can be obtained at the local stores.
Manufacturing procedure
The bottle is cut into 2 halves making sure the top is a little shorter in length than the bottom.
Pour the brown sugar and hot water in the bottle.
Give some few minutes for the mixture to cool.
Add 1 gram of yeast to the plastic bottle.
With the mixture at the bottom of the bottle, place the top half of the bottle upside down on it.
The final set up should contain enough room for the displacement of adult mosquitoes to fly in the bottle down to the lid. Adult mosquito should have enough room to fly in the bottle and down the lid.
Secure the edges with tape. .
Once mosquitoes get into the trap they will die from suffocation or starvation.
Locate areas in the house or at the spot of interest where many mosquitoes are located and place the trap at that spot.
Important notice
This mixture is meant to last for two weeks and in case there are many mosquitoes already trapped in the mixture, change it before two weeks. For increased effectiveness, place multiple traps around your house or property.
Where to place your mosquito trap
Determine where mosquitoes are breeding

Place it away from living space.

Place the trap under a shade.

Place it upwind from the breeding area.
How these mosquito traps works
Female mosquitoes in search of blood always fly about 25 meters above the ground using its sensory organs - antennae, compound eyes, maxillary palpus, to detect prey. These mosquito traps are thus manufactured with features associated with humans such as carbon dioxide, heat, octenal, and light. These lure mosquitoes into the container where they eventually die. It works effectively when it is placed correctly. Also, know the attractant that works effectively in your environment even if it means testing the various attractants to determine the best.
Even though the mosquito traps reviewed here are the best, there is one thing you need to know; mosquito traps are 100% effective at eliminating mosquitoes. Whatever brand or type of mosquito trap you buy; there are other mosquito control measures you need to implement such as keeping your surroundings clean and draining out standing waters.