Scuba watches are used by divers. These watches are designed to withstand immersion to a depth of more than 100m and satisfy ISO standard 6425 requirements. The scuba diver watches belong to the most essential elements of diving equipment. These waterproof watches can withstand the pressure at the depths that divers reach in water. In the past dive watches were the only device used to measure bottom time and to know how much surface interval was required before the next dive. The watches are doubtlessly designed and manufactured to be waterproof.
Recently, the consumer demand for these watches has been on the rise due to the increased popularity of diving as a special sporting activity. Similarly, most fans of active leisure and different types of water sports often look for divers' watches.
As expected, many international watch manufacturers design a wide range of scuba diver watches that differ in their looks and water resistance capacity. Watches for scuba diving purposes have several specific requirements that manufacturers consider. Besides being waterproof, other requirements include resistance to high pressure and sea water with numbers that are large and easy to read even in the dark.
Why must you use Scuba Watches?
Since 1950, dive watches have one of the main watch types around. These watches for scuba diving are built in part for aesthetics and to withstand the extreme pressures with traveling well below water surface. From a visual perspective a dive watch is easy to spot and the moveable bezel is crucial. Here are some of the advantages of scuba watches:
Firstly, most scuba dive watches have an excellent craftsmanship and are durable.
Secondly, you can easily read the time accurately at depth and in low light conditions.
Thirdly, most watches for scuba diving have solid designs, light in weight with very cool design styles. Lastly, some designs come with extra water resistance security measuring up to 1,640 feet.
How to Choose the Best Scuba Watch?
You have your own preferences when it comes to selecting a scuba watch. Those who like the standard look of a mechanical or quartz analog watch should be ready to spend money. People who prefer digital watches have a wide range of choices to choose from. Nonetheless, the watch world is filled with dive watches of all possible sizes, colors, shapes and styles.
The unfortunate thing with some of these watches is that they are fashion watches which just look like dive watches. Watches for scuba diving are designed precisely for spending time at lower depths and have a completely sealed casing that has been tested.
Although they may have copied the look classic scuba diver watches, you can never use them under water because they cannot certainly last long with depth. One problem that most people face is what not knowing what to look out for when they are in search of a highly functional scuba diver watch. During a search for that perfect scuba watch for your expedition, it is important to be sure that the watch possesses typical features required for a safe and pleasant dive.
In as much as some of these features come down to your personal preference, others are absolutely compulsory for your safety and that of the watch. A good operational dive watch has some basic functions that allow for safer action in the crushing depths of the sea.
The first important feature to consider is the water resistance. The most fundamental characteristic of all true scuba diver watches is the water resistance rating. It is generally recommended that your scuba watches should have a water resistance rating of more than 200 meters. A scuba watch has to meet ISO-6425 specifications in order to meet the depth rating. ISO-6425 is a certified international standard for compliant dive watches in the world.
Every watch has to resist a pressure rating which is 25 percent higher than their stated depth. This implies that the dive watch has to pass a lab test that simulates 250 meters if the manufacturer states that it is 200m. To attain water resistance ratings, that should not be less than 200 meters, the entire structure of the scuba watch has to be fixed up with strength in mind. Much thicker crystals, beefier cases and helium escape valves are additional elements needed to withstand depths of more than 1000m. In order to withstand the intense pressures applied, the scuba watch case should be made of surgical grade 316L stainless steel or titanium.
The second most important features to consider is the screw down crown of the scuba watch. Due to the fact that the crown and case are the most exposed points through which water could penetrate, your scuba watch should have a screw down mechanism and good gaskets to provide a 100 percent water-tight seal. Ensure that each pusher and crown is tightly screwed down before any diving excursion in order to secure the seal.
Although other high end manufacturers use sealing methods that involve double gaskets, usually the screw down method is the most reliable and it is the most widely used. The third important feature is the unidirectional rotating bezel. All standard scuba diver watches for consideration must have a unidirectional rotating bezel with a luminous marker found at the 12 o'clock position.
This bezel feature offers another suitable way to measure elapsed time that is easily readable at a glance. The unidirectional placement of the bezel also acts as a safety feature that ensures that the dial cannot accidentally move backwards during your dive. This implies that, without this feature the dial might be displaced, giving you the impression that you have more time when you actually do not.
The fourth important feature to consider is the legibility of the numbers in the scuba watch. This is for easy reading because the ocean can be dark sometimes and the deeper you go, the darker it becomes. So your dive watch should be clear, uncluttered and easy to read at a glance of the watch. The firth important feature is corrosion resistance.
The corrosion resistant materials, which is a key characteristic of a dive watch can sometimes be overlooked just like materials that are easy to clean and can resist sea salt water. When making a choice for the type of scuba watch, you should look for watches with cases that are made of high grade stainless steel or titanium.
The sixth most important feature is the specialized bracelet or strap. For those who plan to wear their dive watch both in water and on dry land, it is very important to get a bracelet or strap that can work in both places. In ocean environment, you will normally want to wear your watch over a wetsuit. Due to this, you will need to make it larger to ensure that it fits. All good scuba watches will have a concealed extendable arrangement clasp that allows the bracelet to be extended in order to fit over a wetsuit. For those who hate metal bracelets, there are other rubber or nylon straps out there that would work just as well.
Price and brand
You have to be very clear about how much you are willing to pay for the product and what you expect from that product at that particular price before even thinking of buying it. However, high prices do not always mean high-quality when it comes to the watch market.
Some watch brands are so well-known that they can easily charge customers very high prices for an average item they can get somewhere at a cheaper rate. This is called the power of branding. Wearing a watch from a well-known producer is cool, but you should also make product-quality your number one priority. If you make quality your top priority, you are going to save a good amount of hard-earned money that you should otherwise have used for repairs.
When you come across attractive watches for scuba diving, try going through scuba diver watch reviews from the different customers. After reading the customer reviews, you can then check out other products from the same producers with the same price range to know the overall price of the brand. Most reviewers say Japanese watchmakers like Seiko and Citizen are among the most trustworthy brands in any budget price range.
Types and/or Styles for different categories of Scuba Watches
When purchasing a scuba watch, you have many different types and styles to make your choice from. The best scuba watches are really a matter of individual preference since there are several choices out there.
For those who have been in the market for a dive watch, they can clearly understand that the list of dive watches seems endless. To be able to make a good choice, you have to determine the type and/or style of watch that appeals to you the most. Below are the categories of the type and/or style of watches that you can find.
Digital dive watch: Especially among the cost sensitive, the digital dive watch is a popular choice. These watches are usually less expensive than analogue scuba dive watches. This digital type of watch has back light for easy use in the dark and even under the water. The numbers on this type of watch is also big enough in to ensure that you can easily read at a glance. Digital dive watches come with many different options so that you can choose what is important for you depending on how you intend using the watch.
The stopwatch function of most digital dive watches is often used to time the dive or safety stop.
Analog dive watch: On most dive boats, the analog type of dive watch is the most common type of scuba diver watch you will find. This analog dive watches have a unidirectional bezel. Some scuba dive watches have both analog face and digital readout.
Automatic dive watch: Automatic dive watches are self-winding watches designed to work without battery. That is, they work with the movement of the wrist. The movement of the wrist causes the mechanism that is found inside the watch to wind the mainspring. It is this winding of the mainspring that powers the watch. If you do not wear the watch for a couple of days, it cannot be powered on. You can also put on the watch by using a watch winder which is an interesting device.
Titanium dive watch: The casing of this dive watch is made of titanium. The benefit of titanium in scuba diver watches is that, it is very resistant to salt water corrosion. Titanium dive watches are also unlikely to cause allergic reactions, which may be significant to certain wearers. Another benefit of titanium dive watches is that titanium is about50 percent stronger than steel but surprisingly 30 percent lighter. A watch with casing entirely made of titanium is very costly.
Chronograph dive watch: These are scuba watches that function like a stopwatch. A chronograph scuba diving watch has two to four smaller dials set in the face of the watch. Most pf these diving watches can time events up to an hour. Scuba divers use this stopwatch to time a variety of actions like dive length, bottom time, safety stop, etc.
Some Care and Maintenance Tips of scuba watches
Some of the most popular pieces of scuba equipment in the market are scuba watches due to their double duty features. That is, Scuba watches can be used both in the water and out of water. These watches have some pretty looks especially when you wear them out of water. The choice of either making a huge investment or a more modest one for your timing device really depends on you. Nonetheless, there are scuba diver watches out there that can suit every budget and taste. No matter your choice you just have to take proper care for it.
When you take good care of your watch, you are mainly ensuring that it can be around for many dives to come. Proper maintenance of scuba watches does not entail much. To make sure that your dive watch lasts for a good number of years, here are some easy steps to follow.
The first thing to do is to rinse the watch thoroughly in fresh water after each dive. Also rinse the watch after swimming in a pool in order to get the chlorine off the watch. The second thing to do is to turn the bezel. If you have a bezel while rinsing the watch, turn it to get rid of any grit or sand that might have gotten under the dial. The third thing you can do is to check the gaskets. The rubber or plastic seals inside scuba watches make them waterproof. If they are compromised, the gaskets found in the watch will eventually depreciate and might affect the water resistance of the watch.
Manufacturers of these watches recommend these be changed or inspected after using for about 18 to 36 months. For those who dive frequently, it is recommended that their watches be pressure tested and the gaskets changed or inspected yearly.
The fourth thing is that you should avoid wearing the watch in sauna, Jacuzzi or hot tub. This is because extreme changes in temperature might affect the sealing of the scuba diver watch. To ensure the watch's safety, you can take it off before going to these places.
The fifth thing is to screw or push the crowns. Before getting into water, make sure the screw down crown is screwed all the way down, if you have one. Just like the screw crowns, you should also ensure that push in crowns are pushed in all the way before getting in to the water. Avoid using the crowns or push down devices while you are in water.
The sixth and last thing is to avoid chemicals. That is, avoid exposing dive watches to aerosol sprays, strong chemicals or solvents since they may damage or dry out parts of the watches.
Scuba Watch Repairs
Scuba watch repairs can be tricky. If you have a cheap scuba watch that needs repairs it will be better to just throw the watch and get a new one because repairing the watch is not worth the time and money you will have to spend. For those who have good quality scuba dive watches which need battery replacement for example, they can be tempted to do it themselves. If you are among this group of people who personally do minor repairs, you risk losing the product warranty.
Before doing anything on the watch or allowing someone to repair the watch, make sure you carefully check the warranty information. Ensure that repairs are done by the producer or authorized dealer of the watch.
When the producer changes the batteries or does any other repairs on the watch, they will normally retest it and verify that it is still water resistant to whatever level applies. This does not imply that a qualified watch repair shop cannot do the job. There will be times when you are going to notice condensation on the face of your dive watch and you will be wondering if it needs to be repaired. You do not have any reason to be worried if the condensation goes away in a short period of time. It is a normal thing with scuba dive watches as a result of sudden temperature changes.
On the other hand, if the condensation remains for a long period of time then you should have the watch inspected.
Best Scuba Diver Watches Reviews
When looking at the numerous models of diver watches out there, always be sure you double check that the model you intend buying is a waterproof. This is because most cheap watches styled like dive watches are only water resistant in theory. Therefore, if you are plan on doing any actual diving while wearing your sexy new watch, then you should double check to make sure it is waterproof. Below are reviews for some of the best scuba watches in today's market.
Invicta Pro Diver Model 8926OB Review
Due to its outstanding fineness, reliability and a reasonable price, it is the best-selling watch in the Invicta pro diver series. Its unique characteristics make most customers say the watch is among the best scuba watches. The designer of this watch took inspiration from the Rolex Submariner since it is very difficult at a first sight to tell the difference between the two watches.
The Invicta pro diver model 8926OB is not aesthetically distinct, but can complement a wide range of outfits since it is anice-looking watch. The black dial and bezel of the watch makes it suitable for any occasion. The 8926OB has a size of 40mm and it weighs just enough on your wrist to give you a solid feel. With its Seiko NH35A automatic movement and the beating inside, it is a durable workhorse. Most scuba diver watch reviews prove that the customers of this particular brand love it because it matches any kind of outfit and is sold at a fairly low price. Some users of this watch say the watch has a stiff bezel that needs time to loosen up.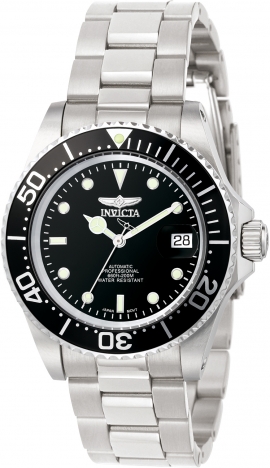 Invicta Pro Diver 8928OB Gold-PlatedReview
The Invicta 8928OB is a counterpart of the 8926OB that share the same technical properties, but have very different styles. Although these two watches have similar shapes, the 8928OB has a flashier look due to the gold-plated bracelet and bezel of the watch. This plating is the main factor contributing to the classy appearance of the 8928OB.
Under the right light conditions, the royal blue on the dial and the bezel inserted on the watch make for some interesting view angles. Some reviewers say the 8928OB is more of a dress watch than a dive watch in spite of its high water resistance rating and glowing parts. In as much as the watch is also very suitable to be used as a diving tool, most people buy the watch just because of its gorgeous look. Due to the lustrous nature of the watch, it is not a proper choice for everybody, particularly people with dark skin color.
It is important to treat the watch in a delicate manner because the gold-plated bracelet might accumulate minor scratches overtime. Most scuba diver watches reviews prove that this particular brand of watch looks more expensive than its actual cost. The watch has a reliable Seiko NH35A automatic movement. Customer reviews from popular sites recommend extra caution while using the watch. You should be careful because the gold-plated bracelet is easily scratched.
Orient Men's FAA02001B9 Mako II Watch Review
The newly anticipated Orient Mako II watch is powered by a 22-jewel, Caliber F69 automatic movement. This new movement is self-winding, hand winding and it hacks. Adding to the new improved movement, the watch has an improved unidirectional bezel with 120 clicks and a new case design for a trimmer more look that is simplified.
You can adjust the day and date via the screw-down crown. The case size is 41.5mm in diameter and it is about 13mm thick. Just like other watches of this brand, it has an excellent bracelet which is stainless steel, with a smooth operating push-button deploying clasp. Most reviewers say the watch will be one of the best scuba watches just because of the new movement, case design and bezel. The high price of this watch is justified by various improvements on it.
On the other hand, considering quality and elegance of Mako II, it is more affordable compared to other higher end scuba watches. These uncompromised features and style makes this model a very popular choice. In the opinion of some reviewers, Mako II is among the best scuba watches that are available in the market now.
The features of this watch include an Orient 22-Jewel Cal. F69 automatic movement, a brushed stainless steel case which is 41.5mm x 13mm thick and a black solid screw-in back Crystal. It also has a stainless steel bracelet with push-button deployant closure of 22mm thick and it is water resistant. The watch comes with one-year warranty. Scuba diver watch reviews have shown that this waterproof watch has an elegant and mature look that fit most outfits with blue and black colors. Most customers are also complaining of the higher price tag compared to its predecessor.
Seiko Men's SKX779 Black Monster Automatic Dive Resin Strap Watch Review
One reason why this watch is among the best scuba watches is that you will never have to buy a battery for the watch since it winds itself when your wrist moves. That is, it is an automatic dive watch works using hand motions. Due to the lumibrite hands and markers of this waterproof watch, you will be able to read the watch, even in the poorest lighting conditions. At the three o'clock position on this watch, there is a day/date window. The dive watch has a stainless steel case and a black dial with three-hand function feature on. This watch which was designed for scuba diving is water-tested to 200 meters and it meets ISO standards. Scuba diver watch reviews from top sites have shown that most customers love the watch for its big face, big hands, and big markers, and they say the lumen is indeed awesome.
The watch might look partly small due to the fact that the bezel and case appear to be built as one piece. Other customers say the bezel moves smoothly and precisely just like the dial on a bank vault.
Citizen Men's BJ 200408E Eco-Drive Aqualand Two-/tone Black Rubber Strap Dive Watch review
In as much as this dive watch is a bit expensive, its marvelous features make the price worth it. This waterproof watch displays depths of up to one-hundred and twenty-five feet. Another great feature of this watch is the fifty-minute chronograph. The mineral crystal on the watch is resistant to scratches and has an anti-reflective coating on it. Top customer reviews from sites like amazon.com say the watch is quite nice though some dislike the rubber band.
Other customers say the body of the watch is quite heavy. The features of this watch include a Japanese quartz movement, stainless steel case which is 44mm x 16mm thick and it is water resistant. This waterproof watch comes with a one-year warranty.
Citizen Men's JP1040-09E Aqualand Duplex Ana-Digi Dive Watch.
Scuba divers love the fact that this waterproof watch has both digital and analog displays. The scuba diver watch has a four dive memory and can display depth up to 260 feet. This particular brand of watch falls among the best scuba watches because of it safety feature. The rapid ascent warning signal in the watch is what most divers really appreciate.
This waterproof watch has a solid titanium case, rubber strap and an auto-start dive mode. The case of the watch is made from solid titanium, which is almost 50% lighter than steel, but 30% stronger. The watch is very resistant to salt water corrosion and offers water resistance to 660 feet. It can also help in determining second display for maximum depth, water temperature and dive time. Some scuba watches features a unidirectional rotating elapsed time bezel, flexible rubber strap that can easily be adjusted for wearing with wetsuits.
The dive watch has a multi-layer coating that resists scratching. Top customer reviews from popular site like amazon.com express love the new features of the watch like its weight but dislike the sensitivity of the auto start for the dive mode. They also say the battery life is great since you can replace it after three years.
Citizen EcoZilla BJ8050-08E Review
The watch case size of 48mm and the thickness of 18mm makes the watch big. The name EcoZilla from the cinematic monster Godzilla was given to this watch based on its size. In the family of Citizen Eco-Drive watches, it is the biggest and most boisterous member. This scuba watch cannot be used as a fashion accessory but just as a sporting watch. Everything in the watch is well-protected, particularly the screw-down crown which is positioned on the left in order to avoid accidental bumps. The EcoZilla BJ8050-08E has a light-driven quartz movement which is called Eco-Drive that was made by Citizen.
This scuba dive watch water resistance rating is up to 300m due to the fact that EcoZilla is an ultimate heavy-duty watch. The EcoZilla BJ8050-08E is only available in rubber strap at the moment, but you can demand for an aftermarket jubilee bracelet. The dive watch does not need battery changing after each 1- 2 years. Scuba diver watch reviews say the watch is extremely rugged, cool looking and has high water resistance. Other top customer reviews from popular sites say the watch has high-quality material but they hate the fact that it's a little heavy and not suitable for formal occasions.
Seiko SKX007K2 Review
The SKX007K2 is one of Seiko's most successful watches among the best scuba watches in the markets. This watch is more of a tool accessory for fashion. Its thick bezel frame is assembled a tad higher than the hardlex crystal in order to protect the watch face from accidental bumps under water. This structure is very practical because it only takes a small crack for water to seep inside and damage the whole watch. Since the watch is ISO6425 certified, it meets all standards required for a true dive watch.
With the numerous functions that this watch has, it serves multiple purposes. Due to its versatility, it is one of the best scuba watches around now, alongside the Orient Mako and some other Seiko solar-powered watches. The SKX007K2 has the prominent automatic movement of Seiko (7S26), whose durability and reliability has been proven overtime. The Seiko SKX007 is available in the rubber strap and metal bracelet. In case you do not like the black tone of the watch, you can demand for the SKX009 which has a dark blue dial and a Pepsi bezel. Most top customer reviews of this watch say it has an appealing classic design and it is suitable with formal outfit. However, some customers say the jubilee bracelet is good-looking, but not as compact as the case.
Seiko SSC017 Solar-Powered Chronograph Review
The Seiko SSC017 is a versatile timepiece with such dressy look for everyday use and has a chronograph function which is not for diving either. When you hold or wear the watch, it really looks nice. The watch's superior legibility is gotten from the stark white hands and hour marks contrast with the matte black background. In as much as Seiko has chosen exquisite appearance over security, you have to bear in mind this is a versatile timepiece and not just a dive watch. The SSC017 has the V175 solar-powered movement with chronograph function and caliber that is extremely reliable and durable. Because of this fact, there is no need for battery change.
Most users of this watch love the fact that you have the liberty to choose from a nice mixture of black, white and blue colors. Also, the 3 sub-dials and 2 push-buttons add to the already cool appearance of the SSC017 watch.
Seiko Orange Monster SRP309 Reviews
In this watch, the essentials of the original such as the excellent bracelet, case and bezel have been retained. But the dial has been change slightly and it goes with a new 24-jewel Seiko caliber 4R36 automatic self-winding movement. The hour markers of the SRP309 are shaped like shark teeth instead of the original typical rectangular shapes.
The sixty minute markings found in the watch are no longer displayed, giving rise to a cleaner, less cluttered look. The biggest changes of this watch have been done inside. A new 24-jewel caliber 4R36 movement which now can be hacked and hand wound is what powers the watch. Hand winding permits you to power up the watch manually after you must have left it without wearing for a few days.
The powerful Seiko LumiBrite luminescent material is still used in this watch. It gives the same brilliant glowing properties, thus making the Orange Monster such a huge worldwide phenomenon with watch enthusiasts and scuba divers. On the watch, you will notice a new nicely machined crown that is slightly easier to grip than the previous version. The watch has a slightly domed Hardlex mineral crystal and concave dive bezel to help protect the crystal.
It is considered one of the best watches for scuba diving since the water resistance rating is at 660ft which is perfect for serious water sports. It has a stainless steel bracelet and a dual push-button deployant clasp with safety latch. The dive watch comes with a warranty of 2 years. Top customer reviews from amazon.com confirm the watch feels as solid as a Navy destroyer and some users say they enjoy the beautiful orange dial and the stainless bracelet of the watch.
Casio Sports MDV106-1AV Review
The Casio brand is known for making the best affordable quartz watches. Casio cannot still compare other Japanese watchmakers yet when it comes to the field of analog dive watches. The simple Casio that is powered by quartz is a nice option that has a proper 200m water resistance as well as a rotating dive bezel. The watch would make a fine vacation watch that you would not stress about beating up at the beach or by the pool. Some Scuba diver watches reviews say that despite the statement of WR 200m that is written on the watch face, there is no guarantee that the watch is resistant in water. They say you should not expect a watch with such a low price like the MDV106-1A to be able to go on a scuba diving exercise with you. The simple design of the watch dial makes it to be appealing to most of it users. Some other user of this watch confirm that the metal-bordered hands of the watch add some interesting flare to it.Top customer's reviews of scuba watches from site like amazon.com say the watch is simple but very nice-looking dial and are sold at an affordable price.
Conclusion
It is very important to note that there is a difference between a scuba diver watch and a sport watch. The difference is that not all sport watches are dive watches, but all watches use for diving are sport watches. The most essential thing is that you purchase a watch that meets your requirements.