Today's generation can be a bit obsessive compulsive, extremely unrelenting, and uncompromising, especially when it comes to the things they call their own. Always wanting the best of everything, most individuals are almost always ready to go to any lengths to execute an idea that sound appealing to them.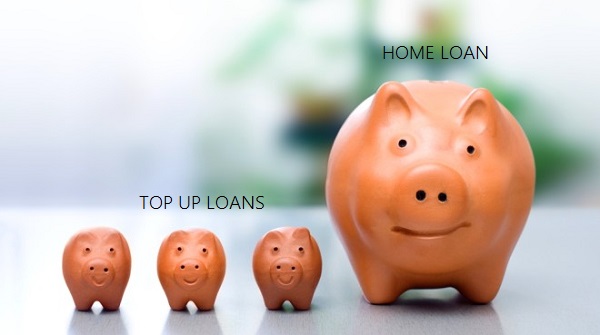 If you buy an old house on a Home Loan, chances are, you would want to put your own creative spin on the way it looks. You might even want to renovate the entire structure to make it your own.
To cater to these needs, Top Up Loans have become a major driving force in the Home Loan market. But before we get into the nitty-gritty of a Top Up Loan, let's ascertain the basics.
What is a Top Up Loan?
A Top Up Loan is something you can avail upon your existing Home Loan. However, not every bank or NBFC would be ready to offer you a Top Up Loan. This is because banks generally don't have a clear indication about whether they can trust you to repay your loan or not. For this very reason, lenders usually wait for a few years after the dispersal of your Home Loan to figure out if you should be offered the facility of a top up. The wait period gives lenders a fair idea about your repayment records, and if you haven't defaulted on any EMI payments then you can assume your Top Up Loan application will be accepted.
How does a Top Up Loan work?
As mentioned earlier, a Top Up Loan basically allows you to take a loan upon the one you already have. You could think of it as a Personal Loan, except for the fact that it comes with a much lower interest rate when compared to that of a Personal Loan. The tenure of this loan can go up to 10 years.
You have all the freedom to utilize this loan for any purpose of your choice, whether it is to fund your child's higher education or to renovate and revamp your house.
What is the Eligibility Criteria to Avail a Top Up Loan?
Top Up Loan eligibility is largely dependent on your ability to repay a loan. When you apply for such a loan, lenders will take into account your credit history, the outstanding amount on your current loan, and your previous loan commitments to ascertain your eligibility. To qualify for a top-up, you will need to have a spotless repayment history.
What are the Interests Rates of a Top Up Loan like?
Ideally, a Top Up Loan interest rate is 1-2% more than that of a Home Loan and comes with a long tenure to reduce the burden that might befall the borrower. The interest rate available in India currently ranges between 9.5 % and can go as high as 11.75%, or higher in extreme cases.
Tips to find the Best Top Up Loan Interest Rate Possible
Almost all banks and NBFCs offer Top Up Loans, which means finding one that suits you isn't going to be all too hard. However, in order to find the best loan possible, here are a few tips you need to follow.
Pitch Lenders Against Each Other
Top Up Loans are just the same as any other loans. So, why pay extra when you can actually get a better offer? If you are in need of a top up, gather all your current loan related documents and visit different lenders. Listen to the offers they are willing to offer and pitch them against each other. This gives you a clear idea of which deal would ideally be better for you. If another financial institution is offering great deals on Top Up Loans, you can even consider opting for a Home Loan Balance Transfer to avail of the benefits.
Try the Institution you are Already in Business with
There's a major reason why lenders prefer older customers to new ones. Usually, existing customers already have a good relationship with their lenders, which is an important feature, especially when you are bringing new business to them. So, go for a top up with an establishment that you've dealt with in the past.
A good credit score is mandatory for people looking for a loan as it plays a major role in your loan application's status. So, try to make sure you maintain a very good credit score, which will go a long way in making you a trustworthy, reliable investment in the eyes of the lenders. In fact, a good credit score can actually reduce the interest rate on your loan by 0.25% to 0.5%.
Check the New Rate Applicable on the Loan
The interest rate business can be quite tricky as it involves a few ebbs and flows on a regular basis. Some days the rates may look like they're stabilizing, other days the rates may very well plummet or increase without any notice. This is mainly due to the volatile nature of the economy, where the knowledge of charts and graphs can't help you save the fall. So, the least you could do is check the interest rates mentioned in the loan agreement before you sign on the dotted line. If you do this, you can spot any anomalies and figure out if your lender is overcharging you on your loan.
Remember, a Top Up Loan is an added financial responsibility. Carefully consider your financial standing before you sign up for one.