The method of hair straightening is known to exist as far back as 1890s and can be seen as any method that is applied to the hair in order to make them appear smooth, have a streamline as well as a sleek appearance.
The hair can be straightened using the hair iron referred to as hot comb, chemical relaxers, a set of rollers, the Brazilian hair straightener and the Japanese hair straightener. There are products such as the shampoos, hair conditioners and also hair gels that are used to temporarily keep the hair straight.
When it is time to travel, as you can't be sure of getting a hair straightener at your new destination for tourism, business trip or a visit it is good to get a travel hair straightener to keep your good looks. As a solution to this there are a number of straighteners known as the travel hair straighteners. Before you take one into your travel bag there are a number of prerequisite to follow.
I will like to take my hair straightener on the plane, is it possible?
A travel hair straightener is one that can get into your bag and it is good to know about the laws at the airport concerning your hair brush straightener. The problem here is that different countries have different laws concerning the items you can have in a plane and getting the right information on that will be to your favor.
Security checks
Today it is clear that travel safety is a subject that every nation takes very serious and when checking for a flight there is a security screening that can take a few minutes. This inquisition all depends on what you are carrying along. In the United States of America, taking along a hair brush straightener in a plane is not a problem because the Transportation Security Administration has not listed this item as prohibited.
Knowing International Rules
As mentioned earlier, travel hair brush straighteners are allowed in airplanes around the U.S so while taking a national flight you can take your travel hair straightener with no worries in mind but for an international flight, check the regulations of your destination about travel hair brush because they can be an issue there especially when you have transits to make before your final destination.
The importance of the hair straighteners
There are many states at which our natural hairs are found that makes them easily get damaged and other states at which they do not reveal our beauty; referring to the corkscrew hair type, a wavy hair, frizz hair or a slightly kink hair. A modern solution to this multitude of problems is the hair straightener for the daily maintenance of the beauty of the hair. In travel hair straightener reviews, it is noted that with the advancement of technology, hair straighteners have evolved from the smoking hot bulky iron that was used for straightening. That made the hair frizz and also burnt the hair, scalp and ears of most of its users, and today there are tools that can carry out multiple task at the same time like curl, stop hair frizz and straighten the hair just in a matter of seconds.
There are many travel hair straighteners and all of the travel hair straighteners found in most travel hair straightener reviews including this one are found in the U.S and in the U.K. for other markets around the world, there are associated links on where you can get them.
Types of travel hair brush straighteners
travel hair straightener reviews: Remington
There are more and more ladies who travel every day and hair straighteners are the partners for the beauty of their hair. For this reason many hair straighteners producers turn to develop the travel version of their products. One thing that has been noted in travel hair straightener reviews is that these travel versions are less durable than the home versions. Nevertheless, there are versions of hair straighteners that have the same quality as the home versions and an example of such is the Remington Mini travel hair straightener.
Description of Remington Mini travel hair straightener.
Heating material: the heating material is made of ceramic plus Teflon and Tourmaline coating that serve as the generators and transmitters of heat in this travel hair straightener. This straightener is able to reach up to 200o C.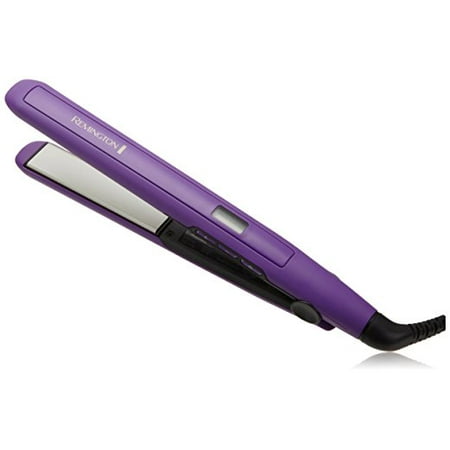 Size: it is a micro-size hair straightener that makes it easy for men and women to carry in their travel bags. The plates of this hair straightener are only 15cm in size and are of varying sizes. There is also a heat proof that coats the Remington mini hair straightener . It has a 3 years warranty.
The ceramic heating material is able to distribute heat all over its surface equally and therefore makes hair straightening easy. The Teflon fiber that comes associated with ceramic material helps prevent damage of the hair, the Teflon acts like a shield and it therefore protects heat from entering your hairs directly thanks to its non-stick property the hair is prevented from many damages.
The Remington hair straightener is able to heat up really quickly in just 15 seconds attaining temperatures of about 230o C making it a tool that will save you a lot of time on your trip. There are heat sensors on this hair straightener that permits it to adapt to varying hair types (texture and quality). In addition to that there is a heat resistant storage pouch that is used to store it even when it is hot.
The technology of the sensors in the Remington straightener permits it to detect the moisture content or level of your hair and thus supply the temperature needed by the hair to get straighten.
The pros and cons of the Remington hair straightener
There are huge advantages using the Remington hair brush
Pros of the Remington travelling hair straightener
1. Fast heating system: there are always those moments when we have little time to take care of our hair because of urgency due to an urgent business meeting we travelled for. No worries, with the Remington mini hair straightener it is possible to quickly make a beauty of your hairs thanks to the quick heating system of this straightener. This will save you from cutting your sleep very early in order to do your hair for the day.
2. The role played by the keratin of the straightener: the keratin found on this travel straightener prevents the hair from breaking and permits the hair to gain strength.
3. Light weight: when going for a weekend, you will need a brush that can easily enter your hand bag and has a light weight.
4. Temperature regulation: with the Remington travel straightener, the power to control the temperature at which your hair is straightened is in your hands. This is because this travel straightener permits you to choose the operating temperature and you can raise the temperature up to 230o C.
5. Safety: the aspect of safety with the Remington hair travel straightener can be seen in two ways. Firstly, it has insulators that will prevent the user from getting injuries. Secondly, this travel straightener has an auto off mechanism if it is left plugged in for more than an hour without usage.
The cons of the Remington hair straightener
In one travel hair straightener reviews (Judge) there are two major worries about this straightener that women complain of;
A smell similar to that of burnt rubber is mentioned in many shared experience of those that use this travel hair straightener. This is true that it does happen but if the instruction about the operation of this instrument is well respected this problem can be avoided.

The other experience shared among users of this product that poses problem is the fact that some hair sections of the strip of the hair are catch down the middle. This is due to impatience from the user, therefore use this instrument gently on the hair to avoid this.
The Corioliss Gogo Styler
This hair straightener is your perfect partner if you want to straighten, curl or even give your hair a wavy look on the move. High performance results are noted from this travel hair straightener that uses a slim line art instrument for the beauty of the hair. This travel straightener is powered by a 12 V connector like the in-car connector, telling you that the design of this aesthetic instrument is such that it can get hot really quick with such a low voltage input. This hair straightener provides quick smoothing results thanks to its titanium and floating plates that ensure the hair is in the best possible contact with the plate at all times for good results.
Another feature that makes this hair straightener good for travelling is that it heats up really fast and it is capable of attaining temperatures of 2000 C in just 30 seconds. This makes it suitable to straighten, flick or curl the hair in a single pass with this straightener. In addition to that the GoGo styler comes with a travel pouch so that you can fit it in and put the styler into your bag with no difficulty and no burns of your hands and other things found in your bag.
The GoGo styler is found on websites such as Amazon.com and in the U.K it is found in certain saloons for example Forde Hair for those who are in Brighton. This styler is made for women that are at the run and are always travelling.
Pros and cons of the Corioliss GoGo Styler
In one of the travel hair straightener reviews in which the Corioliss styler experience was collected to get the get the pros and cons of this travel straightener, the following remarks were made
Pros of the GoGo styler
1. Suitability to hair types: from user review experience it is shown that the GoGo Styler no matter its thin nature is capable of maintaining the targeted temperature for a long time without any dips. There is a range of temperature from 275 to 455 degrees Fahrenheit. Therefore this straightener can smooth a range of hair types. The straightener gets ready for use in about 30 seconds.
2. Insulation: the GoGo styler has a thin design and once the titanium plates get hot you will expect that the whole instrument as well to be. This is not the case because the insulating material with which this item is made from permits the outside of the styler to be touched without getting burn.
3. Performance: this travel straightener can be seen as a semi-automatic hair straightener with four marked temperature options at 275, 350, 410 and 455 degree Fahrenheit. The 275 and 350 are set to target thin or fine hair types, and the 410 and 450 are adequate to straighten thick or stubborn hair types. More to that if this Styler is plugged and not used it is capable of lowering the temperature automatically to levels that are safe so that the surface on which it is found will not be damaged nor the straightener itself.
4. The experience from users: from the experience shared by users in travel hair straightener reviews, this straightener is very light with a weight of only 8.25 ounce. It is longer than most other travel hair straighteners and feels more balanced in the hand when it is used. This straightener has a swivel cord that permits it to be rotated towards any part of the hair without any entanglement.
5. Associated features: the manufacturer has made provision of a travel bag for this hair straightener, whose function is to protect the straightener during transportation.
Cons of the corioliss GoGo hair straightener
This hair straightener has only one voltage of 12 V and this can be a major disadvantage if the voltage of the country is different from that of the country then your straightener is of no use.
Mini flat iron
The mini flat iron is there to solve one flaw faced by plates of regular size flat irons which is their inability to get small strands of hair which are found close to the hairline. There are therefore 2 major aims of the Mini flat iron straighteners which are to solve the problem of carrying the big straighteners when you are to travel and to straighten the small strands (bangs) that the regular size straighteners will not attain. The mini flat iron straightener is recommended for those with fragile hair, and those who have short hair.
The Turbolon Baby Croc Professional Dual Voltage Travel Mini Flat Iron
This mini flat iron is considered as one of the best flat iron travel straighteners for people with fine hairs. The design of this hair straightener makes it one of the cutest and compact mini flat irons on the market. This hair straightener is practical for the kids that are just being introduced to using flat irons to straighten their hair. There are a variety of colors for this straightener ranging from lime, pink, fuchsia to black and white, this gives the ladies a great range of colors they can add to their hand bags.
This mini flat iron is considered a good travel hair straightener with a dimension of 5/8 inch making styling with this straightener easy and the end results looks like that of a professional.
The features of the Turbolon Baby Croc Mini flat iron
- This mini flat iron is made with innovative technology that makes its usage very easy and the results you obtain at the end of the day are very encouraging.
- One of the innovative technologies of this mini flat iron is the ceramic coated plates that make up the heating element. The ceramic plates are infused with ions technology that permits this hair straightener to give the hair a natural shiny color.
- As one of the best travel hair straighteners, this mini flat iron is equipped with the dual voltage technology so that it can be used freely in different countries that have different voltages.
- Transporting this straightener is made easy with the provision of a heat proof carry bag.
- It can style a broad range of hair types and therefore versatile in its function.
Technical attributes of this straightener
- The innovative features of this mini flat iron straightener make it very popular among women around the world. So if you are looking for a mini flat iron for your trip the Turbolon Baby croc is recommended for you.
- The dimension of this straightener is 12 inches in length by 2 inches in width and 4 inches height and has a weight of 8 ounces.
- The ceramic plates play the role of protecting the hair from damages like burns and make the hair straight faster with great precision.
- For small hair this straightener comes with rounded floating plates that make styling of small hair with great precision a passionate one.
Pros
- The first advantage of this travel hair straightener lies in the size of the straightener that permits it to be transported even in a hand bag with ease.
- This straightener comes with the ion (negative ions) a technology that counteracts the positive ions that causes the breaking of the hair and this negative ion technology helps to seal the moisture of the hair so that it is protected.
- This straightener is able to heat up to 430o Fahrenheit which can style many hair types; even very thick hair.
- The free carrying bag that comes with this straightener is heat proof so that when you do your hair on the fly and carry the straightener with you, it won't damage heat sensitive items in your bag.
- The floating plates of this straightener make it versatile in its straightening work.
Cons
- Many users have complained about the temperature setting of this straightener that it doesn't respond well at times. This might result from improper use of the straightener and the accessories that come with it.
- For those with thick hair this straightener takes a longer time to style them as compared to the normal home size straighteners.
Maintenance Guideline of the Straightener
Maintaining this product properly and using it properly will help increase the life span of the straightener and also the efficiency or its performance. Therefore the user manual is to be studied properly before the straightener is used and make sure to follow the instructions as they are described on it. This straightener is available on Amazon.com for those who will like to order one and it is free shipping for the U.S and the U.K.
The MiniYOU by Conair 1/2 – inch Ceramic hair straightener
In travel hair straightener reviews, this straightener is mentioned as one of the best when it comes to mini flat irons for bags and for short hairs. This MiniYou is the cutest mini flat iron offered by the Conair flat irons. The Conair flat irons has put in all the technology that can be found on the regular size straightener into a more compacted size to generate this mini flat iron that can easily fit into our travelling bags.
Product description
- It has a ceramic plate for the purpose of eliminating heat damages and this material is also gentle on the hair. These plates can glide through your hair easily distributing heat equally over the hair so that the end result is a silky and smooth hair.
- The process of hair straightening with this mini flat iron is made easy as it can attain high temperatures in few seconds.
- It has the negative ion technology that breaks up water molecules so that they become moisturized and healthy leaving no damage to the hair.
- This straightener is remarked to produce salon results of hairs.
- There is a power indicator light that shows you that the straightener is on.
- This mini flat iron gets very hot in only 30 seconds.
In the travel hair straightener reviews there are users with good experiences with this mini flat iron as well as user's with bad experiences.
Good experiences with the Conair MiniYOU
- Here is a comment from a user who purchased this mini flat iron for a trip to Germany. I bought the iron and in the user manual there was no specification that it was a dual voltage appliance so I was pleased to realize that. I have long thick hairs that are at the level of my shoulders, it was possible for me to do my hair all at once with the MiniYOU. It left my hair smooth and silky thanks to the plates that glide my hair like a charm.
- Another user shared this experience. This travel hair straightener is great as it can easily fit into my bag. It has a heat proof small pouch that permits me put the iron into my bag with no fear of it damaging other things found in it. I am more than happy with this mini flat iron because it weights nearly nothing in my hands and it does the job of making my thick hair look straight and shiny.
Cordless hair straighteners
The cordless hair straighteners are for you if you are the type that travels frequently for vacations or business trips. It is not practical carrying all your hair arsenal for each journey, here you will find the cordless hair straighteners a practical tool for you during rush hours for business meetings and business dinners so that you always look at your best.
Types of cordless hair straighteners
The Styling Iron Beachwaver Co. Jet Setter
This cordless hair straightener is powered by a rechargeable battery that has an outlet used for charging the battery. As one of the travel hair straighteners, this straightener may be suitable for travelling within the U.S because information stating if this straightener has a dual voltage option is not available.
Product description
This is one of the travel hair straighteners that will permit you never to have a bad hair day. This cordless hair straightener is perfect for ladies on the go, below are some of the features of the Beachwaver Jetsetter that makes it particularly performant
- This is one of the rechargeable travel straighteners that can last up to 30 minutes once it is fully charged and used for straightening.
- It has a conventional size that makes it possible for it to enter any hand bag.
- It is possible to adjust the temperature of this straightener up to 450o Fahrenheit.
- The plates of this mini flat iron rechargeable straightener are made out of silicon.
- It also has a LED power and a charging display.
- The voltage rating of this cordless hair straightener is 7 V/220mA.
- The recharge power supply of this straightener in one travel hair straightener review is between 100 – 240V.
- You can charge this straightener from a wall charger or a from a car charger.
The Hairmosa Touch Ups Cordless Hair Straightener
The Hairmosa cordless flat iron straightener was created when professional stylist complained about bulky home irons that are not portable. This hair straightener will reduce the stress of worrying about where you will do your hair at your destination. It is easy to do your touch ups using this cordless hair straightener.
Description of the Hairmosa Touch Ups straightener
This hair straightener is made up of titanium heating plate that gives the hair a shiny and sleek feeling. In addition to that this it prevents your hair from damages that are caused by the application of heat to the hair. The hairmosa cordless hair straightener iron glides through the hair when used so that your hair is flawless and has salon quality.
This hair straightener's battery is very resistant once fully charged. This is one of the travel hair straighteners that can be used on the go to straighten the hair, the plates of this straightener have variable temperature control for varying hair types and thickness.
Among the features that make this straightener one of the best travel straighteners, is its AC adaptor and its variable temperature option that can reach temperatures of 428o Fahrenheit or 2200 C as it is indicated by the digital monitor. As one of the good travel hair straighteners it comes with a heatproof bag to carry it along with you even when you just used the straightener.
This item is light so that it can be used with ease to do your various stylings and touch ups when ever you want. It has a variable temperature range so that it adapts to variable temperature style for them to be perfectly straight. In addition to that you can set the temperature of the straightener to adapt to your hair type.
Though it can be used with no direct connection to current it can be used for up to 30 minutes. This makes this straightener suitable for salons and travelling. To create different styles on your hair use the 2 section clips that come with the straightener.
You can purchase this straightener with no fear as this cordless hair straightener has a 2 years warranty and there is a Hairmosa customer support team in the case of any difficulty they are there to clear your thoughts.
The pro tools Dual cordless hair straightener
The dual pro tool cordless hair straightener flat iron is one of the best travel hair straighteners as there are 2 flat irons that come in a packet of the straightener. When you straighten your hair with this straightener you will always have an available straightener to use. This is because when you are using other cordless straighteners you have to wait for it to charge up before you continue straightening your hair especially when you are styling the hair. This problem is solved with the pro tool dual cordless hair straightener as its charging port can charge both straighteners at once and as you use one the other is charging, this means that throughout your styling there will always be an available straightener to use.
Pros of the pro dual iron straightener
- The shape and the size of the plates: The plate size that come with the different models of this pro travel straighteners varies, and this varies with the function that they perform.
- Wide plates: this plate is known to save time as it is able to straighten a greater hair volume at once and also give more open waves to the hair. This is the type of plate used in the cordless pro dual iron.
- Dual flat iron: there are two flat irons that come with this straightener that serves as an added advantage for you.
- Temperature: the temperature range of this hair straightener ranges from 248 – 446o degree Fahrenheit.
- This hair straightener can be used for both damp and dry hairs.
Cons of the pro tool cordless hair straightener
This is really an incredible product when it comes to hair technology but the problem faced here is that the product does not auto shut off if it is left plugged and on.
The ceramic ThermaCell cordless hair straightener travel smart
The Conair is known to be very lucrative when it comes to the manufacture of hair straighteners; versatile in the beauty of hairs. From the name, the travel smart in it lets you know that this hair straightener will meet the needs for your hair straightening in your trip.
- The first advantage of having the travel smart hair straightener is its stylish and its elegant design.
- Ceramic technology of the thermacell travel smart is prime component for its efficient performance.
- The ceramic plates can heat up to 419o C which is a considerable temperature for a cordless hair straightener.
- This is one of the travel straighteners powered by a butane thermacell cartridge.
- This straightener contains a one butane cell that is acceptable by the FFA for travelling.
- With this hair straightener it will be possible for you to make different styles on your hair and obtain salon quality results.
You might go into a shop or online and will like to get a cordless hair straightener. Here are some tips you should consider so that your hair will remain beautiful.
Hair type and texture: when you want to purchase a cordless hair straightener it is imperial to consider the texture of your hair when doing so, check if your hair is thick or if your hair is fine. Some of these travel straighteners come with temperature ranges for the different hair types and you should pay attention to that because the temperature to straighten sleek hair is different from that for curly hairs. This will avoid hair burning and breakage due to over-heating for those with fine hairs.
The width of the hair: the dimensions of the plates of the cordless hair straightener have a role to play when it comes to the efficiency of straightening the hair. In most cases of hair straighteners the most efficient size of the plates for all hair types ranges between 1 to 1.5" in width.
The control of temperature: if the straightener you are about to purchase is not capable of heating up and stay stable at different levels then it is not one of the best travel hair straighteners. This is because one temperature here will signify straightening one hair type.
The weight of the straightener: a good cordless hair straightener weights between 1 to 2 ounces.
The length of time the battery can make: if you are out for a hair straightener you should complete a hair style so your hair straighteners should average 30 minutes for the life time of the battery to make them excellent travel straighteners. But below 15 minutes it's left for you to decide to purchase the straightener or not.
General advantages of the cordless hair straighteners
- The first advantage is that you will need to plug once it is charged to style your hair so practical for many ladies who want to straighten their hair between activities.
- They are very convenient for travelling.
- They are not expensive straighteners and can be purchased online.
Disadvantages of the cordless hair straighteners
- Cordless straighteners use batteries that generally do not last for long.
- Upon several use of this straightener the battery needs to be changed for a new one.
- With some of them you need multiple passes to obtain your results.
Travel straighteners brushes
In this category we will look at some of the lightweight small brushes which are durable and can be used all over the globe because they have dual voltage of 110 to 120 and 220 to 240.
This is one of the travel straighteners that is a brush and has a cord attached to it. It has a ceramic plate that serves as the heating element so heat is fairly distributed all over the brush.
It provides you with 10 different levels of temperature so that you chose that which is best for your hair. There is an LCD display to make sure you see the temperature.
Though it is 11'' in size this is among lightweight travel brush straighteners because of the material used to manufacture the brush. The material is lightweight so that you feel less pressure using this device.
Pros of the Acuvar straightening brush.
- It has 10 modes of temperature suitable for a broad range of hair types.
- It heats fast and has a swivel cord for straightening in different directions.
- It has both Fahrenheit and celcius readings that can be interchanged for international use.
Cons
- The size is a little bigger than other travel hair straighteners so it might not fit into your purse.
- There is only one color type available for this hair straightener.