When we talk of hiking, the first gear that comes to mind is the sandal. Hiking sandals are practically required footwear for hikers. For this reason, manufacturers have always been trying to improve the hiking sandals in a bit to better the hiking experiences.
The hiking sandals can be regarded as an alternative pair of shoes that expand and ease your hiking adventure. They need minimum stress when wearing and breathe better so keep at distance bad odor.
Best Women's Hiking Sandals - Overview
Any woman who loved going for long period of hiking or having long beach walk should consider investing in the right hiking sandals. Hiking sandals are sturdy and designed specifically for the long hiking but can also be used as regular walking sandals. While there are so many different hiking sandals for women flooding the markets, chosen the right one may be difficult. Thus, this guide is designed to help enlighten women on the best features to look for when buying hiking sandals, why she should wear them, and how to choose the right pair for any of her hiking needs
Best Women's Hiking Sandals: Keen Company Overview
KEEN is a shoe, bag, and clothing manufacturing company, founded in 2003 by Martin Keen and Rory Fuerst and based in the US of American. They are consistence with creating original and versatile products, inspire outdoor adventure and improve lives. Keen products are available in retail locations throughout the United States, on the company's website and on other online stores such as Amazon and eBay.
The first Keen shoes were invented in 2003 simply to answer the question that was the order of the time, "Can sandals protect your toes?" Keen sandals featured a signature thick black toe bumper. This innovation opens the way for a huge market in sailing and water activities and other outdoor activities. This pushed them to create more products for many outdoor activities as well as lifestyle shoes.
Today, Keen has many different design of hiking sandals for men, women and kids. Some of which include the Keen Clearwater CNX, Keen Whisper Sandals, Keen Newport H2 Women's sandals, Keen Rose Sandal, and the Keen Women's Venice H2 Sandals
Keen sandals and shoes feature innovative technology like S3 heel support and Metatomical footbeds to support and cushion feet. However you choose to play, care, and create, Keen Hybrid, footwear are designed to accompany you wherever you go.

In addition to the Keen sandals, they also make socks and bags. The Keen Hybrid, transport bag collection features recycled and repurposed items from the footwear manufacturing process.

Keen is often referred to as being more than a footwear company. They always strive to be a company with a conscious support for environmental and social organizations and also strive to take small steps towards sustainability by using repurposed and recycled materials whenever possible.
Best Women's Hiking Sandals:What Are Hiking Sandals for Women?
Before going further, it might be helpful to look exactly what hiking sandals for women are. Women's hiking sandals are specifically designed sandals or footwear for hiking adventure activities in which the feet are likely to become wet such as wakeboarding. To put it simply, hiking sandals for women are specialized form of footwear for women that provide outstanding traction, lightweight, and foot/toe protection for individuals engaged in hiking.
Hiking sandals help protect the feet from slipping when walking on slippery surfaces. These sandals are also designed and made to protect the feet from debris, rocks and shells. They are strap like with a hard sole to prevent cuts to the foot. The outer sole is used to prevent the foot from getting abrasions and cuts when walking on wet, rocky surroundings. Hiking sandals protect feet that will be in sharp rocky floors water. Hiking sandals are designed for the following purposes.
Traction
The best women's hiking sandals are generally made to provide traction for the user. This feature can be particularly important in water with slippery surfaces. The soles of sandals are sufficiently textured to grab slippery surfaces.
Comfort
The best hiking sandals for women usually have a stretchy upper portion that will support the foot without constricting it. These hiking sandals are made from lightweight materials that tend to quickly dry, allowing for more comfort, even if the sandals are worn for a long period of time.
Sturdy Soles
Hiking sandals may be used for walking on rocky beaches, streams or river beds. They are useful in protecting feet from the pool bottoms rough surfaces. On extended exposure to these surfaces, bare feet can become irritated, raw and sore. Hiking sandals with sturdy soles will protect the bottoms of feet from soreness and injury.
Lightweight
One of the biggest benefits of hiking sandals is their lightweights. This makes is easy to take along on your hiking trip and also makes putting on more comfortable even if on very long hiking trip.
Price
Women's hiking sandals are available at many online stores or websites, fitness stores, and sporting goods stores. They generally range in price from $25 for basic shoes to $75 for name-brand shoes with special features and designs.
Best Women's Hiking Sandals - The basics
If you are already on a hunt for some good women's hiking sandals, it's evident that you can't rely on the trekking sandals on the rough and slippery terrains. You need a pair of specifically designed hiking sandals around your campsite, on a mild hike. They are highly breathable and dry very quickly, thus hiking sandals are reliable even when crossing a stream.
Bear in mind that wearing hiking sandals, means you hike light, your backpack also have to be lightweight. Avoid loading your backpack as the hiking sandals, no matter how great it is, can't take the over load and support your feet.
Hiking sandals provide good arch support and comfort, despite their rather simple design and fragile appearance. Some also come with a foot bed that is partially shaped to fit the foot for increased comfort while hiking.
Hiking sandals are generally shock resistant. The EVA (ethylene vinyl acetate), foam midsoles are responsible for efficiently absorb shock thus, translating into ease on your hiking experience.
An important feature for any hiking sandals is the ability to be adjusted. Hiking sandals come with adjustable straps that provide you with a perfect fit, especially after long hours of hiking, when your feet get swollen. If the weather changes and gets colder, it adjustability allows you to put on some wool socks under your sandals.
Their adjustable straps give the tight fit that you need in some situations and the space, in others.
Best Women's Hiking Sandals - Types of Hiking Sandals
There are generally two main categories of hiking sandals;

The Open Design: Open design sandals, are simplistic designs that resemble a glorified flip-flop. These designs may be good for use in the water, casual wear, light hiking, and really any sort of adventure that doesn't get too burly. This design is extremely lightweight and dries quicker and is more packable than their closed design counterparts.

The Closed Design: Closed designs sandals resemble shoes with vented areas, offer protection similar to a light-hiking shoe and quick drainage opportunities throughout. Some of these sandals are even supportive enough to use for light backpacking and heavier hiking.
The closed design women's hiking sandals come with toe protection. If the terrain you plan to go hiking is full of roots and debris, and rocky, it's better to go with the closed design hiking sandals.
Whether you plan on stepping into some streams or not, it's better to always get a pair of hiking sandals that are mostly waterproof. It's most likely that you'll eventually get in contact with water thus rubber soles and synthetic uppers traps mean more waterproofness on your hiking sandals.
Hiking sandals also have sturdy sole, and are Vibram. This is what makes the hiking sandals different from other type of sandals. The best women's hiking sandals also need a good amount of tread.
There are many different models and design of hiking sandals for women and thus, you can always decide for yourself how much coverage you want from them. Some hiking models cover more of your foot, whereas others are more exposed. And again, you have to take out time and give a thought on where you're going to use the hiking sandals before going for a pair.
Keen Women Hiking Sandals
Best Women's Hiking Sandals:The Keen Clearwater CNX Sandals
When it comes to good quality for a small price, Keen sandals give some good, reliable pair of hiking sandals for women. Keen Clearwater CNX Sandals offer not only a reliable quality, but also an attractive price, long life span and stability.
Keen Clearwater CNX Sandals are made of synthetic and textile and give a good fit right out of the box. The closed design on the sandals is comfortable. This sandal is both breathable and waterproof so they can take you safely into and out of water.
The ghillie lacing allows you to find the adjusted fit for you, in an easy way. It's quick-adjust bungee cord is good quality and keeps the sandal nicely tight to your foot. The closed rubber toe protects your toe so you can walk the rocky, full of roots trails also. The Keen Clearwater CNX Sandals for women dual pull-on loops make the sandals easy to put on.
Its AEGIS microbe shield on the hydrophobic mesh lining maintains your foot fresh the entire day. The stretchy lining is great and the Keen Clearwater CNX sandals have good padding.
Their non-marking outsole with razor sniping provides good grip to the sandals and the synthetic sole gives stability and present pretty good traction in most situations.
This Keen Clearwater CNX Sandals give great support and come in various colors combinations. They are lightweight and thus are great choice for the trail hiking.
Here are the most important benefits:
The Keen Clearwater CNX Sandals are of good quality, but for a small price

The sandals are breathable and waterproof

The traction efficient and the grip is good

The sandals are comfortable

They are versatile enough hence comes in various sizes and colors
As always, we also need to remind our cons:
The toe box is also quite small

The sandals run a tad small
The Keen Clearwater CNX Sandals delivered great performance in many situations and are built to last quite a while.
Best Women's Hiking Sandals:Keen Newport H2 Women's Sandals
The Keen Newport H2 Women's Sandals are classic high quality water shoes with the airiness of sandals and the protection of shoes. There are considered as the best women's sandals for flat feet as they offer enough space for some orthopedic inserts, when in need. Like most KEEN sandals, these hiking sandals are made with Cleansport NXT for a natural odor. They are designed to have a compression-molded EVA midsole for durability and comfort. Their outsoles are non-marking with razor siping.
The ghillie lacing allows you to get the right fit and also very easy to use and the rubber toe bumper protects the toe make you feel comfortably even on rugged, rocky trails. The secure fit lace capture system makes putting on and taking off the sandals easy. These hiking sandals for women are made of machine-washable polyester webbing upper which makes them easy to clean.
These close design hiking sandals, have contrast stitching and are very well made.
The keen Newport h2 women's sandals have a rugged build and are made for the heavy duty use. They are ready to take many types of trails, even rivers and streams. The upper is machine washable and the sandals dry fast.
The benefits include:
These Keen Newport H2 Women's Sandals provide more ankle support compare to strappy sandals thus they are good for use in an easy-medium low terrain.

There comes in a variety of colors to choose from.

These sandals are closed; thence can protect your toes.

There are a great comfortable alternative for sneakers for everyday traveling and walking.

These Keen Newport h2 women's sandals are comfortable and dependable

They made of quick drying material, so it's ideal for crossing through streams or water activities.

The traction is efficient and the grip good for the sandals
These sandals have some drawbacks which include:
When sand, stones, or mud get in, it's hard just to shake off. You'd have to remove them completely to shake the dirt off.

They're a little too bulky to bring as an extra pair for campsite use. (In cases when you have to use boots to hike)

For a better fit, get half a size up.
Best Women's Hiking Sandals:Keen Rose Sandals for Women
The Keen Rose sandals are considered as the best women hiking sandals for the money or best value. Thus, if you are searching to pay a fair price and get the best quality for that, these are a great example of how you can get both.
The Keen Rose sandals are made of textile and leather, which makes them not only longer lasting, but also able to provide a good fit, with no break in time needed.
The straps are adjustable so that you can get the perfect fit and the hook-and-loop is efficient. Its rubber toe bumper protects your toes in every terrain.
The closed Keen Rose sandals design have a sporty, yet feminine appearance and feature webbed-look straps at vamp and special rubber toe bumper.
The metatomical EVA foot bed means the sandals are comfortable to wear, whereas the AEGIS Microbe shield lining keeps bad odor from building up.
The rubber sole provides stability and the sandals are make grippy by the non-marking, multi-directional traction outsole. It has good traction, in many hike experiences. The sole is flexible and lightweight at the same time.
These Keen Rose sandals are supportive, take the rugged hikes and are well-padded. They breathe very well and keep the feet cool in a hot summer. The sandals are easy to clean up, quickly dry and come in more than 10 color combinations.
Some benefits for getting the Keen Rose sandals include:
Good grip and traction

Perfect breathability, easy to clean and quick dry

These sandals are comfortable and lightweight

The toe bumper protects the toe from rocks
This Keen Rose sandals are cute looking, reliable, efficient hiking sandals that are also comfortable on a rugged hike.
Best Women's Hiking Sandals:Keen Whisper Sandals for Women
The Keen whisper sandals are considered the best budget women hiking sandals that are able to meet needs and desires of women hikers. It is a versatile and lightweight pair of sandals that are perfect for the city, the beach, and easy hiking adventure.
The footbed of these sandals is made of compression-molded EVA and its internal support system provides excellent arch support which follows the natural contour of the feet using their metatomical footbed design. The Keen whisper sandals also have a no marking outsoles.
The sandals are made of synthetic and textile. This implies the sandals don't need time to break in and give no blisters to the feet. They also dry very quickly, after coming in contact with water.
The bungee lace capture system is easy to use and help in getting the right fit. The polyester webbing upper is very reliable.
The Keen Whisper sandals are design with a hydrophobic mesh lining that is quick drying, soft, comfortable and not prone to bad odor.
The rubber outsole provides a nice grip and good traction. These sandals allows for good stability even on wet and slippery surfaces. The internal support mechanism is carefully made so that it delivers great arch support and cradles the natural contours of your foot.
The toe protection found on these sandals gives the toe comfort when hiking and keeps away debris and little rocks.
These Keen Whisper sandals are lightweight, versatile, clean very easily and also have a feminine look that comes in more than 30 colors. They are machine washable on gentle cycle with a small amount of detergent.
Their benefits include:
Machine wash-ability

The sandals feel comfortable and give a good fit

Adjusting the tightness with the bungee lace capture system is easy.

The sandals are lightweight, flexible, durable and have a feminine look

They are an excellent combination of support and comfort.

They dry quickly

It provide good traction and grip even on wet and slippery surfaces
Best Women's Hiking Sandals:Keen Women's Venice H2 Sandals
These Keen women's Venice H2 sandals are known as the best women hiking sandals for plantar fasciitis that do take care of your plantar fasciitis. It also take you safe and sound on many challenging hikes. These Keen women's Venice H2 sandals are a good option and they come in more than 20 color combinations.
The Keen women's Venice H2 sandals are made of fabric and imported. This closed design sandals are constructed with breathable stretch straps with waterproof nylon overlays. Their adjustable bungee lacing system makes it easy to find the right fit.
The easy-on heel loop also makes it possible to put the sandals on faster and easier. These sandals have a waterproof straps that makes it dry quickly and thus you can take the sandals into water with no worries for getting wet.
The Keen women's Venice H2 sandals come with a rubber toe bumper, which provides great relief to the toe. Their compression-molded EVA midsole give great comfort to the foot, no matter how long you put them on. The Hydrophobic mesh lining keeps bad odor at distance, whereas the well thought out design makes the sandals highly breathable.
The non-marking outsole with razor sniping provides a good grip and the rubber sole an excellent traction. The TH3 sole provides traction on terrains that combine both trail and water. Thus, the Keen women's Venice H2 sandals are suited for the more challenging, rough hiking terrains.
The V-strap forefoot design keeps your foot in place and lowers the risk for your foot to slide or irritate against a wet foot bed.
These sandals are lightweight, durable, machine washable and comfortable. They also feature reflective parts for easier tracking in dim light.
Here are some of the benefits for using these sandals:
They provide excellent grip and traction and are good for both water and ground combined trails

The sandals also excellent as shock absorbency

The Keen women's Venice H2 sandals feature long lasting, quick drying polyester webbing straps for better fit

There are comfortable and supportive for the plantar fasciitis foot
This Keen woman's Venice H2 sandals still make it as a great option for many, especially for the plantar fasciitis though.
Finding The Best Women's Hiking Sandals
Good sandals are essential for a good hike. Wearing an uncomfortable and a wrong pair could cause a lot of trouble. While product reviews may help you choose a good pair, the only way to know for sure if a pair is good is if you try them on.
We'd like to give you the much needed guidance as to what to look out for the best hiking sandals women's should consider buying.
​
When to Choose Hiking Sandals
Hiking sandal is an important part of every hiker's bag, no matter how experienced they are. Even when you have a pair hiking boots on the trail, you'd still need to bring these sandals along for use in the campsite. Unlike boots, hiking sandals provide ventilation, so you feel liberating when you take boots off and allow your feet to breathe.
Hiking sandals are also very versatile i.e. you can use them for more than one activity such as for lowland hiking and urban walk. They're also suitable for crossing streams because they dry quicker than boots. Due to their lightweight, they're also perfect for traveling. However, they don't provide as much ankle support as boots do, thus, they aren't ideal for steep terrain.
Aside from not having ankle support, hiking sandals expose your feet to dirt, stones, sticks, and insect. They also won't provide the much needed warmth during cold weather unless you wear socks, but even that might not be enough. If your hiking terrain is not rough, then hiking sandals will do just fine. But you have to keep in mind other factors as well because sandals have their downfalls.
What to Consider When Choosing Hiking Sandals​
Versatility
As earlier mentioned, hiking sandals are usually versatile. A great pair works well for stream crossing, urban walking, tame trails, and more. However, some are also just good for one or two activities.
Consider the activity you plan to engaged in and get the best sandals you can find that suits it. You will probably just need to look into special requirements for water activities.​
Water activities need a lot of traction so make sure the soles of the sandals are good. Get something that is slip resistant like rubber outsoles. Ensure the contact area is large and make sure the grip is excellent on the terrain.
For water activities, a more open strappy sandal would be a better choice because they will dry quicker. Remember to choose sandals that fits well to your feet so that it won't slip off.
​Coverage/Protection
Generally, there are two common styles in the market: strappy open-toed sandals or close-toed sandals. Think about how much protection you might need before going for either of the two. Close-toed sandals will keep rocks and sticks from hitting your toes. However, it's difficult to shake out pebbles it gets in.
You should also think about the hiking trail conditions. Knowing what to expect will help choose the best hiking sandals for the best hiking experience.
Straps
The straps are the most essential part of sandals because they hold your feet to the sandals. Thus, while trying to get the best hiking sandals, you may have to consider the following:
Fabric it's made from: You'll want a pair of sandals that's tough for different weather conditions, waterproof or quick dry, and soft to prevent chaffing.
Adjustable straps: Adjustable straps come in handy, such as when you want to put on thick socks.
The locking mechanism: You have to make sure it's quick and easy to use. Thus you want to know if it's a buckle, velcro, or any other mechanism.
Comfort
A hiking session may run into many hours, thus, the need for sandals that provide excellent arch support for the best support and comfort. Having an uncomfortable sandals or shoes in general, may ruin a hiking trip too soon.
Knowing the fabric used on the sandals may help you in determining the level of comfort it provide, but there's no better way than trying them on, have a walk in them and observe for any pressure points and possible chaffing.​
Footbed, Midsole, and Outsole
Ideally, footbeds (insoles) should have cushion or padding for comfort. A good contour also helps in securing and preventing your feet from slipping as you walk. These are essential features for comfort especially for long walks over slightly rocky terrains. Footbeds are usually made of a type of plastic known as EVA.

The midsole are designed for shock absorption, as well as for cushioning. If the midsole are firm, the shoe is usually heavy and stiff. These may last longer. On the other hand, soft midsoles have better shock absorption but wear faster than firm ones.
Features of the Best Women's Hiking Sandals
There are many features that separate women's hiking sandals from the other traditional types of sandals. When choosing a pair of hiking sandals to fit your needs, there are many factors you should take into consideration, such as materials, straps, support and cushioning, arch support toe guards, and traction.
Support and Cushioning
The best women's hiking sandals must provide adequate support to help withstand the physical features of the terrain. This support alleviates pressure both on the tendons that run along the back of their ankles and on a hiker's heel. Hence, this cushioning is generally found in the sandals' midsole. Hiking sandals generally have a thicker midsole which helps to reduce joint and back pain. The thick soles offer protection to the bottom of a hiker's feet from sharp, protruding objects such as rocks. The cushioning of women's hiking sandals is designed to absorb the majority of the shock that is impacted on the hiker's feet and legs. This cushioning is also designed to absorb the shock that is produced from walking on hard or uneven surfaces such as rocks or asphalt.
Materials
Women's sandals are constructed from widely different materials. While some women prefer synthetic material because of their durability, others prefer leather that provides increased flexibility during their hikes. Women, who will be hiking in various types of terrain or weather, or those who will be encountering creeks or other bodies of water during their trek, should consider sandals with a rubber outer sole. This will prevent their feet from becoming waterlogged and heavy. It will also prevent them from slipping on wet rocks or from losing their footing while in the water.
Straps
Women's hiking sandals feature straps. The straps that are found on women's sandals for hiking come in a wide array of materials such as leather, nylon, suede, and mesh. They are designed to securely fasten to the feet in order to prevent ankle or leg injuries that may result from either sliding out or tripping over of the sandals. Women should invest in nylon or mesh straps sandals, which are specifically designed for use in water and not in leather straps, which though comfortable, they easily dry out and crack when used in water.
Uncomfortable sandals can also result in the formation of blisters during hike. Sandals that are constructed with adjustable straps are ideal for providing a snug fit and prevent loose straps from rubbing against the top of the wearer's foot.
Toe Guards
The toe guards on a pair of hiking sandals are often seen in the form of a raised ridge on each sandal that protects the toes from coming in contact with the ground during hiking. Closed toe hiking sandals are ideal for all types of terrain. Sandals with toe guards can prevent common injuries such as the stubbing or jamming of the hiker's toe on rocks or other obstacles from occurring.
Traction
Traction is an important quality to consider when purchasing a pair of women's sandals for hiking. Sandals with good traction are made from quality rubber with deep grooves and patterns on the sandals' sole. This help to improve balance and prevent hikers from losing their footing when hiking on uneven or wet surface terrains. The soles grip surfaces instead of being slippery.
Arch Support
The best women's sandals for hiking provide adequate arch support to the feet. Arch support protects the tendons in a hiker's feet from damage by properly aligning and supporting their foot. Deep heel cups are a common feature of hiking sandals and help the wearer's foot to stay centered.
Stability
With advances in design and technology over the years, high quality women hiking sandals can provide the support and stability of a full shoe. Some sandals are notorious for sliding around and flexing side-to-side when hiking in more rocky and slippery terrain, but as the sector grow they've introduced great new designs to alleviate these issues.
Fit and Design
The fit and design can be drastically different. Every single hiking sandal you look at seems to look pretty similar. They have a sole, laces, an upper and midsole. Some offer other "stuff" tacked on. But when considering this kind of footwear, all rules are out. Each company try to bring their own flavor of fastening and straps, in addition to more classical shoe elements like the materials and sole designs. Getting the right fit and design for your foot is thus critical.
Durability
Everybody wants to a sandals that isn't going to last. Hence, durability is probably the easiest factor to consider, but also the most difficult to test.
How to made hiking sandals?
For most women's hiking sandals manufacturing companies, they used a relatively high-tech manufacturing process, which have a three-layer FeelLite sole. This high-tech materials allow them make something incredibly flexible and ultra-lightweight such that it provides you with a natural foot movement, but is still really comfortable, protective, and durable.
They bond the three layers together. The FeelTrue rubber is placed on the bottom surface for great grip, durability and traction. The middle layer (TrailFoam), a force dispersion layer, helps to evens out or absorbed the bumps and the top layer (BareFoam), consist of a tiny amount of padding built into it that when you put it on your foot gives you a lot of comfort and protection. These sandals also have a heel cup on the back to help keep your foot centered, stable, and also help keep out debris.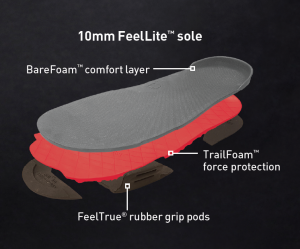 The best women's hiking sandals are design with laces and tubular webbing. This design helps to keep out edges that usually dig into your skin.
Some have exclusive hardware that allows you adjust the tension securely, quickly, and easily, and have an adjustable heel strap to allow you move your foot forward and backward and still get a perfect fit.
How should Women Hiking Sandals fit?
When you put on a good pair of women's hiking sandals, your toes shouldn't be way off on one edge, or way over the front, or way back behind the front edge. Your foot should actually fit comfortably on the sandal and centered right and left.
Hiking sandals comes in different lengths and widths to accommodate most foot shapes and sizes.
When looking to purchase a hiking sandal, we recommend you go for a snug-but-comfortable feel. Many women try to over-tighten around the toe area because they believe that's the portion that's holding them into the sandal. Actually, it's the area that goes around your ankle that holds you in. Thus, it's best to go for sandals that feel secure and comfortable. In fact, many women end up loosening the area around the toe strap more than they expected, and that's totally ok. Their feet still stays stable on the sandal because of how it holds around their ankle and across the top of their foot.
Where to Wear Hiking Sandals
And the answer to this question is, anywhere you can think of. These sandals are good for people, who are doing anything from skydiving, kayaking, Crossfit, paddling, standup paddle boarding, even yoga to walking and running. Some people have been tempted refer to hiking sandals as a portable yoga mat that you take with you everywhere you go just as your yoga mat right underneath your feet.
Conclusion
​Hiking sandals are very versatile. Depending on the materials used, style, and brand, and they could be good for hiking, beach, and everyday use. Before you start searching to buy one, make a decision on what you want to use it for. This way, you can choose something that suits the purpose. While reviews and guides may help you make a choice, the best and preferred way to find the right pair is to try them on.
After going through the various Keen women hiking sandals, one can be amaze by the versatility in style, design and colors. These sandals are the most fashionable compared to many in the market, and still very functional. They're perfect for hiking, the beach, and look good with every day wear. These sandals are feminine yet tough.