The pole saw as its name indicates is a small but curved saw blade which is mounted on a long enough handle to suit the pruning of branches which are beyond arm reach. A pole saw could simply be referred to as a saw at the end of a pole. It could either be powered or not. If a pole saw is eventually powered it always take the form of a small chainsaw on a pole. The pole saw has as its power source a gas engine using petrol, battery or electricity. On the other hand, the non-powered pole saw is in possession of a pruning saw which is tightly attached to the end of a pole and operated manually. The pole saw is mainly used for tree trimming, which is the pruning of large shrubs and trees which do no longer look attractive or have lose their nice look. The prunning action gives them a desired form or look. The pole saw is advantageous as it will offer to you the reach to those branches which you will normally need a ladder under normal circumstances to trim them. It thus enables you to apply the least effort for the different tasks to be done especially when it has to do with the powered pole saw. The pole saw will obviously help you out in a great way if you are in possession of a garden or a work area which has a tree or many trees. It avoids the risk of continuously repositioning your ladder at all times thereby going through the task as fast as possible without waste of time. When it comes to choosing a pole saw, the first question you should be asking yourself is which one will efficiently fit your needs. This is because pole saws just as hand saws are available in a variety of designs and types and all in possession of different kinds of saw blade lengths, power size and power types. A reason why you need to go through the different kinds and pick out that which efficiently meets your needs for a later satisfaction in its tasks.
The length of the bar has been designed and constructed to meet the sizes of the branches it can cut, another reason why you should pay proper attention to the type of pole saw you are purchasing. Something worth knowing is the fact that the chainsaw can simply be detached from the pole without having to destroy the equipment. In purchasing a pole saw, it is also worth knowing the requirements of the pole saw. For example, if your area is quite large enough and contains trees then a gas powered pole saw will be best for you.

As observed above, pole saws are fantastic tools to carry around for common pruning task in the garden. They could also be seen as pole chainsaws but in the sense of a light version which offers ease in manoeuvring and operating. If you are looking to save time on cutting through any tree overhang untidy twigs and branches then the pole saw will do light work of an otherwise arduous task. After all there is no one who wishes to spend the whole day labouring on something which could be done easily and in less than no time with a handy tool ready to take on the task and completing it efficiently. There are presently three main types of pole saw dominating the industry. Below is an outline of all the three and the advantages and inconvinences which come with each;

Electric pole saws
All around the world this is a very common choice highly used by so many people and it is pretty much appreciated. Around the web you can find so many consumers purchasing this particular type. The main points about this model are listed below.
Conveniences;
⦁ With very limited strain on arms, you are able to move around with it quite easily to carry out your task.
⦁ Because most of the electric pole saws are attached to a power outlet, they all tend to have an extra source of power.
⦁ Throughout their operations, they do not send out any noise.
⦁ They are very easy to use as compared to the other types.
Inconveniences;
⦁ When compared to gas variations many of these models always struggle with thicker branches. This is because they do not possess the same power capacity in most of the cases.
⦁ In order to reach down your garden, you might have to purchase an extra extension cable which will be attached to the power outlet.

Gas pole saws
The different models which often operate on gas are generally the heavier duty types which are more often used in a commercial environment. Nevertheless, this is not always the case since many gardening enthusiasts are in search of a more powerful option when it concerns thicker and much more difficult cutting jobs. This model has the following conveniences and inconveniences.
Conveniences;
⦁ They often come with performance levels generally higher than electric and cordless types simply because of its extra power.
⦁ Being a heavy duty option, it is great for more difficult tasks. With it you can cut thicker branches at ease.
⦁ Many of those who have used this model and those who are still using it generally associate to this model a high durability level. Such cannot always be said for any model of saw.
Inconveniences;
⦁ Generally, you will probably feel the stress on your arms and shoulders since they weigh slightly more than electric models.
⦁ This model is quite noisy and turns out to be the best option if you wish to wind up the neighbours.
⦁ This model is not environmentally friendly.
⦁ Generally speaking, these models all turn to be more expensive than the electric options.
Cordless Pole Saw
These are models which operate without a cord and are much more similar in design to the electric models, but they are not on the same level of performance. Nevertheless, you can take comfort in the fact that they are much more convenient, relatively inexpensive and much easier to move around with. This model is fantastic for those on a limited budget but looking for some basic pruning work. This model has the following conveniences and inconveniences.
Conveniences;
⦁ As previously mentioned they are all lightweight and easier on your arm muscles.
⦁ Because it is user friendly and very efficient, anyone will be able to use it without facing any difficulties.
⦁ There is a noticeable difference in noise level when you compare this model with the gas saws.
⦁ No cords eventually implies that there exist no tangles in wiring, a reduction in injury risks and staying free from all operational limitations since it does not need to be attached to any power supply.
Inconveniences;
⦁ It possesses a power limitation as compared to the electric and gas powered saws.
⦁ As it is the case with most of the cordless tools, effectiveness relies on the remaining power. And for this reason, it needs to be regularly charged and this can be an annoying activity for so many.
In choosing your cordless pole saw the following considerations should be looked highly upon;
⦁ You should see on to it that the cutting blade of the cordless pole saw is quite long enough to take on the task you are purchasing it for.
⦁ To be taken note of is its power source which will eventually determine if there shall be enough power as needed to cut through your tree branches as desired.
⦁ You should kindly watch out for the length of the cordless pole saw because so many manufacturers often produce them at a length which is fairly shorter than the given length.
⦁ You should also pay great attention to the weight of the cordless pole saw as it can be tiring to work with after a certain amount of time due to its weight. The best cordless pole saw are designed and constructed to weigh between 10 to 12 pounds and are often lighter than the gas or petrol models.
⦁ In the phase of purchasing a pole saw, it is worth being aware of the fact that petrol powered machines generally require more maintenance.
⦁ There still exists some models which come with detachable heads, meaning the cutting saw can be used freely from the pole in a traditional chainsaw manner.
In purchasing a pole chain saw, its length is very important to you, for the poles often come in different lengths and can be made from steel or fibreglass. Some of the best cordless pole saw do not come in a single length as others do, but offer you the possibility of making an extension in the length of the pole. Nevertheless, the longer the pole can be, the more cumbersome is its use and does equates to a higher price. There is just no point in purchasing a cordless pole chain saw which is of length 15 inches whereas the tallest tree in your area is of length 10 inches. Purchasing the best cordless pole saw which offer the possibility for extension do not only make the process of storage and transportation easier but it can also be very convinient to work with on trees of different heights.
Always check on the pole length because many manufacturers often state the pole's reach and not its length. This makes the process very difficult and confusing as the pole's reach might obviously include the user's height. The length of the bar is often measured in inches and sometimes in centimetres. The more regular size of the bar is 8 even though there exist others like 6, 10 and 12 to meet the needs of the users. To be noted is the fact that the longer bars enable larger branches to be cut easily without difficulties. This is so because the longer the bar, the higher the power needed to drive the chain round it. The cordless pole saws generally have shorter bars. Whereas the Gas version which are considered most powerful are in possession of longer bars.
The Black and Decker LPP120 cordless Pole Saw


In nearly all best cordless saw reviews, this particular model is highly recommended for its wonderful features together with durability. This pole saw is not just nimble but it is also lightweight thereby permiting you to leave the extension cord together with gas can in the garage and move up to tackling a variety of challenging overhead cutting tasks which pop up. This mighty and marvellous cordless chainsaw has the manoeuvrability, power and control you need to completely get all trimming just done rightly and on time.
Cordless pole chain saw review did reveal that this is one of the best cordless pole saw which should be considered by any serious person in search of one. Figuring as one of the best pole saws, this cordless pole saw allows you to reach branches and limbs of up to 15 feet above the ground without facing any difficulties. This is thanks to its shaft which is 61/2 feet and 10 feet when it is extended fully. This cordless pole saw at a smidge over 6 pounds is incredibly lightweight and does allows for easy and effortless control as compared to others. This best pole saw with an 8-inch bar can successfully cut across a 6-inche branch. The Black and Decker is for you if you are looking for an effective easy-to-use and eco-friendly best cordless pole saw. Even though cordless pole saws are well known for not being as powerful as gas or even the simple plug-in electrics, this 20V cordless pole saw does possess great and efficient cutting power than its 18V alternative. This was revealed by the cordless pole saw review carried out to figure the best cordless pole saws which meet the different needs of different individuals.
As it was previously mentioned this efficient cordless pole saw is highly rated for cutting branches of 6-inches in diameter; this it does without any difficulties at all. For all users who will face difficulties operating with cordless pole saws which weigh 11-16 pounds, they can take on this as the greatest choice as it does weighs only around 6 pounds. This 20V model often comes in as twice less lightly than other cordless chainsaws which exist. The low weight of this saw makes it suitable to manoeuvre without putting in great effort. The saw has been designed and constructed in a particular way to function at very low vibrations and sounds. Maintaining this cordless pole saw is relatively easier compared to other cordless pole saws. As it is with any kind of cordless chain saw, you just have to clean it after every use and immediately check for any damage or wear out of the chain. This is to avoid disappointments when next you take on it for trimming your trees or large shrubs. The little downside with this safe is the fact it does not possess an automatic oiler which is a special reservoir designed and constructed to pump out oil to the chain. But it instead comes with a small oil bottle which allows you to apply oil on to the chain manually.
Before beginning each job, it is recommended you purchase some bar together with chain oil to squirt it on to the bar and chain for efficient functioning and maximum output. In terms of reliability, the cordless pole saw review emitted that it can hold up very well over typical use. Review shows that there have been very few reports of the motor giving out. This best pole saw uses lithium-ion batteries. As it applies to all Li-ion batteries, you should immediately recharge it when it does drains down in order to prevent failure from the battery. When it has to do with the batteries life, you are assured under normal circumstances to carry out one hour of cutting with this particular cordless pole saw after charge. This best pole saw comes with a maximum extension of its cord being 10 feet thus making it the longest of any cordless you can possibly find. If it happens that you do not need the extra length which comes with it, and wish to make it easier to use, you can remove the centre pole section which is removable thereby reducing it by six and a half feet. When this cordless pole chainsaw is at its maximum extension, you can be sure of cutting limbs of up to 14' ups without facing any difficulties. An instruction manual comes alongside with an oil bottle included in the package to ease the user's operations on the cordless pole chain saw. More to that, the Black and Decker offer you a zip-up storage bag which is a great accessory giving you enough room for the saw and all its accessories. It also comes with one 20V battery and its charger. One of the added advantage taking on this cordless pole chain saw is the fact that you can use the 20V battery with so many of their tools like the leaf lower, hedge trimmer and the string trimmer. Apart from the bar and chain oil which you shall need to pick up for a complete start, everything else is included as it comes.
A reasonable price for a best cordless pole saw ranges from 100 dollars to 150 dollars. This saw even though closer to the height can be purchased for 140 dollars a price worth its features and reliability. The Black and Decker offer a 2 years warranty which completely covers both parts together with labour for any manufacturer defects. Cordless pole saw review revealed that when it has to do with cordless pole chain saw, you will not find much in terms of replacement parts. The most likely thing to replace is the 8''chain which is readily available for purchase at any desired time. If you wish taking larger jobs, then no need to worry as there are extra batteries which you can purchase to take on the work easily without any inconvenience. From the cordless pole saw review, the following pros are emitted concerning the efficiency of this cordless pole saw;
⦁ It gives out the longest maximum reach for a cordless pole saw.
⦁ Comes with an inclusion of a storage bag.
⦁ Other Black and Decker tools can be used with the 20V battery without facing any difficulties.
⦁ It is light weight enabling easy manoeuvring for efficiency and better results.
⦁ The saw creates enormous cutting power with just a 20V battery.
Cordless pole saw review did reveal the following cons associated to this saw;
⦁ Its chain together with bar must be manually oiled for correct functioning.
⦁ The battery of this particular cordless pole saw always takes several hours for a full charge.
⦁ This cordless pole saw is a little longer than the other cordless pole saws.
While there are a lot of great choices out there, this particular cordless pole saw remains an outstanding best pole saw. Therefore, you should consider purchasing it for it is not only the lightest cordless pole saw but also one of the most powerful and long-lasting with appreciable outcomes. Its simplicity to use permeates anyone who has never used power tools in the past to successfully use it without difficulties. It is very reliable, so you need not fear purchasing it as it shall offer you the best results you have been looking for in a cordless pole saw.
The Earthwise CPS40108 Cordless Pole Saw
Earthwise is reputed for designing and constructing durable and reliable cordless pole saws, a reason why this particular model is recommended for you after review if you are in search of the best cordless pole saw. Even though it features the same 18-volt motor just like every cordless pole saw would, it does possess a telescopic pole which extends only to 9 feet overhead for working. This cordless pole saw is in possession of so many features which make it highly used worldwide; it is capable of trimming a wide variety of shrubbery and branches. Even though this cordless pole saw has the same reach and power output as other cordless pole saws, it is easier and comfortable to operate by putting in the least effort. Below are the product specifications of this cordless pole saw;
⦁ Operates on an 18 volt motor
⦁ Possesses an automatic oiling mechanism
⦁ Possesses an oil level window which permeates you to constantly have a view of oil levels.
Cordless pole saw review did reveal that this particular cordless pole saw has the following pros;
⦁ It comes in possession of useful green touch points with which you are able to easily teach your child of 16 years on how to handle it and work efficiently.
⦁ As revealed from the cordless pole saw review, this particular cordless pole saw is lighter than any other one which does exist. If this cordless pole saw is compared to a gas powered pole saw, it is like a feather. Any one will agree to the fact that it is easier to keep cutting for a long time when in possession of a nice, sturdy but light chain saw.
⦁ This cordless chain saw comes along with good and reliable safety feature. On the tip of the saw is a nice safety cover.
The cordless pole saw as revealed by the cordless pole saw review has the following cons;
⦁ In using this cordless pole saw, you need to apply an additional force to be able to cut through logs due to how light it really is. Nevertheless, doing this is not the worst thing on earth, but it does take a few tries to get it down path successfully.
⦁ It possesses an average battery life of about 3 hours and many users testify that the battery life can be ameliorated to 6 hours of work after a complete charge.
The Greenworks 20672 G-MAX Cordless pole saw


Reviews have revealed that this is one of the best cordless pole saw to be purchased by anyone who is in search of the best pole saw to reach the hard-to-reach limbs and cutting them down easily. This is done cleanly without having to deal with any kind of hazardous fumes or unnecessary maintenance. This is a cordless pole saw which uses a 40-Volt G-MAX strong battery system. The cordless pole saw features a 3-piece pole which extents up to 8-feet, thus it is the ideal pole saw for tackling any size.
It comes with an automatic oiling system so you need not worry about having to do it manually as it is the case with most other cordless pole saws. It also comes with an integrated push button electric start; so you need not over stress up in the process of starting your cordless pole saw. It also comes along with a tool free chain tensioning to assure ultimate performance of the cordless pole saw. There is a handy window which permeates you to monitor the level of the oil and to add it before it completely gets finish. This prevents disappointments during working periods. The tank of the Greenworks cordless pole saw has the capability of holding up to 50 litters which will obviously take an uncommon long day to consume it all. The Greenwork cordless pole saw has the following specifications as features;
⦁ It comes with a 4-year limited warranty which assures the consumer of its good and reliable quality not found in all cordless pole saws.
⦁ It is in possession of a translucent oil tank.
⦁ It uses a bar length of 8-inches to work efficiently.
⦁ The chain tensioning is easily adjusted for correct functioning of the cordless pole saw.
⦁ It has a two hour charger.
⦁ It has a minimum pole saw length of 5 feet.
Reviews have shown that this particular cordless saw has the following pros;
⦁ This one is extremely powerful for a cordless model
⦁ Quite easy to use and lightweight to assure less effort during use
⦁ Its battery has a very long life, so you need not worry if you wish working for long number of hours.
The cons with this particular model is the fact that it is much more expensive than other models.
The Cobalt 40-Volt Lithium Ion 8-inch Cordless Electric Pole Saw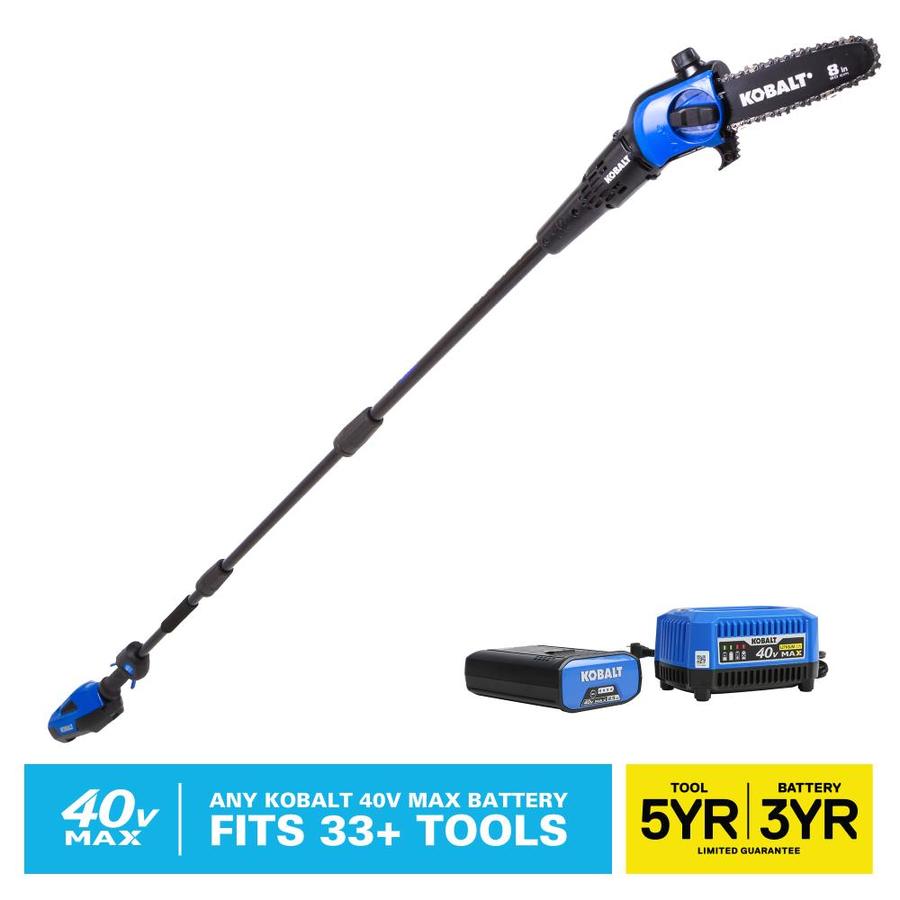 This cordless electric pole saw is one of the best as revealed by the cordless pole saw review. Cordless electric pole saw provides up to 25% longer runtime than the original Kobalt 40-Volt pole saw. It operates on a 2.5 Ah battery and a charger. When the battery is fully charged it takes up to 140 cuts per charge. This cordless electric pole saw comes with an auto oiler together with an easily adjustable tensioning system which provides hassle free operation in all your different tasks. This cordless electric pole saw comes with an 8-in bar and chain which allows you to fully delimb with confidence.
Gas Powered Pole Saw
The gas powered pole saw is occasionally referred to as a chainsaw on a stick. The gasoline powered pole saw gives the ability to reach droopy tree limbs together with low-hanging branches. This gas powered pole saw comes along with high cutting power which permeates you to get rid of the branches of trees quickly. If you are looking for what can take down a great branch easily, then consider purchasing it. Great safety comes as another benefit for using these gas powered pole saws. They are designed and constructed to eliminate the process of having to try so often in balancing yourself on a chair or low branch while controlling a powerful chainsaw. Your yards will always be in possession of the best look if you purchase a gas powered pole saw. For with them you simply a comfortable position on the for pruning.
The Poulan Pro PP258TP 2-Strock Gas Powered Pole Saw


For so many years the poulan pro has been manufactured. It is a very high quality landscaping equipment since the year 1944. This gas powered pole saw is priced below 200 dollars and weighs approximately 20 pounds when the fuel tanker together with oil reserve is completely filled. Below are some of the interesting features offered by this gas powered pole saw;
⦁ A cut width of up to 6 and an 8 saw bar which highly decreases kickback.
⦁ When your arms are fully extended, this gas powered pole saw extends up to 12 feet thereby permeating you prune from a considerable distance.
⦁ It is very easy to assemble and use.
⦁ It is in possession of a quiet and very powerful motor.
So many users of this gas powered pole saw report that it works greatly in tree trimming and it is offered at a price which is unbeatable. It is easy to start and offers you the best of a gas powered pole saw. Nevertheless, it comes with some little inconveniences like stalling after a long time of use but not so often.
The Remington RM2599 Maverick 8-Inch 25CC 2 –Cycle gas powered pole saw


With approximately 180 dollars, you can purchase the Remington gas powered pole saw which weighs around 20 pounds only. This is cordless electric pole saw considered by so many as the best in its domain. This gas powered pole saw offers a variety of features ;
⦁ It can reach up to 12 feet and has the wonderful ability to be added a 7 foot extension pole to meet your needs without any difficulties.
⦁ It uses an 8 saw bar which highly reduces the risk of having a kickback during working hours which can be very discouraging and disappointing.
⦁ The saw comes with a quick start technology which is very easy to take upon, it is one of the gas powered pole saw with an easy pull start.
⦁ It comes included with a 2-year limited warranty covering you, this aentails a great degree of efficiency.
⦁ It was designed to accept so many different brands. This is aimed at satisfying users. The saw can be transformed into an edger, trimmer, hedge and even a blower.
Most of the positive comments which reviewers leave concerning this gas pole saw are; the saw is definitely a good choice because it works efficiently at all times. Without any strain it is very easy to handle this gas powered pole saw due to its lightweight. This is one of the best gas powered pole saw for the money as it uses very little gas and works extremely well. So many report of their happiness concerning the ability to add attachments.
The Husqvarna 128LDX 28CC 2-Stroke Gas powered Detachable Pole Saw


If you are in search of a reliable gas powered pole saw, then this is another good choice which is highly rated and is priced during retailing for 250 to 299 dollars. This gas powered detachable pole saw is very easy to operate and manoeuvre thanks to its lightweight. The gas powered pole saw is highly rated for the following features which it possesses;
⦁ It has a total length of 9 feet, including its cutting equipment when the gas powered pole saw is completely extended to its full length.
⦁ With this gas powered pole saw there are no difficulties in assembling it, instead it is very easy and quickly assembled.
⦁ For an easy and quick start, an air purge system has been designed for the fuel and carburettor.
⦁ It is in possession of a large oil tanker and an automatic chain oiler, so you do not need to constantly oil the chain manually as it is the case with some other gas powered pole saws.
⦁ It possesses the ability for use as an all in one tool by simply adding more heads to your collection as you desire.
⦁ When combined with the right attachment, the Husqvarna can edge, trim, cultivate and sweep just as you desire.
Reviews from professional landscapers and so many other users reveal that this gas powered pole chain saw is in possession of a lot of power, large blade and low emissions. The assemblage of this gas powered pole saw takes very little as less than 10 minutes. It is quite durable and convenient for use, as has been reported by its past and present users. This gas powered pole saw is highly recommended for those who own acreage with a lot of trees and those who are in the landscaping business.
After the different reviews, you might possibly be asking yourself which is then the best gas powered pole saw. For having examined the different options that showed up, reading countless reviews and comparing the different prices together with the features each one offers, the Remington Maverick gets all the top honour. One of the reasons influencing this decision is the fact it accepts multiple attachments coming from so many different manufactures. This significantly makes it a more versatile product over so many others of same function. Even the Husqvarna gas pole saw is a very powerful saw which can make quick work on nearly most of the different tree branches. Nevertheless, it still remains one of the best due to its high quality even though the Remington possesses higher value at a lower price for its users.
Advantages of Cordless Chainsaws
The cordless, rechargeable chainsaws all combine the worst and best features of their electric and gas powered competitors in the market.
- Cordless chainsaws are generally more powerful than gas chainsaws.
- Cordless chainsaws can go just anywhere as would a gas saw or electric saw.
- Cordless chainsaws are generally quiet and environmentally friendly. With no starter cord to tangle with, the cordless chainsaw is very easy to start and use without any inconveniences. Even in the middle of a job, the cordless chainsaw can be paused depending on the user without fear of meeting difficulties in restarting it. A reason why the cordless chainsaw is recommended for you if you are in search of one which won't pose any problems starting, pausing and restarting it for the completion of all your tasks.
Ego CS1604 which is estimated to cost about 300 dollars tops ranking when it comes to cordless chainsaw reviews. This efficient cordless chainsaw is powered by a 56-volt, 5-amp rechargeable lithium battery which is rated for long lasting and production of enormous power needed to carry out any desired task. This particular cordless chainsaw has all the features which are found on top rated corded electric chain saws and gas chain saws including a chain which is designed to prevent kickbacks. So after you must have purchased this cordless chainsaw, you need not worry or fear anykickbacks during your working periods.